CORRELATION OF KNOWLEDGE AND ATTITUDE ON VULVA HYGIENE PRACTICE AMONG STUDENTS OF SMPN 21 SURABAYA
Abstract
Objective The aim of study was to determine the correlation of knowledge level and attitudes regarding vulva hygiene practicing of grade VIII students in SMPN 21 Surabaya. Methods Design of this study is a cross sectional observational analysis using cluster sampling technique with sample of 138 students. Variables of study were knowledge level, attitudes and practice of vulva hygiene. Data were analyzed using spearman rho test. In this study data were collected by questionnaire sheet. Results The results indicate that most of the students have a sufficient level of knowledge, positive attitudes and positive behavior. The results of the Spearman Rho analysis showed that there was no correlation knowledge level and vulva hygiene practice (ρ = 0.583) and there was a correlation attitude and vulva hygiene prsctice (ρ = 0.000). Conclusion Providing information by schools through audiovisuals about reproduction organs so that students are more interested in listening to information. Students should further increase their awareness regarding reproductive organs, especially in maintaining cleanliness to prevent bad effects such as fungal infection and cancer.
Keywords:
Knowledge Level, Attitude, Vulva Hygiene Practicing
Downloads
Download data is not yet available.
References
Ajiningsih, D. A., & Anisa, D. N. (2018). Hubungan Pengetahuan Dengan Sikap Remaja Tentang Kesehatan Reproduksi Di SMP PGRI Kasihan Yogyakarta. Universitas 'Aisyiyah. http://digilib.unisayogya.ac.id/4334/1/NASKAH%20PUBLIKASI%20%28DWI%20ASTUTI%20AJININGSIH%29.pdf
Astuti P. L., & Dewi, N. S. (2016). Hubungan Tingkat Pengetahuan Remaja Putri Dengan Perilaku Personal Hygiene Organ Reproduksi Di Smp Negeri 3 Kendal. Jurnal Ilmu Kesehatan, 6(1), 34-37.
Astuti, S. (2013). Hubungan Tingkat Pengetahuan dan Sikap Masyarakat terhadap Upaya Pencegahan Penyakit Tuberkulosis di RW 04 Kelurahan Lagoa Jakarta Utara Tahun 2013. Universitas Islam Negri Syarif Hidayatullah. https://repository.uinjkt.ac.id/dspace/bitstream/123456789/24321/1/SUMIYATI%20ASTUTI
-fkik.pdf
Azizah, N., & Widiawati, I. (2015). Karakteristik Remaja Putri Dengan Kejadian Keputihan Di Smk Muhammadiyah Kudus. Jurnal Ilmu Keperawatan Dan Kebidanan, 6(1), 57-78.
Azwar, S. (2013). Sikap Manusia : Teori dan Pengukurannya (2nd ed.). Pustaka Belajar.
Berliana, P. R. (2018). Hubungan Perilaku Vulva Hygiene Dengan Kejadian Keputihan Di SMP 2 Mejobo Kudus. Prosiding HEFA, 2(1).
Budiman, & Riyanto, A. (2013). Kapita Selekta Kuesioner: Pengetahuan dan Sikap dalam Penelitian Kesehatan. Salemba Medika.
Cahyo, A. S. (2011). Hubungan Antara Tingkat Pengetahuan, Sikap Dan Ketersediaan Sumber Dengan Perilaku Remaja Putri Dalam Menjaga Kebersihan Organ Genitalia Untuk Mencegah Keputihan di Madrasah Aliyah Negeri 2 Pati. Jurnal Keperawatan, 4(1), 60-74.
Collins, S., Beigi, R., Mellen, C., O'Sullivan, D., & Tulikangas, P. (2015). The effect of pessaries on the vaginal microenvironment. American Journal of Obstetrics and Gynecology, 212(1), 60.e1-60.e606.
Donsu, J. D. T. (2019). Psikologi Keperawatan. Pusaka Baru Press.
Humairoh, F., Musthofa, S. B., & Widagdo, L. (2018). Faktor-Faktor Yang Mempengaruhi Perilaku Vulva Hygiene Pada Remaja Putri Panti Asuhan Di Kecamatan Tembalang, Kota Semarang. Jurnal Kesehatan Masyarakat, 6(1), 745-752.
Maidartati, M., Hayati, S., & Nurhida, L. A. (2016). Hubungan Pengetahuan Dengan Perilaku Vulva Hygiene Pada Saat Menstruasi Remaja Putri. Jurnal Ilmu Keperawatan, IV(1), 50-57.
Muthoharoh, S., & Widiyawati, R. (2018). Pengaruh Health Education Terhadap Perilaku Vulva Hygiene Saat Menstruasi Anak Sd Umur 11 - 13 Tahun Di Sdn Mojosari Kabupaten Mojokerto. Jurnal Nurse and Health, 7(1), 61-70.
Notoatmodjo, S. (2010). Promosi Kesehatan dan Ilmu Perilaku. Rineka Cipta.
Permatasari, N. Z. (2018). Praktik vulva hygiene pada remaja putri di pondok pesantren putri nurul burhany Mranggen kabupaten Demak. Universitas Muhammadiyah Semarang. http://repository.unimus.ac.id/2555/43/MANUSKRIP.pdf
Rakhmawati, D. (2019). Hubungan Tingkat Pengetahuan Remaja Putri Tentang Vulva Hygiene dengan Kejadian Keputihan di SMP Muhammadiyah 1 Yogyakarta. Thesis, University of 'Aisyiyah Yogyakarta.
Rakhmilla, L. E., Fah, L. I., Sofiatin, Y., Widjadjakusuma, A., & Rosyada, N. A. (2016). Knowledge, Attitude, and Practice about Vaginal Discharge on School-Age Girls in Jatinangor Senior High School. Open Access Library Journal, 3(11), 1-9.
Ristraningsih, G. (2017). Pengaruh Pendidikan Kesehatan Terhadap Tingkat Pengetahuan Kesehatan Reproduksi Remaja Pada Siswi Kelas VIII Di Smp Negeri 28 Semarang. Thesis, University of Muhammadiyah Surakarta.
Sukamto, N. R. (2018). Hubungan Pengetahuan, Sikap, Dan Perilaku Perawatan Vagina Terhadap Kejadian Keputihan Patologis Pada Mahasiswi Program Studi Pendidikan Dokter Fakultas Kedokteran Universitas Sriwijaya. Universitas Sriwijaya. https://repository.unsri.ac.id/4513/1/RAMA_11201_04011181520079_004108106_00050252 09_01_font_ref.%20pdf.pdf
Wahyuni, S., & Suparti, S. (2015). Hubungan Pengetahuan Dengan Sikap Mahasiswi Tingkat I Tentang Vulva Hygiene Di Akbid Mamba'ul 'Ulum Surakarta Tahun 2015. Jurnal Kebidanan Indonesia, 6(2), 117-130.
Wisnatul, I., & Agustiani, R. (2014). Hubungan Pengetahuan Dengan Pelaksanaan Personal Hygiene Genitalia Saat Menstruasi Pada Remaja Putri Kelas Ix Smp Negeri 4 Bukittinggi. Jurnal Ilmu Kesehatan 'Afiyah, 2(1).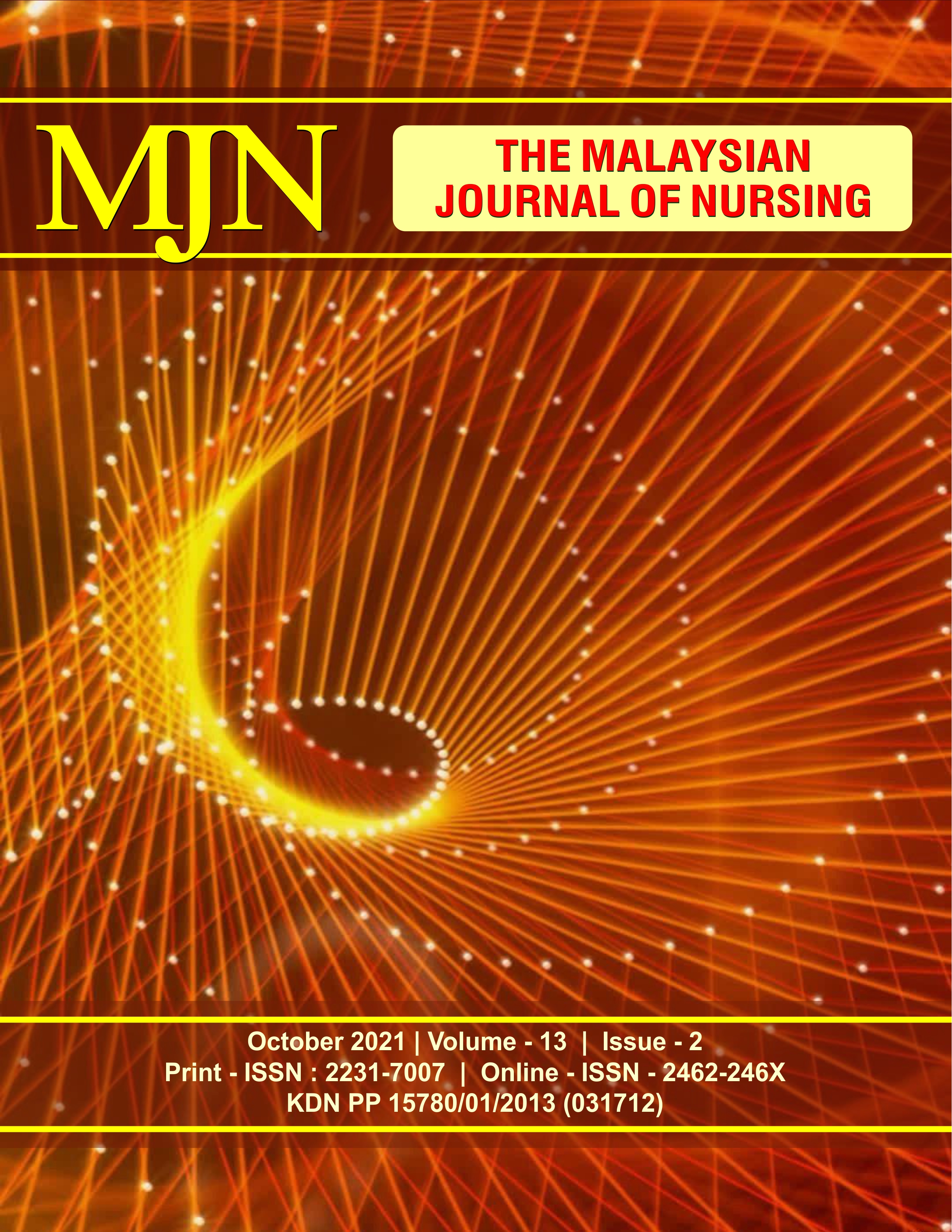 How to Cite
Puji Hastuti, Ni Made Wahyu Candra Purwani, Astrida Budiarti, Iis Fatimawati, & Nur Chabibah. (2021). CORRELATION OF KNOWLEDGE AND ATTITUDE ON VULVA HYGIENE PRACTICE AMONG STUDENTS OF SMPN 21 SURABAYA. The Malaysian Journal of Nursing (MJN), 13(2), 79-85. Retrieved from https://ejournal.lucp.net/index.php/mjn/article/view/1439
License
Copyright (c) 2021 The Malaysian Journal of Nursing (MJN)
This work is licensed under a Creative Commons Attribution-NonCommercial-NoDerivatives 4.0 International License.