NURSING PRACTICES OF IMPLEMENTING EARLY MOBILISATION ON PATIENTS WITH MECHANICAL VENTILATORS IN THE INTENSIVE CARE UNIT
Abstract
Background: Critically ill patients requiring mechanical ventilation might experience physical functional disabilities and are at risk in developing Intensive Care Unit (ICU)-acquired weakness. Early mobilisation reduces muscle weakness and improves recovery for mechanically ventilated patients in ICU. Although early mobilisation is safe and feasible for patients, there are barriers to its implementation Aim: The purpose of this study is to evaluate nursing practices of early mobilisation for mechanically ventilated patients in the ICU. Methods: Descriptive cross-sectional survey of simple random sampling using a structured questionnaire was conducted from 27 November 2019 to 31 January 2020 and completed by 145 critical care nurses from Hospital Raja Permaisuri Bainun, Ipoh and Pusat Perubatan Universiti Teknologi MARA. Results: Most nurses (n=142, 97.9%) practice mobilisation activities on mechanically ventilated patients. The majority of nurses performed in-bed activities to mechanically ventilated patients. There was a perceived barrier among nurses early mobilisation in the ICU with attitudes subscale (M=27.36, SD=3.7) were the highest mean for the subscale barrier score.  Conclusion: This study shows that dedicated critical care nurses in the ICU were associated with increased early mobilisation practices among ICU patients undergoing mechanical ventilators. Future studies need to involve other health care professionals in the mobilisation team as implementation of early mobilisation requires interdisciplinary teamwork, commitment, and resource to promote mobilisation.
Keywords:
Early Mobilisation, Mechanical Ventilator, Critical Care Nurse, Rehabilitation
Downloads
Download data is not yet available.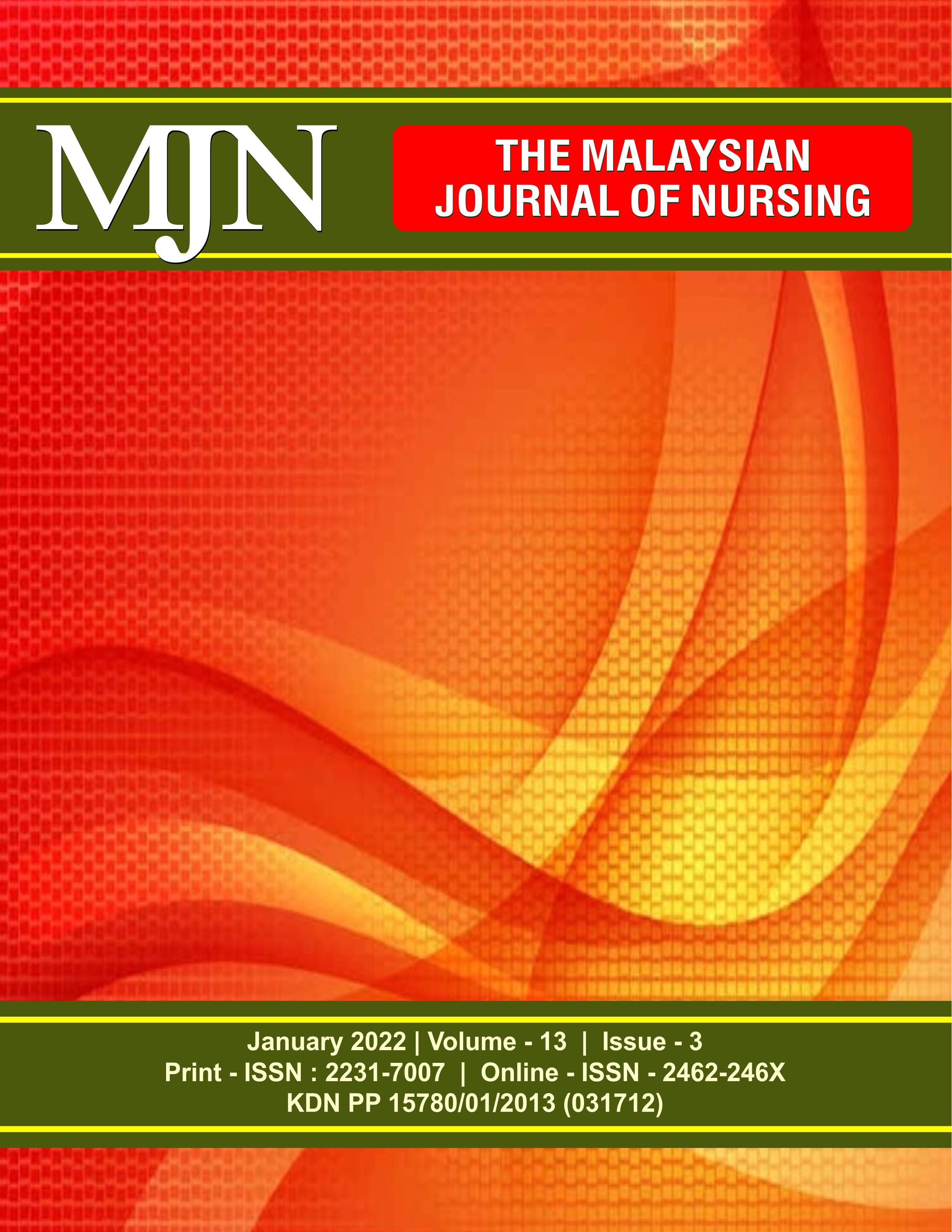 How to Cite
Noraini Hashim, & Wahab, M. (2021). NURSING PRACTICES OF IMPLEMENTING EARLY MOBILISATION ON PATIENTS WITH MECHANICAL VENTILATORS IN THE INTENSIVE CARE UNIT. The Malaysian Journal of Nursing (MJN), 13(3). Retrieved from https://ejournal.lucp.net/index.php/mjn/article/view/1422
License
Copyright (c) 2021 The Malaysian Journal of Nursing (MJN)
This work is licensed under a Creative Commons Attribution-NonCommercial-NoDerivatives 4.0 International License.