REGISTERED NURSE KNOWLEDGE AND PRACTICE OF BASIC LIFE SUPPORT (BLS) AT A PRIVATE HOSPITAL IN SEREMBAN
Abstract
Introduction: BLS is a mechanism that maintains or restores life by creating and sustaining airway, ventilation and circulation without the need for adjunctive equipment and successful cardiopulmonary resuscitation will increase the chance of survival. Objective: to determine the registered nurse knowledge and practice of Basic Life Support (BLS) in one of private hospital in Seremban. Methods: A quantitative cross sectional study regarding knowledge and practice of BLS among staff nurses was done. Questionnaires distributed to 170 respondents in one of the private hospitals in Seremban. Questionnaire were divided in four part;Part A demographic data, Part B regarding knowledge on BLS, Part C practice on BLS. Results: Data analysis showed that respondents have good knowledge with 143(84.1%); respondent show an average level of practices with 92(54.1%). There was an association between level knowledge and practice with p = 0.0319. Conclusion: There was good knowledge and an average practice towards BLS among nurses in one of private Hospital in Seremban. This show that the educational program can be enhanced to sustain the theoretical and practical while performing the BLS in nursing expertise. Therefore future research is suggested to further investigate BLS issue as this skill is important for the nurses in order to provide better prognosis during emergency in patient care.
Keywords:
Knowledge, Practice, Basic Life Support
Downloads
Download data is not yet available.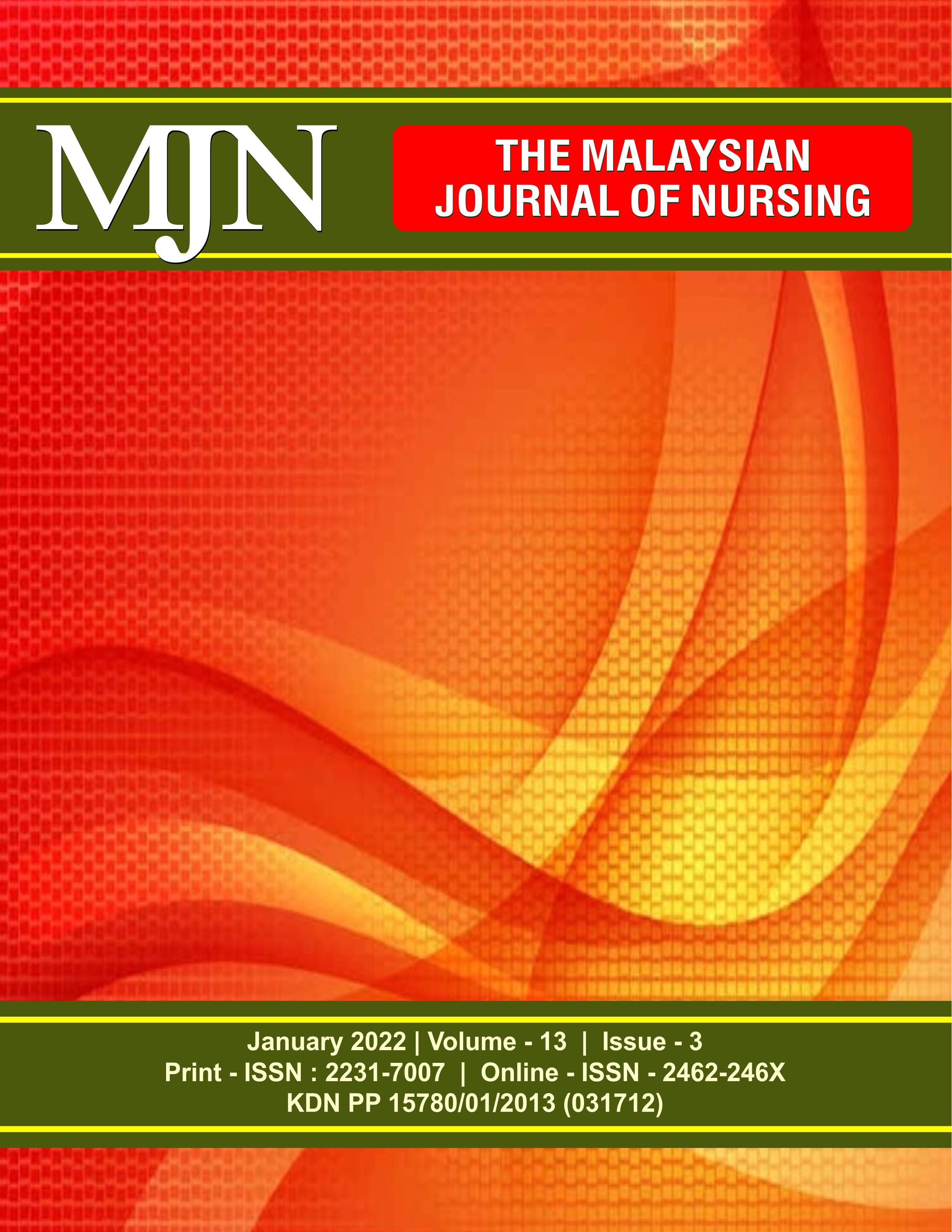 How to Cite
Roslinda Isa, Nuramalina Rahmad, Sharifah Nabilah Syed Mohd, Rosuzeita Fauzi, & Isa, . S. N. I. I. (2021). REGISTERED NURSE KNOWLEDGE AND PRACTICE OF BASIC LIFE SUPPORT (BLS) AT A PRIVATE HOSPITAL IN SEREMBAN. The Malaysian Journal of Nursing (MJN), 13(3). Retrieved from https://ejournal.lucp.net/index.php/mjn/article/view/1421
License
Copyright (c) 2021 The Malaysian Journal of Nursing (MJN)
This work is licensed under a Creative Commons Attribution-NonCommercial-NoDerivatives 4.0 International License.