A RETROSPECTIVE ANALYSIS OF PREDICTORS OF ANTI-RESORPTIVE AGENTS-RELATED OSTEONECROSIS OF THE JAW (ARONJ) IN GENERAL HOSPITALS
Abstract
Abstract
Purpose: The aim of this study is to analyze predictive factors of ARONJ and the purpose is to examine intervention methods to prevent ARONJ.
Methods: This study is a case control study. Regarding the diagnosis of ARONJ, since the research target hospital did not have dentistry or oral surgery, the patients diagnosed with ARONJ was defined at other dental clinics as a case group. Risk factors include age, gender (male and female), ECOG performance status, cancer type, chemotherapy combination status, diabetes history, smoking and drinking history, number of oral cares per day, denture usage, medications, medications Period, hormone therapy, and blood tests (total protein, albumin, calcium, neutrophils). The Chi-square test and t-test were used to determine significant relation between variables.
Results: According to the results of univariate analysis of ARONJ, calcium (p=0.015), history of smoking (p=0.006), the number of oral care per day (p=0.013) and diabetes (0.023) have significant differences with ARONJ.
Conclusion: This study suggests that daily life factors such as oral care and physical factors such as smoking history and diabetes were predictors. This result suggests that mandibular dentures are more likely to cause denture ulcers, leading to ARONJ. Nurses need to detect risk factors early, continuously monitor the oral cavity and promote oral care.
Keywords:
ARONJ, Bisphosphonate, Anti-RANKL Monoclonal Antibody Drug, Oral Care
Downloads
Download data is not yet available.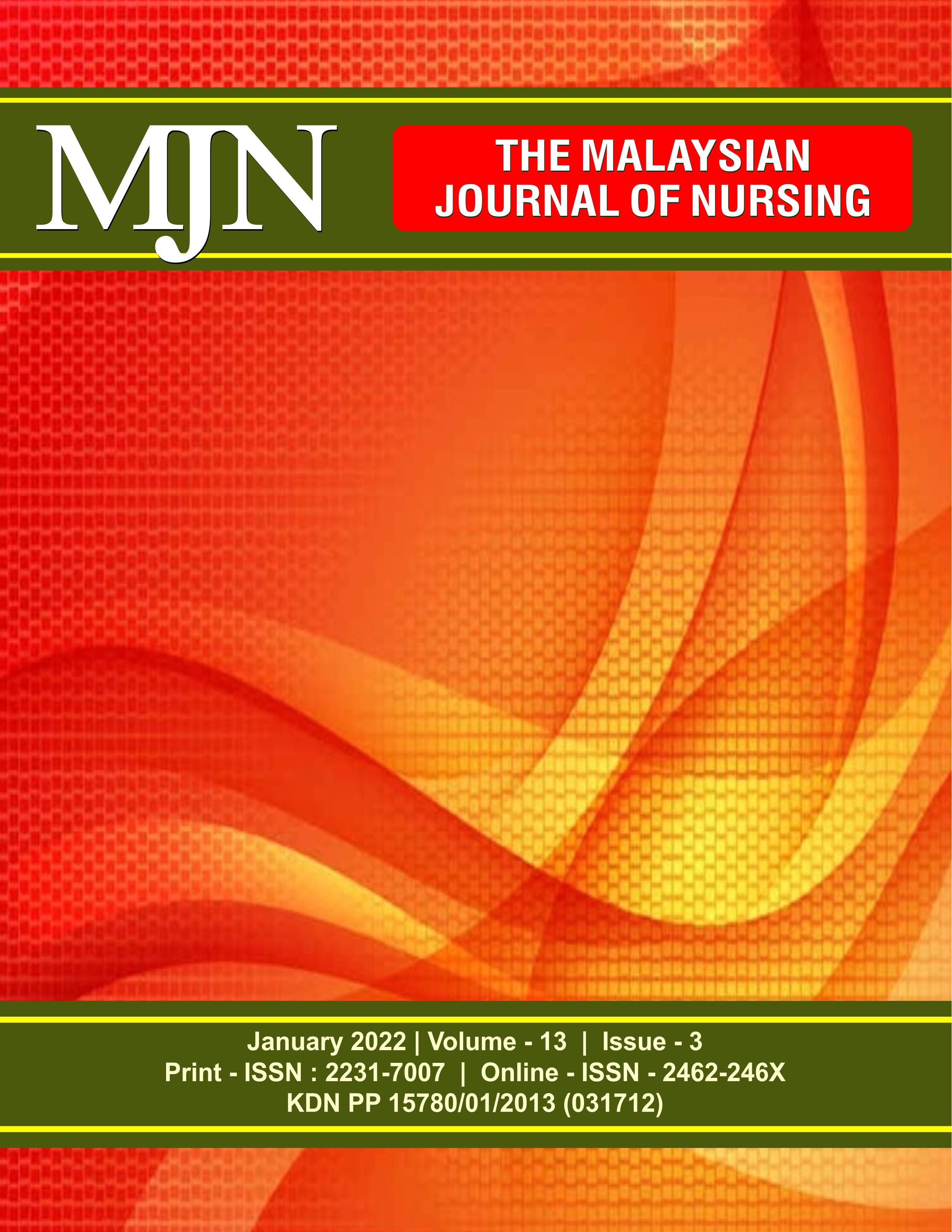 How to Cite
Yoshiyuki Kashiwagi. (2021). A RETROSPECTIVE ANALYSIS OF PREDICTORS OF ANTI-RESORPTIVE AGENTS-RELATED OSTEONECROSIS OF THE JAW (ARONJ) IN GENERAL HOSPITALS. The Malaysian Journal of Nursing (MJN), 13(3). Retrieved from https://ejournal.lucp.net/index.php/mjn/article/view/1415
License
Copyright (c) 2021 The Malaysian Journal of Nursing (MJN)
This work is licensed under a Creative Commons Attribution-NonCommercial-NoDerivatives 4.0 International License.