JOB SATISFACTION AND BURNOUT AMONG REGISTERED NURSES IN A PRIVATE HOSPITAL
Abstract
Background: The nursing profession is not only physically demanding which deal with the function and human health, but also involve the use of mental energy and contribute to mental exhaustion when one is continuously exposed to stressful events and circumstances. This inevitably lead to burnout and with job dissatisfaction. Objectives: This study aims to identify the levels of job satisfaction and burnout issue among registered nurses and to determine the relationships between demographic variable, job satisfaction and burnout among registered nurse in a private hospital in Kajang, Malaysia. Methods: A cross-sectional descriptive with convenient sampling method was used on 167 respondents. The questionnaire consists of Section A: sociodemographic data 6 items, Section B: 22 items on the level of burnout and Section C: 20 items on the level of job satisfaction. Result: The result showed that the level of job satisfaction and burnout among nurses are at high level with mean value are 4.06 and 4.07 respectively. Conclusion: There is moderate to high level of job dissatisfaction and burnout reported by the registered nurses. The findings of this study will provide significant findings to the nursing administrative in addressing the expectation and needs of their registered nurses.
Keywords:
Job Satisfaction, Burnout, Nurse
Downloads
Download data is not yet available.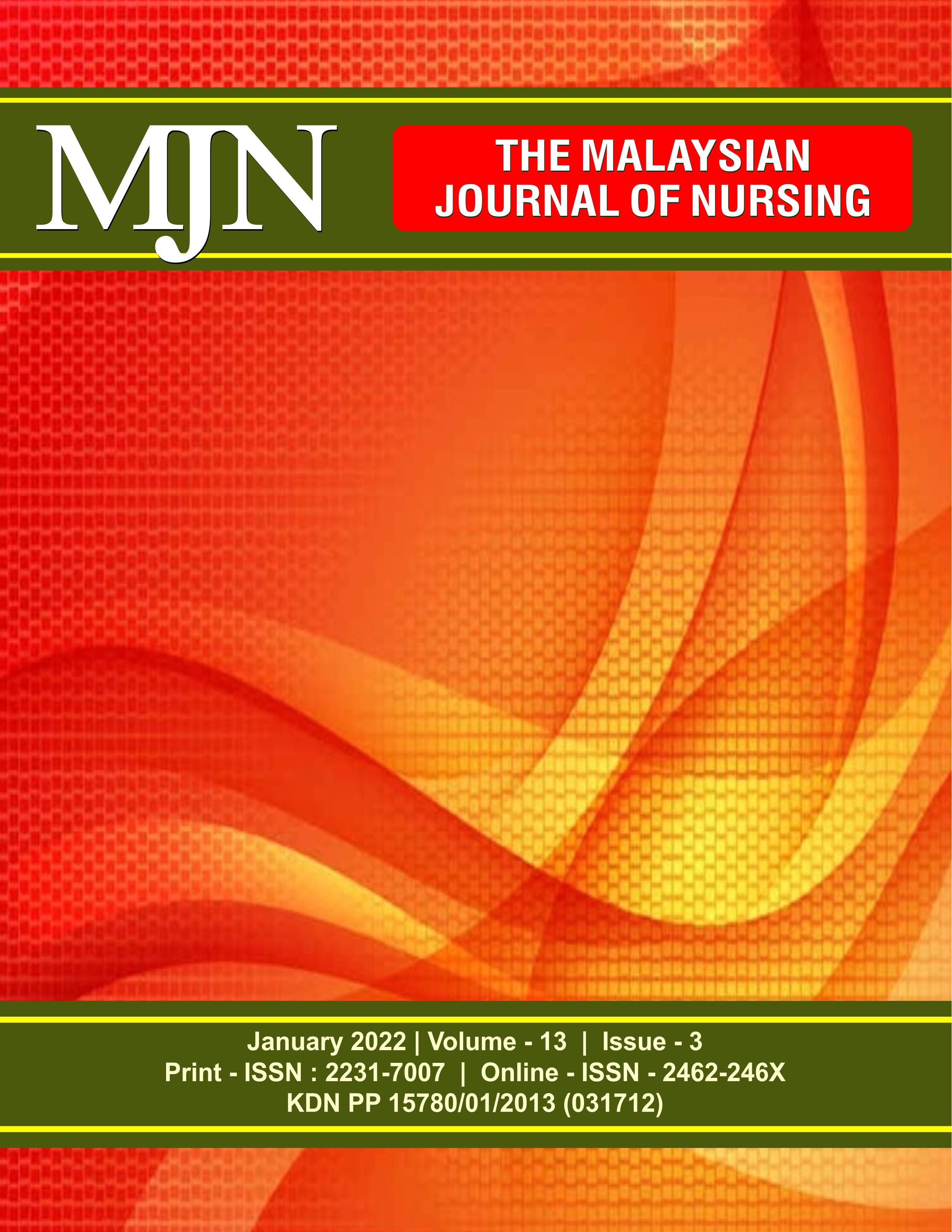 How to Cite
Yee Bit-Lian, Tan Woei-Ling, & Nazirul Shahin Bin Shuhaimi. (2021). JOB SATISFACTION AND BURNOUT AMONG REGISTERED NURSES IN A PRIVATE HOSPITAL. The Malaysian Journal of Nursing (MJN), 13(3). Retrieved from https://ejournal.lucp.net/index.php/mjn/article/view/1376
License
Copyright (c) 2021 The Malaysian Journal of Nursing (MJN)
This work is licensed under a Creative Commons Attribution-NonCommercial-NoDerivatives 4.0 International License.