PREVENTING NON-COMMUNICABLE DISEASES IN LOW- AND MIDDLE-INCOME COUNTRIES: A LITERATURE REVIEW
Abstract
Background: Both the older adult population and the number of patients with non-communicable diseases (NCDs) have rapidly increased in low- and middle-income countries in recent years. This has added to the burden of health issues, such as communicable diseases and conditions related to maternal and child health.
Results: Approximately 90% of premature deaths in low- and middle-income countries are due to NCDs. Individuals with NCDs are also more susceptible to severe illness or death from infection with the severe acute respiratory syndrome coronavirus 2, which causes the coronavirus disease (COVID-19), and older adults with NCDs have a particularly increased susceptibility to COVID-19. Insufficient nutrition and maternal metabolic status during pregnancy are causes of metabolic disorders and cardiovascular disease during adulthood.
Conclusion: A holistic approach with integrated multi-specialized systems—such as early intervention to develop healthy behavior among children, improvements in women's educational opportunities, and training that enables health care workers to handle multiple health issues in the community—is needed to address health issues at various stages of human development. In this manner, the vicious circle of hindering sustainable development will be broken not only in low- and middle-income countries but also worldwide, allowing humans to coexist with other living beings.
Keywords:
Non-Communicable Diseases, Low-Income Countries, Middle-Income Countries
Downloads
Download data is not yet available.
References
Adair, L.S. (2012). How could complementary feeding patterns affect the susceptibility to NCD later in life? Nutrition, Metabolism and Cardiovascular Diseases, 22(10), pp 765−769. DOI: 10.1016/j.numecd.2012.03.011
Barouki, R., Gluckman, P.D., Grandjean, P., Hanson, M., & Heindel, J.J. (2012). Developmental origins of non-communicable disease: Implications for research and public health. Environmental Health, 11(1), p 42.
Barrett, H., & Browne, A. (1996). Health, hygiene and maternal education: Evidence from the Gambia. Social Science & Medicine, 43(11), 1979−1590. DOI: 10.1016/s0277-9536(96)00054-8.
Bhargava, S.K., Sachdev, H.S., Fall, C.H.D., Osmond, C., Lakshmy, R., Barker, D.J.P., Biswas, S.K.D., Ramjii, S., Prabhakaran, R.D., & Reddy, K.S. (2004). Relation of serial changes in childhood body-mass index to impaired glucose tolerance in young adulthood. New England Journal of Medicine, 350(9), 865−875. DOI: 10.1056/NEJMoa035698.
Bloom, D. E., Chisholm, D., Jané-Llopis, E., Prettner, K., Stein, A., & Feigl, A. (2011). From burden to" best buys": reducing the economic impact of non-communicable disease in low-and middle-income countries (No. 7511). Program on the Global Demography of Aging.
Campbell, F., Conti, G., Heckman, J. J., Moon, S. H., Pinto, R., Pungello, E., & Pan, Y. (2014). Early childhood investments substantially boost adult health. Science, 343(6178), 1478–1485. DOI: 10.1126/1248429.
Centers for Diseases Control and Prevention (2019). Coronavirus Diseases 2019. Retrieved June 01, 2021, from: https://www.cdc.gov/coronavirus/2019-ncov/need-extra-precautions/evidence-table.html.
Chen, Y., & Li, H. (2009). Mother's education and child health: Is there a nurturing effect?. Journal of Health Economics, 28(2), 413-426. DOI: 10.1016/j.jhealeco.2008.10.005.
Exploring knowledge and attitudes toward non-communicable diseases among village health teams in Eastern Uganda: a cross sectional study. BioMedical Central Public Health, 17(1), 947. DOI 10.1186/s12889-017-4954-8.
Gale, C. R., Jiang, B., Robinson, S. M., Godfrey, K. M., Law, C. M., & Martyn, C. N. (2006).
Higuchi, M., & Liyanage, C. (2016). Primary healthcare providers' perceptions of Non-communicable disease prevention and control in the Western province of Sri Lanka: A qualitative study. Journal of International Health, 31(2), 113−121. DOI: 10.11197/JAIH.31.113.
Huang, W., Long, H., Li, J., Tao, S., Zheng, P., Tang, S., & Abdullah, A.S. (2018). Delivery of public health services by community health workers (CHWs) in primary health care settings in China: a systematic review (1996–2016). Global Health Research and Policy, 3(1), 1–29. DOI: 10.1186/s41256-018-0072-0.
Jacob, C.M., Newell, M.L., & Hanson, K. (2019). Narrative review of reviews of preconception interventions to prevent an increased risk of obesity and non‐communicable diseases in children. Obesity Reviews, 20, pp 5−17. DOI: 10.1111/obr.12769.
Kapur, A. (2015). Links between maternal health and NCDs. Best Practice & Research Clinical Obstetrics & Gynaecology, 29(1), 32–42. DOI: 10.1016/j.bpobgyn.2014.04.016
Khan, M.T., Zaheer, S., & Shafique, K. (2017). Maternal education, empowerment, economic status and child polio vaccination uptake in Pakistan: A population based cross sectional study. British Medical Journal Open, 7, p e013853. DOI: 10.1136/bmjopne-2016-013853.
Kimura, I., Miyamoto, J., Ohue-Kitano, R., Watanabe, K., Yamada, T., Onuki, M., Aoki, R., Isobe, Y., Kashihara, D., Inoue, D., Inaba, A., Takamura, Y., Taira, S., Kumaki, S., Watanabe, M., Ito, M., Nakagawa, F., Irie, J., Kakuta, H., … & Hase, K. (2020). Maternal gut microbiota in pregnancy influences offspring metabolic phenotype in mice. Science, 367(6481), p eaaw8429. DOI: 10.1126/science.aaw8429.
Long, H., Huang, W., Zheng, P., Li, J., Tao, S., Tang, S., & Abdullah, A.S. (2018). Barriers and facilitators of engaging community health workers in non-communicable disease (NCD) prevention and control in China: A systematic review (2006−2016). International Journal of Environmental Research and Public Health, 15(11), p 2378. DOI: 10.3390/ijerph15112378.
Martinson, K.L., & Choi, K.H. (2019). Low birth weight and childhood health: The role of maternal education. Annals of Epidemiology, 39, pp 39−45. DOI: 10.1016/j.annepidem.2019.09.006.
Maternal diet during pregnancy and carotid intima–media thickness in children. Arteriosclerosis, Thrombosis, and Vascular Biology, 26(8), 1877-1882. DOI: 10.1161/01.ATV.0000228819.13039.b8.
Mensch, B.S., Chuang, E.K., Melnikas, A.J., & Psaki, S.R. (2019). Evidence for causal links between education and maternal and child health: Systematic review. Tropical Medicine & International Health, 24(5), pp 504−522. DOI:10.1111/tmi.13218.
Ministry of Health and Indigenous Medical Services (2017). Annual Health Bulletin. Colombo, Sri Lanka. Retrieved 01 June, 2021, from: http://www.health.gov.lk/moh_final/english/public/elfinder/files/publications/AHB/2020/AHB_2017.pdf.
Ministry of Health, Nutrition and Indigenous Medicine. (2019). Sri Lanka Essential Health Services Package. pp 1−60. Retrieved 01 June, 2021, from: http://www.health.gov.lk/moh_final/english/public/elfinder/files/publications/2019/SLESP-2019.pdf.
Ojo, T.T., Hawley, N.L., Desai, M.M., Akiteng, A.R., Guwatudde, D., & Schwartz, J.I. (2017).
Oyekale, A.S., & Maselea, T.C. (2018). Maternal education, fertility, and child survival in Comoros. International Journal of Environmental Research and Public Health, 15(12), p 2814. DOI:10.3390/ijerph15122814.
Reilly, J.J., Hughes, A.R., Gillespie, J., Malden, S., & Martin, A. (2018). Physical activity interventions in early life aimed at reducing later risk of obesity and related non-communicable diseases: A rapid review of systematic reviews. Obesity Reviews, 20, 61−73. DOI: 10.1111/obr.12773.
Rigal, N., Champel, C., Hebel, P., & Lahlou, S. (2019). Food portion at ages 8-11, and obesogeny: The amount of food given to children varies with the mother's education and the child's appetite arousal. Social Science & Medicine, 228, 111−116. DOI: 10.1016/j.socscimed.2019.03.027.
Rito, A.I., Buoncristiano, M., Spinelli, A., Salanave, B., Kunešová, M., Hejgaard, T., García, S.M., Fijałkowska, A., Sturua, L., Hyska, J., Kelleher, C., Duleva, V., Musić Milanović, S., Farrugia Sant'Angelo, V., Abdrakhmanova, S., Kujundzic, E., Peterkova V., Gualtieri, A., Pudule, I., … Breda, J. (2019). Association between characteristics at birth, breastfeeding and obesity in 22 Countries. The WHO European Childhood Obesity Surveillance Initiative – COSI 2015/2017. Obesity Facts, 12(2), 226–243. DOI:10.1159/000500425
Sadasivam, H., Payne, K., & Koch, M. (2018). Data of Women: Education and Literacy Around The World. Product Marketing, Communication & Analyst Intern. Retrieved 01 June, 2021, from: https://looker.com/blog/data-of-women-education-and-literacy-around-the-world.
Singh, R.K, Chang, H.W., Yan, D., Lee, K.M., Ucmak, D., Wong, K., Abrouk, M., Farahnik, B., Nakamura, M., Zhu, T.H., Bhutani, T., & Liao, W. (2017). Influence of diet on the gut microbiome and implications for human health. Journal of Translational Medicine, 15(1), p 73. DOI: 10.1186/s12967-017-1175-y.
Sparling, J., & Meunier, K. (2019). Abecedarian: An Early Childhood Education Approach that has a Rich History and a Vibrant Present. International Journal of Early Childhood, 51(2), 207–216. DOI: 10.1007/s13158-019-00247-2.
United Nations Economic and Social Council (2019). United Nations Inter-Agency Task Force on The Prevention and Control of Non-Communicable Diseases P2. United Nations Digital Library.
United Nations Educational, Scientific and Cultural Organization (2020). Education and Gender Equality. Retrieved 01 June, 2021, from: https://en.unesco.org/themes/education-and-gender-equality.
van den Elsen, L.W.J., Grassen, J., Burcelin, R., & Verhasselt, V. (2019). Shaping the gut microbiota by breastfeeding: The gateway to allergy prevention? Frontiers in Pediatrics, 27(7), 47. DOI: 10.3389/fped.2019.00047.
Vikram, K., & Vanneman, R. (2020). Maternal education and the multidimensionality of child health outcomes in India, Journal of Biosocial Science, 52(1), 57–77. DOI: 10.1017/S0021932019000245.
Wahabi, H.A., Alzeidan, R.A., & Esmaeil, S.A. (2012). Pre-pregnancy care for women with pre-gestational diabetes mellitus: A systematic review and meta-analysis. Bio Medical Central Public Health, 12, 792. DOI: 10.1186/1471-2458-12-792.
Wells, J. C. (2018). Life history trade-offs and the partitioning of maternal investment: implications for health of mothers and offspring. Evolution, Medicine, and Public Health, 2018(1), 153-166. DOI: 10.1093/emph/eoy014.
World Bank (2020). Literacy Rate. Retrieved from: https://data.worldbank.org/indicator/se.adt.litr.zs
World Health Organization (2017). Global Health Observatory Visualizations: Joint Child Malnutrition Estimates, 2017: (UNICEF-WHO-WB). Retrieved 01 June, 2021, from: https://apps.who.int/gho//data/node.wrapper.nutrition-2016?lang=en.
World Health Organization (2020a). Social determinants of health. Early child development. Retrieved 01 June, 2021, from: https://www.who.int/social_determinants/themes/earlychilddevelopment/en/#:~:text=Healthy%20early%20child%20development%20(ECD,numeracy%2C%20criminality%2C%20and%20economic%20participation.
World Health Organization (2020b). Complementary Feeding. Retrieved 01 June, 2021, from: https://www.who.int/health-topics/complementary-feeding#tab=tab_1.
World Health Organization. (2020c). Sri Lanka: Country Profiles, Chronic Diseases, WHO Chronic Diseases and Health Promotion database. Retrieved 01 June, 2021, from: https://www.who.int/chp/chronicdiseasereport/srilanka.pdf?ua=1.
World Health Organization. Country Office for Sri-Lanka. (2018). Technical Report on: Taxation for Sugar-Sweetened Beverages in Sri Lanka, 2017. pp 1–36. Retrieved 01 June, 2021, from: https://apps.who.int/iris/handle/10665/276169.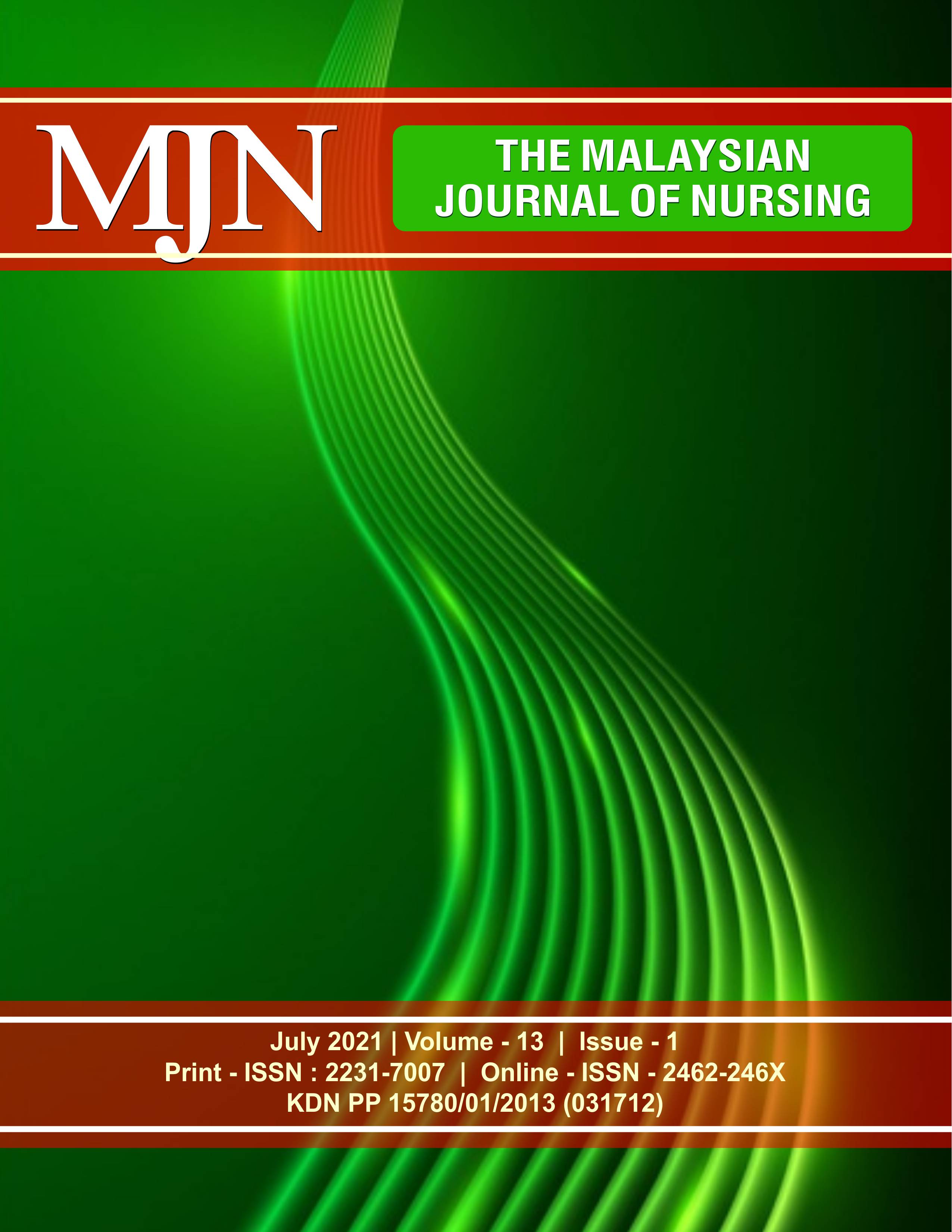 Downloads
How to Cite
Machiko Higuchi. (2021). PREVENTING NON-COMMUNICABLE DISEASES IN LOW- AND MIDDLE-INCOME COUNTRIES: A LITERATURE REVIEW. The Malaysian Journal of Nursing (MJN), 13(1). Retrieved from https://ejournal.lucp.net/index.php/mjn/article/view/1372
License
Copyright (c) 2021 The Malaysian Journal of Nursing (MJN)
This work is licensed under a Creative Commons Attribution-NonCommercial-NoDerivatives 4.0 International License.