PERCEPTION, KNOWLEDGE AND ATTITUDE TOWARDS PATIENT SAFETY AMONG NURSING STUDENTS IN PRIVATE COLLEGE
Abstract
Background: Patient safety is defined as the absence of preventable harm to a patient while providing health care, as well as the reduction of unnecessary harm associated with health care. The delivery of better healthcare requires the protection of patients. It's crucial to evaluate nursing students' attitudes toward patient safety in order to identify deficiencies in the educational curriculum and encourage students in patient safety activities. Given the importance of patient safety today, the purpose of this study was to appraise nursing students' expectations, attitudes, and awareness regarding patient safety.
Methods: This cross-sectional study was conducted in 2020 at one of the private university colleges in Malaysia. Ninety-two nursing students were recruited using the purposive sampling method. A self-administered questionnaire on patient safety was adapted. This data, analyzed using SPSS Version 20, and descriptive analysis and Chi-square test were used. A total of 92 questionnaires were completed.
Results: The findings show that the nursing students had a positive perception of the importance of patient safety in both education and the need for adequate skills. Moreover, 90.3 % of students demonstrated a positive attitude toward the importance of patient safety. The majority (98.9%) of the nursing students also demonstrated good knowledge about patient safety. The minimum desirable rates of positive responses (Likert 4 or 5) of 60% were exceeded among nursing students in all the three aspects.
Conclusion: Our findings can contribute to the growing knowledge base about students' learning of patient safety competencies from various perspectives. A better understanding of these interconnected factors can help new graduates feel more confident in their patient safety skills. High patient safety skills can help nursing students provide safe patient care.
Keywords:
Patient Safety, Nursing Care, Perceptions, Knowledge, Attitude
Downloads
Download data is not yet available.
References
Abdul, S., & Bukhari, R. (2021). Sample Size Determination Using Krejcie and Morgan Table. (February). https://doi.org/10.13140/RG.2.2.11445.19687
Alquwez, N., Cruz, J. P., Alshammari, F., Felemban, E. M., Almazan, J. U., Tumala, R. B., ... & Tork, H. M. (2019). A multi‐university assessment of patient safety competence during clinical training among baccalaureate nursing students: A cross‐sectional study. Journal of Clinical Nursing, 28(9-10), 1771-1781
Collet, C., Hine, D., & Du Plessis, K. (2015). Employability skills: perspectives from a knowledge-intensive industry. Education+ Training.
El-jardali, F., Sheikh, F., Garcia, N. A., Jamal, D., & Abdo, A. (2014). Patient safety culture in a large teaching hospital in Riyadh : baseline assessment, comparative analysis and opportunities for improvement. BMC Health Services Research, 14(1), 1–15. https://doi.org/10.1186/1472-6963-14-122
Eldridge, N. (2006). JCAHO National Patient Safety Goals for 2006. 6(1).
Huang, F. F., Shen, X. Y., Chen, X. L., He, L. P., Huang, S. F., & Li, J. X. (2020). Self-reported confidence in patient safety competencies among Chinese nursing students: a multi-site cross-sectional survey. BMC Medical Education, 20(1), 32.
Jamshidi, N., Molazem, Z., Sharif, F., Torabizadeh, C., & Kalyani, M. N. (2016). The Challenges of Nursing Students in the Clinical Learning Environment : A Qualitative Study. 2016.
Kohn, L. T., & Corrigan, J. M. (1999). donaldson, MS, eds. To err is human: Building a safer health system. Committee on Quality of Health Care in America. Institute of Medicine.
Krejcie, R. V., & Morgan, D. W. (1970). Determining sample size for research activities. Educational and Psychological Measurement, 30(3), 607-610.
Leung, G. K. K., & Patil, N. G. (2010). Patient safety in the undergraduate curriculum : medical students' Perception. 16(2), 101–105.
Madigosky, W. S., Headrick, L. A., Nelson, K., Cox, K. R., & Anderson, T. (2006). Changing and Sustaining Medical Students' Knowledge , Skills , and Attitudes about Patient Safety and Medical Fallibility. 81(1), 94–101.
Mu'taman Jarrar, H. A. R., & Don, M. S. (2016). Optimizing quality of care and patient safety in Malaysia: The current global initiatives, gaps and suggested solutions. Global Journal of Health Science, 8(6), 75.
Nabilou, B., Feizi, A., & Seyedin, H. (2015). Patient safety in medical education: students' perceptions, knowledge and attitudes. PloS One, 10(8), e0135610.
Noviyanti, L. W., Handiyani, H., & Gayatri, D. (2018). Improving The Implementation of Patient Safety by Nursing Students Using Nursing Instructors Trained In The Use of Quality Circles. 17(Suppl 2).
Siddiqui, A. (2021). International Patient Safety Goals ( IPSG ). (February 2018).
Stevanin, S., Bressan, V., Bulfone, G., Zanini, A., Dante, A., & Palese, A. (2015). Nurse Education Today Knowledge and competence with patient safety as perceived by nursing students : The fi ndings of a cross-sectional study. YNEDT, 35(8), 926–934. https://doi.org/10.1016/j.nedt.2015.04.002
Tella, S., Smith, N. J., Partanen, P., Jamookeeah, D., Lamidi, M. L., & Turunen, H. (2015). Learning to ensure patient safety in clinical settings: comparing Finnish and British nursing students' perceptions. Journal of Clinical Nursing, 24(19-20), 2954-2964.
Waterson, P. (2014). Patient Safety Culture-Theory,Methods and Application (1st ed.). Burlington: Ashgate publishing company.
World Health Organization. (2007). World Alliance for Patient safety progress report. Retrieved from https://www.who.int/patientsafety/information_centre/documents/progress_report_2006_2007.pdf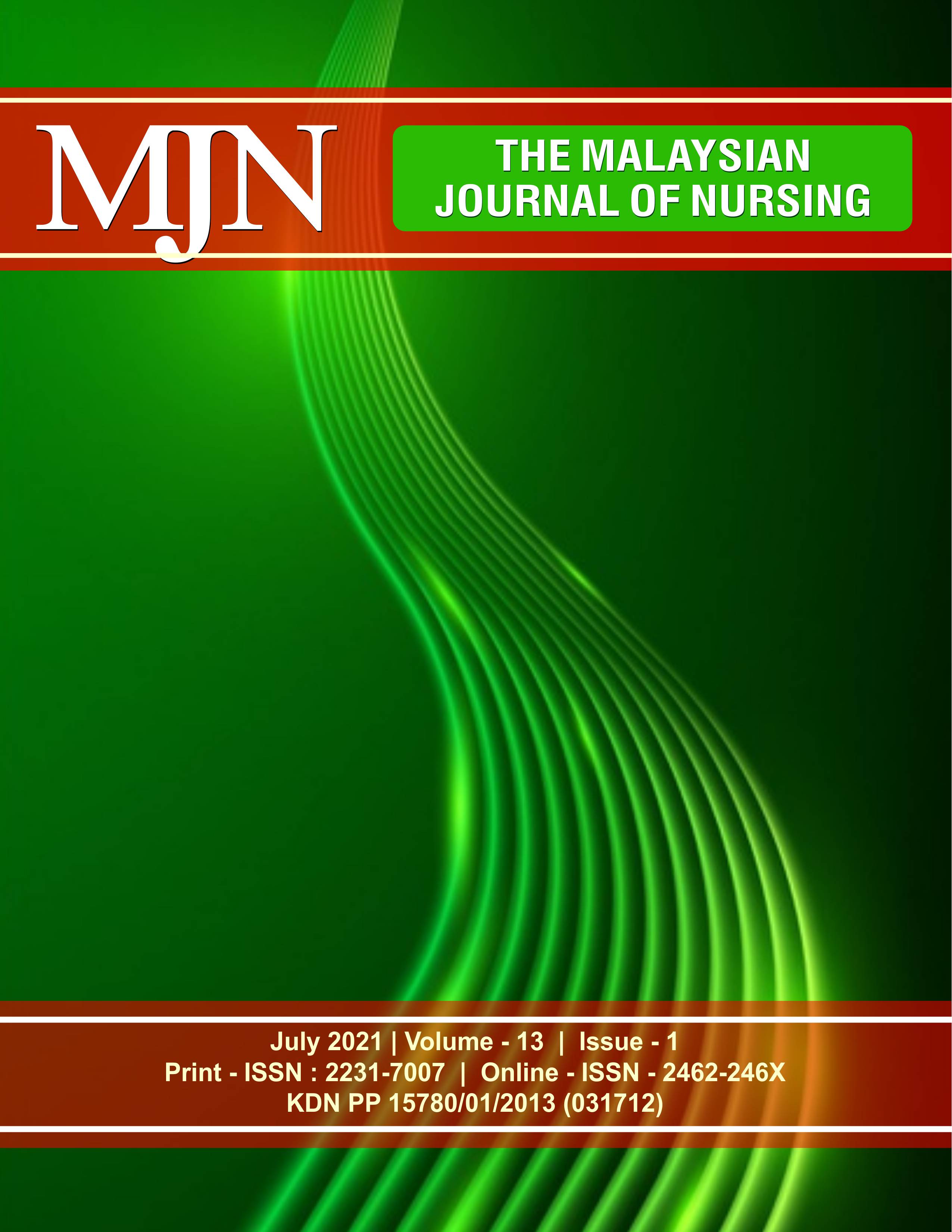 How to Cite
Nur Farhana Mohd Zulkifli, Aini Ahmad, Syamilah Musa, Jeevasulochana Sinniah, & Annamma Kunjukunju. (2021). PERCEPTION, KNOWLEDGE AND ATTITUDE TOWARDS PATIENT SAFETY AMONG NURSING STUDENTS IN PRIVATE COLLEGE. The Malaysian Journal of Nursing (MJN), 13(1), 68-76. https://doi.org/10.31674/mjn.2021.v13i01.010
License
Copyright (c) 2021 The Malaysian Journal of Nursing (MJN)
This work is licensed under a Creative Commons Attribution-NonCommercial-NoDerivatives 4.0 International License.