PROPER HEALTH EDUCATION FOR PARENTS BASED ON PARENTS' LIFE EXPERIENCE WITH LONG-TIME INTERNET USE OF ADOLESCENT
Abstract
This study aims to explore what health education is appropriate for parents based on their life experiences of living with adolescent on long-term Internet use. This research can also be used as a basis for preventing health problems between parents and adolescents based on the impact of internet use on adolescents. The study used a qualitative approach, specifically descriptive phenomenology. Participants 10 are parents (5 with boy and 5 with girl children) who identified using snowball method, with the inclusion criteria of having adolescents aged 13-24 years who use the internet for more than four hours a day. Data was collected through online or face to face interviews. Data was analyzed using Giogi's phenomenological analysis. The results showed that there are five themes that describe the health education needs desired by parents based on their life experiences with prolonged internet use in adolescents- managing worry, applying how to get rid of feelings of dislike in children, maintaining the positive effects, overcoming detrimental effect of the internet on children, and reducing the frequency of children using the internet through their cell phones. The results can guide healthcare providers in the community to prepare health education materials for parents. Social role of parents and society is very much needed in preventing the negative effects of internet use.
Keywords:
Adolescent, Health Education, Internet Use, Parent Experience
Downloads
Download data is not yet available.
References
American Academy of Pediatrics (2016). Announces New Recommendations for Children's Media Use. Baby Center. Preschooler. Entertainment. Media-Savvy. Retrived from : https://www.healthychildren.org/English/news/Pages/AAP-Announces-New-Recommendations-for-Childrens-Media-Use.aspx
Beard, K. W. (2005). Internet addiction: a review of current assessment techniques and potential assessment questions. CyberPsychology & Behavior, 8(1), 7-14.
Candrasari, Y. (2008). Reposisi Peran Perempuan dalam Akses dan Pemanfaatan Teknologi Komunikasi. Prosiding: Transformasi Industri Media dan Komunikasi di Indonesia. Dept. Ilmu Komunikasi FISIP UNAIR.
Cho, C. H., & Cheon, H. J. (2005). Children's exposure to negative Internet content: Effects of family context. Journal of Broadcasting & Electronic Media, 49(4), 488-509.
Davis, R. A., Flett, G. L., & Besser, A. (2002). Validation of a new scale for measuring problematic Internet use: Implications for pre-employment screening. Cyberpsychology & behavior, 5(4), 331-345.
Giorgi, A. (1997). The theory and practice, evaluation phenomenological method as qualitative research procedure. Phenomenological Psychology, 28(2), 235-260.
Hur, M. H. (2006). Demographic, habitual, and socioeconomic determinants of Internet addiction disorder: an empirical study of Korean teenagers. Cyberpsychology & behavior, 9(5), 514-525.
Hussain, Z., & Griffiths, M. D. (2009). The attitudes, feelings, and experiences of online gamers: A qualitative analysis. CyberPsychology & Behavior, 12(6), 747-753.
Livingstone, S., & Helsper, E. (2008). Parental mediation and children's internet use. Journal of Broadcasting & Electronic Media, 52(4), 581-599.
Mafe CR, Blas SS (2006). Explaining Internet dependency: An exploratory study of future purchase intention of Spanish Internet users. Internet Research,16(4), 380- 397.
Rice, M. (2005). Online addiction. Beijing Review, 48(46), 32-33.
Shapira, N. A., Goldsmith, T. D., Keck Jr, P. E., Khosla, U. M., & McElroy, S. L. (2000). Psychiatric features of individuals with problematic internet use. Journal of affective disorders, 57(1-3), 267-272.
Shin, W., & Kang, H. (2015). Adolescents' privacy concerns and information disclosure online: The role of parents and the Internet. Computers in Human Behavior, 54, 114-123.
Sonck, N., Nikken, P., & de Haan, J. (2013). Determinants of Internet Mediation. Journal of Children and Media, 7(1), 96-113.
Sorbring, E. (2014). Parents' Concerns About Their Teenage Children's Internet Use. Journal of Family Issues, 35(1), 75-96.
Soule, L. C., Shell, L. W., & Kleen, B. A. (2003). Exploring Internet addiction: Demographic characteristics and stereotypes of heavy Internet users. Journal of Computer Information Systems, 44(1), 64-73.
Stattin, H., & Kerr, M. (2000). Parenting monitoring reinterpretation. Child Development, 71(1), 1072-1085.
Symons, K., Vanwesenbeeck, I., Walrave, M., Van Ouytsel, J., & Ponnet, K. (2020). Parents' Concerns Over Internet Use, Their Engagement in Interaction Restrictions, and Adolescents' Behavior on Social Networking Sites. Youth and Society, 52(8), 1569-1581.
Thatcher, A., & Goolam, S. (2005). Defining the South African Internet 'addict': Prevalence and biographical profiling of problematic Internet users in South Africa. South African Journal of Psychology, 35(4), 766-792.
Twenge, J. M., & Campbell, W. K. (2018). Associations between screen time and lower psychological well-being among children and adolescents: Evidence from a population-based study. Preventive medicine reports, 12, 271-283.
Van den Eijnden, R., Spijkerman, R., Vermulst, A., van Rooy, T., & Engels, R. (2010). Compulsive internet use among adolescents: Bidirectional parent–child relationships. Journal of Abnormal Child Psychology, 38(1), 77-89.
Widyanto, L., & Griffiths, M. (2006). Internet addiction: A critical review. International Journal of Mental Health and Addiction, 4(1), 31-51
World Health Organization (WHO) (2020). Adolescent health. Health Topics, WHO, Geneva. Retrieved from: https://www.who.int/health-topics/adolescent-health#tab=tab_1
World Health Organization (WHO) (2021). Adolescent and young adult health). Newsroom, Fact sheets, WHO, Geneva, Switzerland. Retrieved from: https://www.who.int/news-room/fact-sheets/detail/adolescents-health-risks-and-solutions.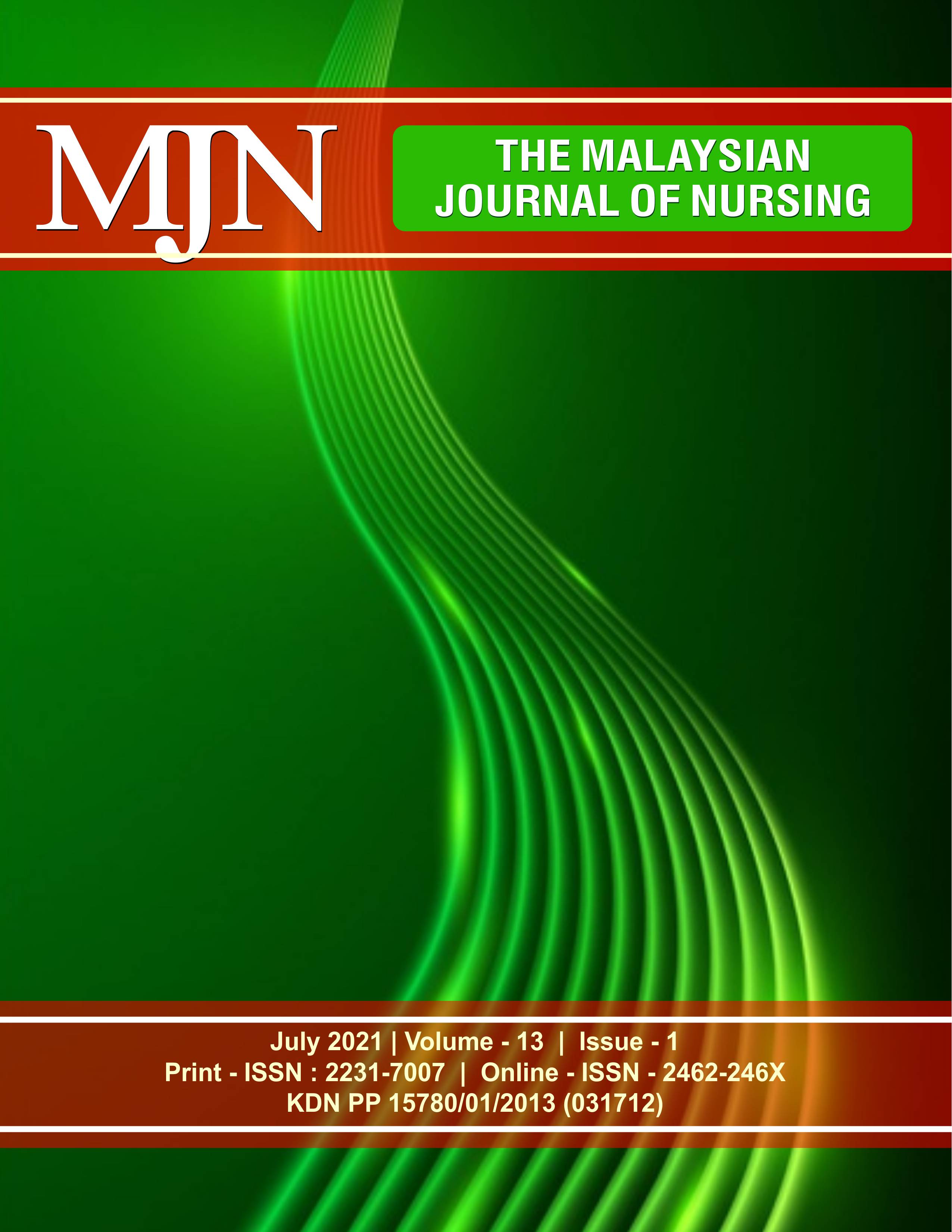 How to Cite
Suwarsi, S., & Josephine D. Daquioag-Lorica. (2021). PROPER HEALTH EDUCATION FOR PARENTS BASED ON PARENTS' LIFE EXPERIENCE WITH LONG-TIME INTERNET USE OF ADOLESCENT. The Malaysian Journal of Nursing (MJN), 13(1), 95-101. https://doi.org/10.31674/mjn.2021.v13i01.014
License
Copyright (c) 2021 The Malaysian Journal of Nursing (MJN)
This work is licensed under a Creative Commons Attribution-NonCommercial-NoDerivatives 4.0 International License.