CARING BEHAVIORS AND QUALITY OF CARE RENDERED BY COMMUNITY HEALTH NURSES IN PHILIPPINES
Abstract
Introduction:  Nursing has been referred as a "caring profession" that requires the practitioner to exhibit and convey the art of caring which has also been the mind setting inculcated among nursing professionals in the community health setting.  Hence, the study aimed to determine the caring behaviors and the quality of nursing care rendered by community health nurses.
Methods: The study applied a quantitative correlational-predictive research design. A purposive sampling was employed to identify the 100 respondents who were nurses assigned in the different community healthcare facilities and centers of the different barangays in the Municipality of Biliran, Philippines. The self-administered questionnaires were distributed among the respondents. To analyze the data, descriptive statistics such as mean and weighted mean were used. Likewise, the regression analysis was also used to determine which of the caring factors predicts the quality of care.
Results:  The seven caring behaviors were highly evident among the community health nurses and a good quality of nursing care was reported. Likewise, all the seven caring behavior predicts the quality of nursing care.
Conclusion: The outcome was found to be positive for the overall standard of treatment. The research concluded that the overall level of treatment revealed is predicted by caring behaviors.
Keywords:
Caring Behaviors, Quality Nursing Care, Community Health Nurses
Downloads
Download data is not yet available.
References
Appleton, C. (1993). The Art of Nursing: The Experience of Patients and Nurses. Journal of Advanced Nursing, 18(6), 892-899.
Charalambous, A., Katajisto, J., Valimaki, M., Leino-Kilpi, H., & Suhonen, R. (2010). Individualized Care and the Professional Practice Environment: Nurses' Perceptions. International Nursing Review, 57(4), 500-507.
Cronin, S., & Harrison, B. (1988). Importance of Nurse Caring Behaviors as Perceived by Patients After Myocardial Infarction. Heart Lung, 17(4), 374-380.
Fingeld-Connet, D. (2013). Meta-synthesis of Caring in Nursing. Journal of Advanced Nursing, 17(2), 196-204
Fortuno, A., Oco, D., & Clores, M. (2017). Influential Components of Caring Nurse-Patient Interaction (CNPI) in a Tertiary Hospital in the Philippines: Towards Improving Health Outcomes of Patients. International Journal of Nursing Science,7(4), 84-90.
Karlsson, M., & Pennbrant, S. (2020). Ideas of Caring in Nursing Practice. Nursing Philosophy, 21(4), 1-5.
Laschinger, H.S., Hall, L.M., Pedersen, C., & Almost, J. (2005). A Psychometric Analysis of the Patient Satisfaction with Nursing Care Quality Questionnaire. Journal of Nursing Care Quality, 20(3), 220-230.
Leyson, A. (1996). A Descriptive Analysis of Caring Behavior of Nurses in Culion Sanitarium.Philippine Womens University Research Journal, 1, 106-111.
Pallant, J. (2010). SPSS Survival Manual: A Step by Step Guide to Data Analysis using SPSS. Maidenhead: Open University Press/McGraw-Hill. https://searchworks.stanford.edu/view/8839418
Poortaghi, S., Ebadi, A., Salsali, M., Raiesifar, A., Davoudi, N., & Pourgholamamiji, N. (2019). Significant Influencing Factors and Practical Solutions in Improvement of Clinical Nursing Services: A Delphi Study. Biomed Central Health Services Research, 20(1).
Roach, S. (2002). Caring: The Human Mode of Being: A Blueprint for the Health Professions(2nd Revised Edition). Canadian Healthcare Association Press.
Sibiya, M.N. (2018). Effective communication in nursing.Nursing,19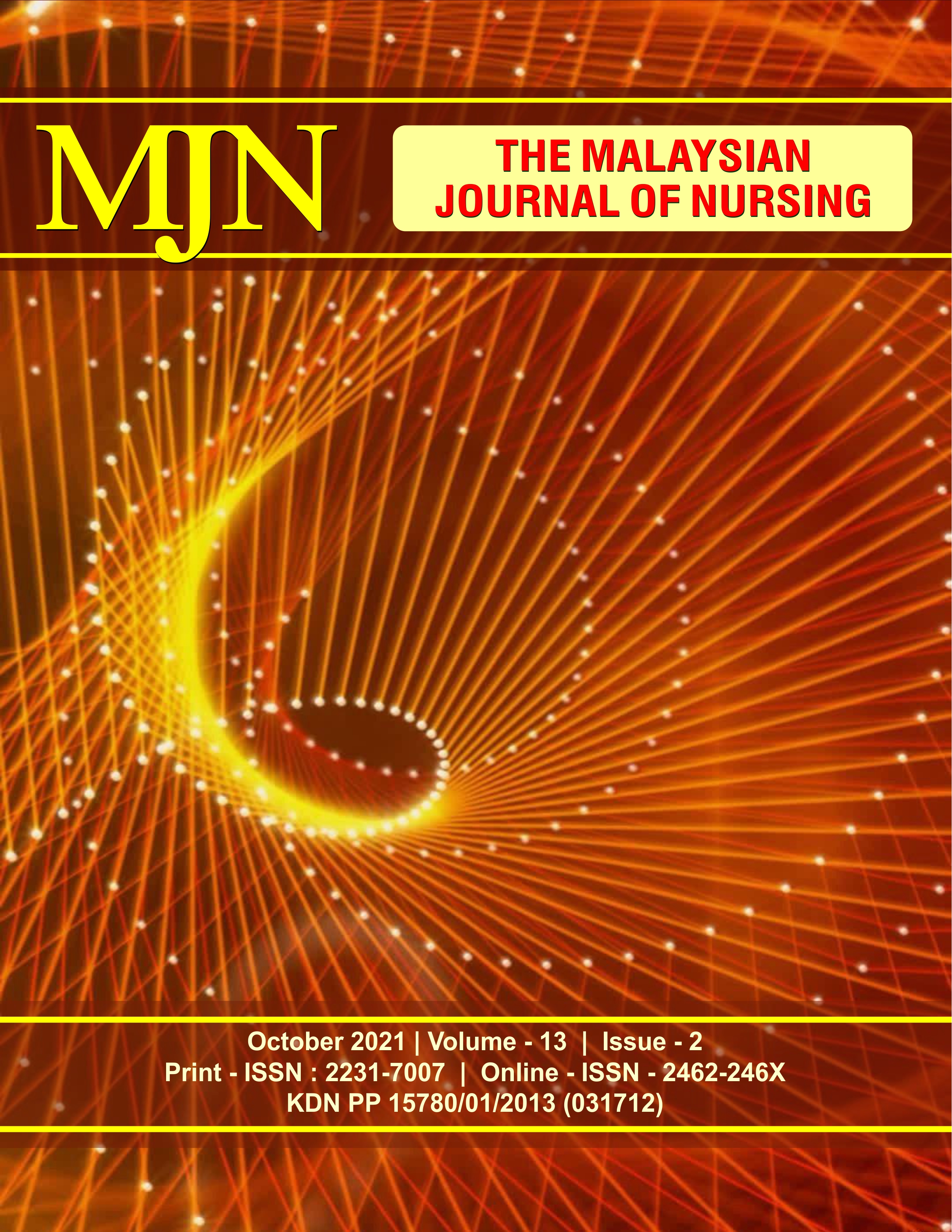 How to Cite
Sheilomay A. Majait, Berna B. Sallave, & Pearl Irish V. De Paz. (2021). CARING BEHAVIORS AND QUALITY OF CARE RENDERED BY COMMUNITY HEALTH NURSES IN PHILIPPINES. The Malaysian Journal of Nursing (MJN), 13(2), 34-39. https://doi.org/10.31674/mjn.2021.v13i02.007
License
Copyright (c) 2021 The Malaysian Journal of Nursing (MJN)
This work is licensed under a Creative Commons Attribution-NonCommercial-NoDerivatives 4.0 International License.