TRANSLATING HAND HYGIENE PRACTICE INTO COMPLIANCE DURING ASEPTIC WOUND DRESSING
Abstract
INTRODUCTION: Over the past decade, we have witnessed some amazing innovations in the field of aseptic wound dressing. However, hygiene compliance during this common procedure still remains poorly observed. BACKGROUND: In the late 1800s, Florence Nightingale, revolutionised the practice by implementing the principle of hand washing and other hygienic practice during the Crimean War. Growing burden of healthcare-associated infection have yielded enough scientific evidence to support the claim that hand hygiene alone is capable of substantially reducing the risk of cross-transmission. AIMS: This study explores factors associated with hand hygiene compliance during aseptic wound dressing among healthcare workers. METHOD: This is a cross-sectional survey conducted among various public healthcare workers in the state of Johor (Malaysia). Descriptive and inferential statistics were computed to analyse the data. RESULT: A total of 451 HCWs have volunteer and out of which majority work as a Registered Nurse (n=262, 58%), compared to other health worker (n=189, 42%). Almost all of HCW (n=446, 99%) feel wound dressing took long time to finish regardless of experience. DISCUSSION: We found that using the standardised forms as the assisting method significantly improved hand hygiene compliance during aseptic wound dressing regardless of working experience. CONCLUSION: Although nurses are predominantly responsible for handling wound care, but various factors are almost similar which can improve adherence to hand hygiene standards, and experience can be gained along the way.
Keywords:
Translating Practice, Hand Hygiene Compliance, Wound Dressing
Downloads
Download data is not yet available.
References
Allegranzi, B., & Pittet, D. (2009). Role of hand hygiene in healthcare-associated infection prevention. Journal of Hospital Infection, 73(4), 305-315.
Beers, E. H. (2019). Palliative wound care: less is more. Surgical Clinics, 99(5), 899-919.
Dabiri, G., Damstetter, E., & Phillips, T. (2014). Choosing a Wound Dressing Based on Common Wound Characteristics. Advances in Wound Care, 5(1), 32-41.
Dumitrascu, D.I., David, L., Dumitrascu, D.L., & Rogozea, L. (2020). Florence Nightingale bicentennial: 1820–2020. Her contributions to health care improvement. Medicine and Pharmacy Reports, 93(4), 428.
Gibran, N.S., & Curtis, E. (2019). History of Wound Care. In J. Marc G., K. Lars-Peter, & S. Folke (Eds.), Handbook of Burns (2nd ed., vol. 1, pp. 423-430). Springer Nature.
Gillespie, B.M., Walker, R., Lin, F., Roberts, S., Eskes, A., Perry, J., Birgan, S., Nieuwenhoven, P., Garrahy, E., & Probert, R. (2020). Wound care practices across two acute care settings: A comparative study. Journal of Clinical Nursing, 29(5-6), 831-839.
Gould, D.J., Moralejo, D., Drey, N., Chudleigh, J.H., and Taljaard, M. (2017). Interventions to improve hand hygiene compliance in patient care. Cochrane Database of Systematic Reviews, 8(9).
Guest, J.F., Ayoub, N., McIlwraith, T., Uchegbu, I., Gerrish, A., Weidlich, D., Vowden, K., & Vowden, P. (2017). Health economic burden that different wound types impose on the UK's National Health Service. International Wound Journal, 14(2), 322-330.
Hammerschmidt, J., & Manser, T. (2019). Nurses' knowledge, behaviour and compliance concerning hand hygiene in nursing homes: a cross-sectional mixed-methods study. BMC Health Services Research, 19(1), 1-13.
Mathur, P. (2011). Hand hygiene: Back to the basics of infection control. In Indian Journal of Medical Research (vol. 134, issue 11, pp. 611-620). Medknow Publications & Media Pvt Ltd.
Ministry of Health Malaysia. (2014). Wound Care Manual. https://www.moh.gov.my/moh/resources/Penerbitan/Garis Panduan/Garis Panduan Umum(KKM)/Wound_Care_Manual.pdf
Sen, C.K. (2019). Human Wounds and Its Burden: An Updated Compendium of Estimates.Advances in Wound Care, 8(2), 39-48.
Sergent, A., Slekovec, C., Pauchot, J., Jeunet, L., Bertrand, X., Hocquet, D., Pazart, L., & Talon, D. (2012). Bacterial contamination of the hospital environment during wound dressing change. Orthopaedics & Traumatology: Surgery & Research, 98(4), 441-445.
Zivich, P.N., Gancz, A.S., & Aiello, A.E. (2018). Effect of hand hygiene on infectious diseases in the office workplace: A systematic review. American Journal of Infection Control, 46(4), 448-455.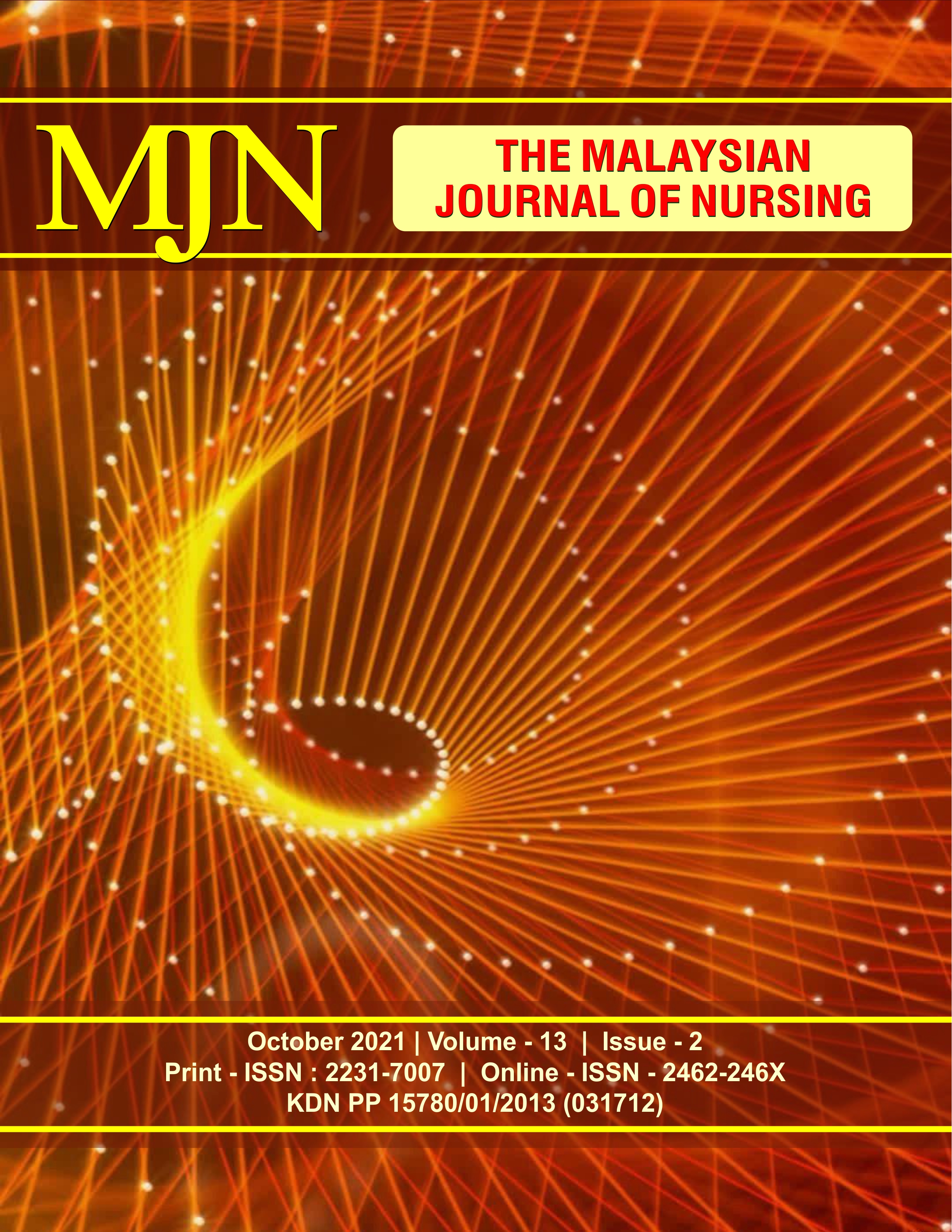 How to Cite
Iszaid Bin Idris, Azizan Binti Atan, Noor Shahidah Binti Ahmad Yatim, & Mahani Binti Abdullah. (2021). TRANSLATING HAND HYGIENE PRACTICE INTO COMPLIANCE DURING ASEPTIC WOUND DRESSING. The Malaysian Journal of Nursing (MJN), 13(2), 79-83. https://doi.org/10.31674/mjn.2021.v13i02.013
License
Copyright (c) 2021 The Malaysian Journal of Nursing (MJN)
This work is licensed under a Creative Commons Attribution-NonCommercial-NoDerivatives 4.0 International License.