EFFECTIVENESS OF A NEED BASED ORAL CARE PROTOCOL ON ORAL HEALTH STATUS, OCCURRENCE AND PROGRESSION OF PNEUMONIA AMONG VENTILATED PATIENTS
Abstract
Background: Ventilated patients with chronic liver diseases are at more risk of developing gingival bleeding and oral mucosal lesion.
Purposes: The objective of the present study is to evaluate the Effectiveness of a Need Based Oral Care Protocol on Oral Health Status, Occurrence and Progression of Pneumonia among ventilated patients.
Methods: Quasi experimental time series design was used. Fifty ventilated patients were randomly allocated to study (n=27) and comparison (n=23) groups. Severity of illness was assessed by APACHE II score. Occurrence of Pneumonia was assessed using Microbiological profile. The CPIS score was assessed for assessing Progression of Pneumonia and to rule out HAP. Need for oral care and Oral Health Status was assessed daily in terms of frequency of oral care as assessed by MBOAS score. Need based Oral care as per American Association of Critical Care Nurse was provided by the researcher to the patients in the study group. Comparison group received routine oral care as per the existing guidelines by the staff on duty. Assessment of the oral health status was done using MBOAS.
Results: The findings related to Oral Health Status showed that the mean MBOAS scores differed significantly (F=5.82, P =0.001), across the time; and across the groups over time (F=19.16, p=0.001). The results of Microbiological Profile revealed that the most common causative organism for VAP in both the Study and Comparison group on day three as well as on day six were Klebsiella Pneumonia, Staphylococcus, Acinetobacter Baumanni, Pseudomonas and gram-negative bacteria.  In terms of occurrence of Pneumonia there was statistically significant difference found between the groups on day three (χ2= 5.83, p=0.05) and on day six (χ2= 7.40, p=0.02). There was significant difference seen between the groups in the Progression of Pneumonia with time from day 1 to 6 (F=39.90; p=0.001), and also across the groups over time (F=5.14, p=0.03). A significant relationship (r=0.66, p=0.001) seen between Severity of Illness with Progression of Pneumonia on day six in the Study group.
Conclusion: The findings indicate that the Need Based Oral Care Protocol was effective in improving the Oral Health Status and reducing the occurrence and Progression of Pneumonia among ventilated patients with CLD.
Keywords:
Oral Health Status, Occurrence of Pneumonia, Progression of Pneumonia, Ventilated Patients, Need Based Oral Care
Downloads
Download data is not yet available.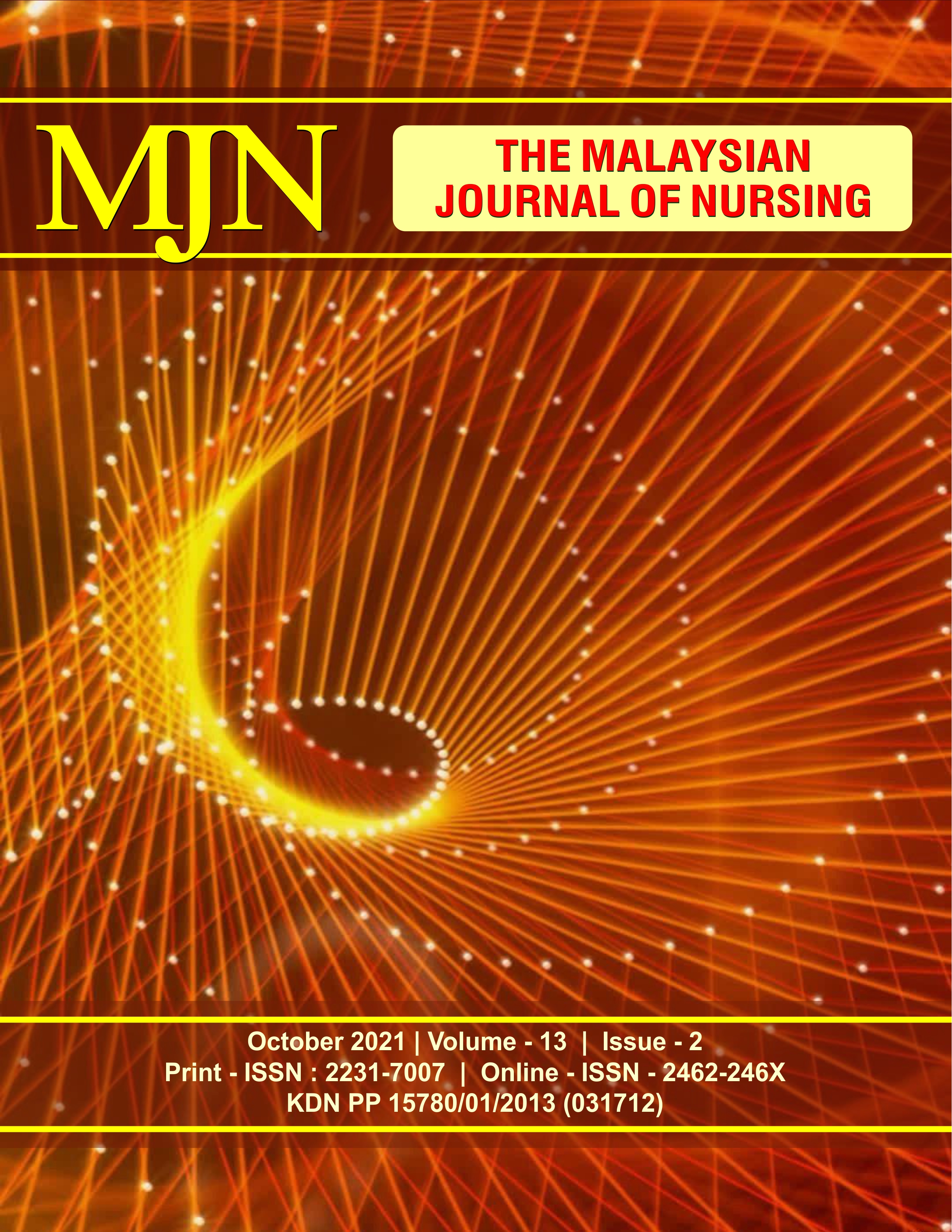 How to Cite
Saklani, M. D., Mini George, & Sarita. (2021). EFFECTIVENESS OF A NEED BASED ORAL CARE PROTOCOL ON ORAL HEALTH STATUS, OCCURRENCE AND PROGRESSION OF PNEUMONIA AMONG VENTILATED PATIENTS. The Malaysian Journal of Nursing (MJN), 13(2). Retrieved from https://ejournal.lucp.net/index.php/mjn/article/view/1312
License
Copyright (c) 2021 The Malaysian Journal of Nursing (MJN)
This work is licensed under a Creative Commons Attribution-NonCommercial-NoDerivatives 4.0 International License.