LEVEL OF KNOWLEDGE AND ATTITUDE ON DEMENTIA CARE AMONG NURSES
Abstract
Background: It is a concern in meeting patients' needs with a high prevalence of dementia across the world. However, dementia care has always been neglected. Nurses are expected to be capable of being able to care for people with dementia. Purpose: This study aims to determine the level of knowledge and attitude on dementia care and their association among nurses at a private hospital. Methods: This is a quantitative cross-sectional study. A self-administered questionnaire using Dementia Knowledge Assessment Scale (DKAS) and Dementia Attitude Scale (DAS) were adopted in the study. In this study, a simple random sampling method was used to recruit 102 nurses. Results: Findings show that nurses have poor knowledge (M=23.59, SD=6.79) but with a positive attitude (M=98.99, SD=12.08) on dementia care. There is no association between level of knowledge and attitude in dementia care (p> .05) among nurses. Conclusions: The educators, policy makers and administrators in healthcare settings are recommended to provide a support system and training strategy for nurses to improve their knowledge in caring for patients with dementia. Future study may be considered to examine the influencing factors and barriers related to dementia care.
Keywords:
Nurse, Dementia, Knowledge, Attitude
Downloads
Download data is not yet available.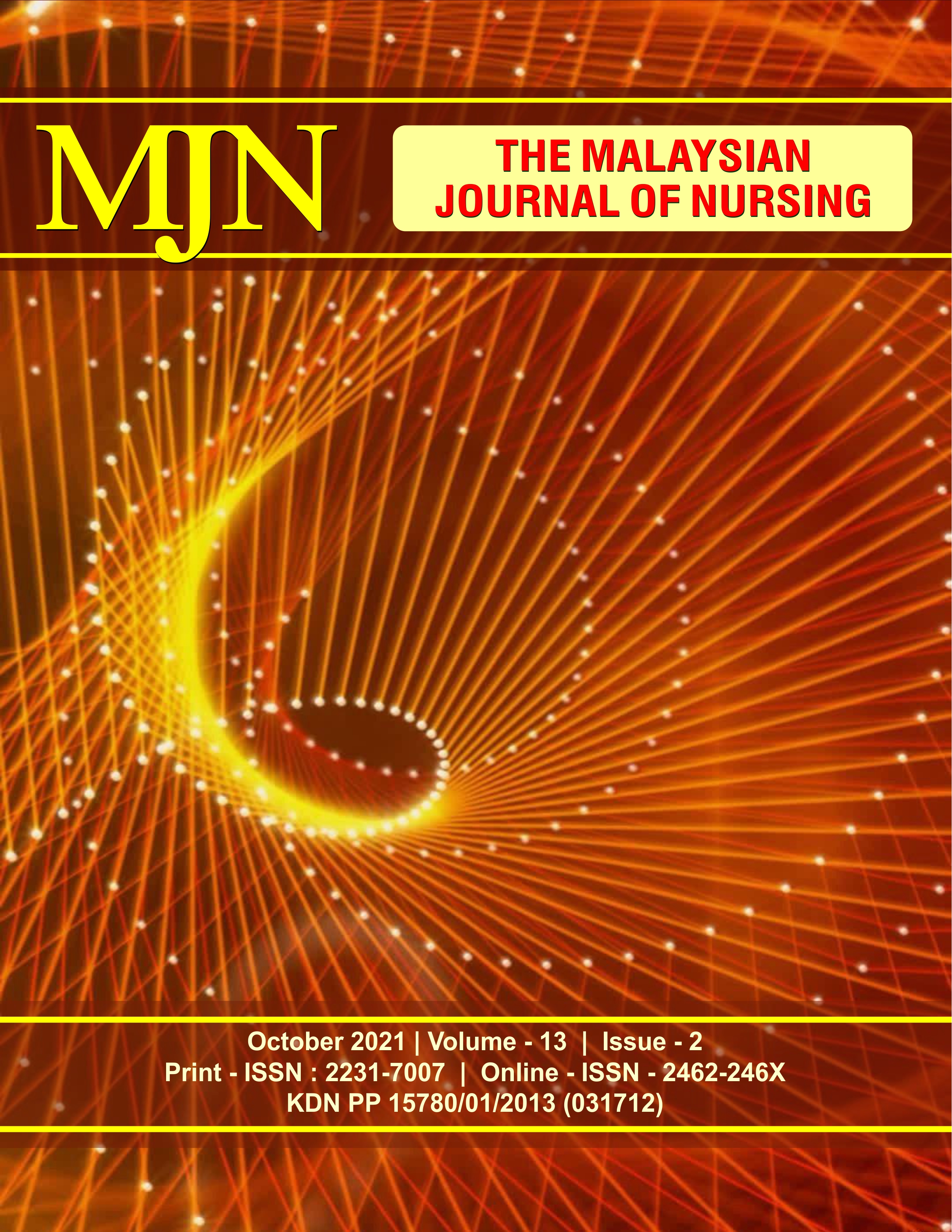 How to Cite
Chong Kar Lim, Chang Woan Ching, Leow Jing Jun, & Ling Yun. (2021). LEVEL OF KNOWLEDGE AND ATTITUDE ON DEMENTIA CARE AMONG NURSES. The Malaysian Journal of Nursing (MJN), 13(2). Retrieved from https://ejournal.lucp.net/index.php/mjn/article/view/1310
License
Copyright (c) 2021 The Malaysian Journal of Nursing (MJN)
This work is licensed under a Creative Commons Attribution-NonCommercial-NoDerivatives 4.0 International License.