LEVEL OF KNOWLEDGE AND ATTITUDE ON DEMENTIA CARE AMONG NURSES
Abstract
Background: It is a concern in meeting patients' needs with a high prevalence of dementia across the world. However, dementia care has always been neglected. Nurses are expected to be capable of being able to care for people with dementia. Purpose: This study aims to determine the level of knowledge and attitude on dementia care and their association among nurses at a private hospital. Methods: This is a quantitative cross-sectional study. A self-administered questionnaire using Dementia Knowledge Assessment Scale (DKAS) and Dementia Attitude Scale (DAS) were adopted in the study. In this study, a simple random sampling method was used to recruit 102 nurses. Results: Findings show that nurses have poor knowledge (M=23.59, SD=6.79) but with a positive attitude (M=98.99, SD=12.08) on dementia care. There is no association between level of knowledge and attitude in dementia care (p> .05) among nurses. Conclusions: The educators, policy makers and administrators in healthcare settings are recommended to provide a support system and training strategy for nurses to improve their knowledge in caring for patients with dementia. Future study may be considered to examine the influencing factors and barriers related to dementia care.
Keywords:
Nurse, Dementia, Knowledge, Attitude
Downloads
Download data is not yet available.
References
Alzheimer's Association. (2016). 2016 Alzheimer's disease facts and figures. Alzheimer's & Dementia, 12(4), 459-509.
Annear, M. J., Toye, C., Elliott, K.-E. J., McInerney, F., Eccleston, C., & Robinson, A. (2017). Dementia Knowledge Assessment Scale (DKAS): Confirmatory Factor Analysis and Comparative Subscale Scores among an International Cohort. BMC Geriatrics, 17(1), 168.
Arvanitakis, Z., Shah, R. C., & Bennett, D. A. (2019). Diagnosis and Management of Dementia: Review. Journal of the American Medical Association, 322(16), 1589-1599.
Butcher, L. (2018). Caring for Patients with Dementia in the Acute Care Setting. British Journal of Nursing, 27(7), 358-362.
Chen, I., Lin, K., Hu, S. H., Chuang, Y., Long, C. O., Chang, C., & Liu, M. F. (2017). Palliative Care for Advanced Dementia: Knowledge and Attitudes of Long-Term Care Staff. Journal of Clinical Nursing, 27(3-4), 848-858.
Griffiths, A. W., Cheong, W. L., Saw, P. S., & Parveen, S. (2020). Perceptions and Attitudes towards Dementia among University Students in Malaysia. BMC Medical Education, 20(1), 1- 7.
Alzheimer's Association (2019). 2019 Alzheimer's disease facts and figures. Alzheimer's & dementia, 15(3), 321-387.
Kim, S. K., & Park, M. (2017). Effectiveness of Person-Centered Care on People with Dementia: A Systematic Review and Meta-Analysis. Clinical Interventions in Aging, 12, 381- 397.
Lin, P. C., Hsieh, M. H., Chen, M. C., Yang, Y. M., & Lin, L. C. (2017). Knowledge Gap Regarding Dementia Care among Nurses in Taiwanese Acute Care Hospitals: A Cross- Sectional Study. Geriatrics & Gerontology International, 18(2), 276-285.
Mat Nuri, T. H., Hong, Y. H., Ming, L. C., Mohd Joffry, S., Othman, M. F., & Neoh, C. F. (2017). Knowledge on Alzheimer's Disease among Public Hospitals and Health Clinics Pharmacists in the State of Selangor, Malaysia. Frontiers in Pharmacology, 8, 739.
Mat, A. H., & Ibrahim, A. F. (2019). The Knowledge and Attitude towards People with Dementia Among Youth in Kuantan. International Islamic University, Malaysia.
Monthaisong, D. (2018). Nurses' Experiences Providing Care for People with Dementia: An Integrative Literature Review. Journal of Nursing and Care, 7(2), 1-6.
Nikmat, A. W., Hawthorne, G., & Al-Mashoor, S. H. A. (2011). Dementia in Malaysia: Issues and Challenges. ASEAN Journal of Psychiatry, 12, 1-7.
O'Connor, M. L., & McFadden, S. H. (2010). Development and psychometric validation of the dementia attitudes scale. International Journal of Alzheimer's Disease, 2010.
Keuning-Plantinga, A., Roodbol, P. F., Krijnen, W. P., & Finnema, E. J. (2020). Nurses' Perceptions in Caring for People with Dementia in Dutch Acute Hospitals. Journal of Clinical Nursing, 11.
Strøm, B. S., Engedal, K., & Andreassen, L. (2019). Nursing Staff's Knowledge and Attitudes toward Dementia: A Pilot Study from an Indian Perspective. Dementia and Geriatric Cognitive Disorders Extra, 9(3), 352-361.
Tullo, E., S., & Young, T. J. (2014). Medical Students' Attitudes toward People with Dementia: An International Investigation. International Psychogeriatrics, 26(1), 165-171.
Wang, Y., Xiao, L. D., Luo, Y., Xiao, S. Y., Whitehead, C., & Davies, O. (2018). Community Health Professionals' Dementia Knowledge, Attitudes and Care Approach: A Cross-Sectional Survey in Changsha, China. BMC Geriatrics. 18, 1-10.
World Health Organization (WHO). (2019). Dementia.https://www.who.int/news-room/fact-sheets/detail/dementia
Yao, C., Tai, P., Poly, T., Islam, M., Yang, H., Wu, C., & Li, Y. (2018). Increased Risk of Dementia in Patients with Antidepressants: A Meta-Analysis of Observational Studies. Behavioural Neurology, 10, 1-8.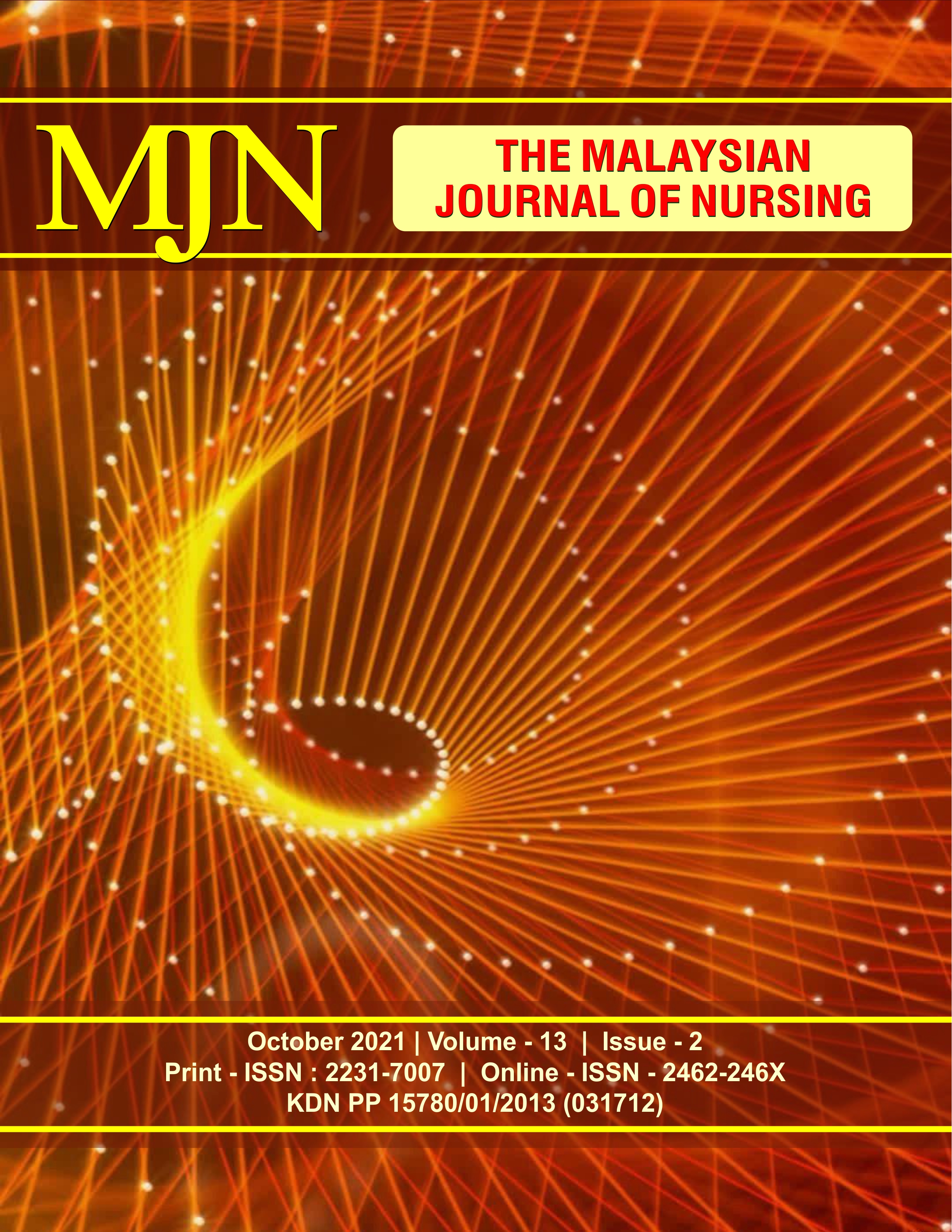 How to Cite
Chong Kar Lim, Chang Woan Ching, Leow Jing Jun, & Ling Yun. (2021). LEVEL OF KNOWLEDGE AND ATTITUDE ON DEMENTIA CARE AMONG NURSES. The Malaysian Journal of Nursing (MJN), 13(2), 3-7. https://doi.org/10.31674/mjn.2021.v13i02.001
License
Copyright (c) 2021 The Malaysian Journal of Nursing (MJN)
This work is licensed under a Creative Commons Attribution-NonCommercial-NoDerivatives 4.0 International License.