NUTRITIONAL STATUS AMONG ELDERLY RESIDING IN LONGHOUSES AT KUCHING, SARAWAK
Abstract
Background: Nutrition is a major aspect in healthcare. Poor nutritional status may affect elderly particularly during the aging process. It becomes the challenge for older population to maintain their health with good nutritional level. Objectives: This study aims to investigate the nutritional status among elderly in longhouses and its' association with demographic factors. Methods: This is a cross-sectional quantitative study. A total of 109 Malaysian older adults were recruited using convenience sampling method. The MNA®-SF questionnaire was adopted to determine the nutritional status among elderly. Results: The findings of the study show that elderly at longhouses are at risk for malnutrition (M=10.15, SD=2.289). There is a statistically significant relationship between age/alcohol consumption and nutritional status (p<.05). Conclusion: The study reveals an important information regarding nutrition status of the elderly residing in long houses at Kuching and Serian divisions. The local public health providers are recommended to take further actions in enhancing the nutritional status of the older population in Sarawak.
Keywords:
Nutritional Status, Elderly, Longhouses
Downloads
Download data is not yet available.
References
Agree, E. M. (2018). Demography of aging and the family. In: Future Directions for The Demography of Aging Proceeding Workshop. Washington, DC: National Academies Press, 159-186.
Amarya, S., Singh, K., & Sabharwal, M. (2015). Changes during aging and their association with malnutrition. Journal of Clinical Gerontology and Geriatrics, 6(3), 78-84.
Azhar, A., Rahman, M. M., & Arif, M. A. (2016). Satisfaction on Primary Healthcare Services in Sarawak, Malaysia: Evidence from A Cross-Sectional Community Based Study. Malaysian Journal of Public Health Medicine, 16(3), 267-273.
Baumgarten, A., Schmidt, J. G., Rech, R. S., Hilgert, J. B., & de Goulart, B. N. G. (2017). Dental status, oral prosthesis and chewing ability in an adult and elderly population in southern Brazil. Clinics, 72(11), 681-685.
Cheong, S. M., Jasvindar, K., Lim, K. H., Surthahar, A., & Ambigga, D. (2017). Prevalence and factors influencing fruit and vegetable consumption among Malaysian elderly. International Journal of Public Health and Clinical Sciences, 4(1), 41-52.
Churak, P., Praditsorn, P., Meenongwah, J., & Wimonpeerapattana, W. (2019). Factors associated with nutritional status of elderly in Ubon Ratchathani, Thailand. Asia-Pacific Journal of Science and Technology, 24(1), 1-12.
Damayanthi, H. D. W. T., Moy, F. M., Abdullah, K. L., & Dharmaratne, S. D. (2018). Prevalence of malnutrition and associated factors among community-dwelling older persons in Sri Lanka: A cross-sectional study. BMC Geriatrics, 18(1), 1-10.
Gomes, A. P., Soares, A. L., & Gonçalves, H. (2016). Low diet quality in older adults: A population-based study in southern Brazil. Ciencia & Saude Coletiva, 21(11), 3417–3428.
Lin, W. Q., Wang, H. H. X., Yuan, L. X., Li, B., Jing, M. J., Luo, J. L., Tang, J., Ye, B. K., & Wang, P. X. (2017). The unhealthy lifestyle factors associated with an increased risk of poor nutrition among the elderly population in China. The Journal of Nutrition, Health & Aging, 21(9), 943-953.
Mangels, A. R. (2018). Malnutrition in older adults. The American Journal of Nursing, 118(3), 34-41.
Marcel, C. B., & Schub, T. B. (2018). Alcohol Use Disorder: Dietary Considerations. Retrieved from: https://eds-a-ebscohost-com.ezp2.imu.edu.my/eds/detail/detail?vid=4&sid=44fa5c75-6559-447c-986f-
Ministry of Health (2019). Program Pembasmian Kemiskinan Bandar (PPKB). Retrieved from: https://www.kpkt.gov.my/index.php/pages/view/285
Nohan, A. F., Adznam, S. N. A., Jamaluddin, R., & Norazman, C. W. (2020). Diet Quality and its Associated Factors among Community Dwelling Older Adults in Urban District in Kuala Lumpur, Malaysia. Malaysian Journal of Medicine and Health Sciences, 16(6), pp 153-162.
Norazman, C. W., Adznam, S. N. A., & Jamaluddin, R. (2020). Malnutrition as key predictor of physical frailty among Malaysian older adults. Nutrients, 12(6), 1-12.
Patil, D. J., & Shindhe, M. M. (2018). Nutritional status assessment of elderly using MNA tool in Rural Belagavi: A cross sectional study. International Journal of Community Medicine and Public Health, 5(11), 4799-4803.
Poda, G. G., Hsu, C. Y., Rau, H. H., & Chao, J. C. J. (2019). Impact of socio-demographic factors, lifestyle and health status on nutritional status among the elderly in Taiwan. Nutrition Research and Practice, 13(3), 222-229.
Rapacciuolo, A., Perrone Filardi, P., Cuomo, R., Mauriello, V., Quarto, M., Kisslinger, A., Savarese, G., Illario, M., & Tramontano, D. (2016). The impact of social and cultural engagement and dieting on well-being and resilience in a group of residents in the metropolitan area of Naples. Journal of Aging Research, 2016.
Rosli, T. I., Chan, Y. M., Kadir, R. A., & Hamid, T. A. A. (2019). Association between oral health-related quality of life and nutritional status among older adults in district of Kuala Pilah, Malaysia. BMC Public Health, 19(4), 547.
Shahar, S., Vanoh. D., Ludin, A. F. M., Singh, D. K.A., & Hamid, T. A. (2019). Factors associated with poor socioeconomic status among Malaysian older adults: An analysis according to urban and rural settings. BMC Public Health, 19(4).
Wong, M. M. H., So, W. K., Choi, K. C., Cheung, R., Chan, H. Y., Sit, J. W., Ho. B., Li., F., Lee. T. Y., & Chair, S. Y. (2019). Malnutrition risks and their associated factors among home-living older Chinese adults in Hong Kong: Hidden problems in an affluent Chinese community. BMC Geriatrics, 19(138).
Zainal, Z. N., Iza Syazwina, M., Amirah Nuraisha, K., & Sabariah, A. (2019). Prevalence of smoking and association with dietary practice among the community of apartments at Dengkil, Sepang, Selangor, Malaysia. International Journal of Education and Research, 7(3), 171-180.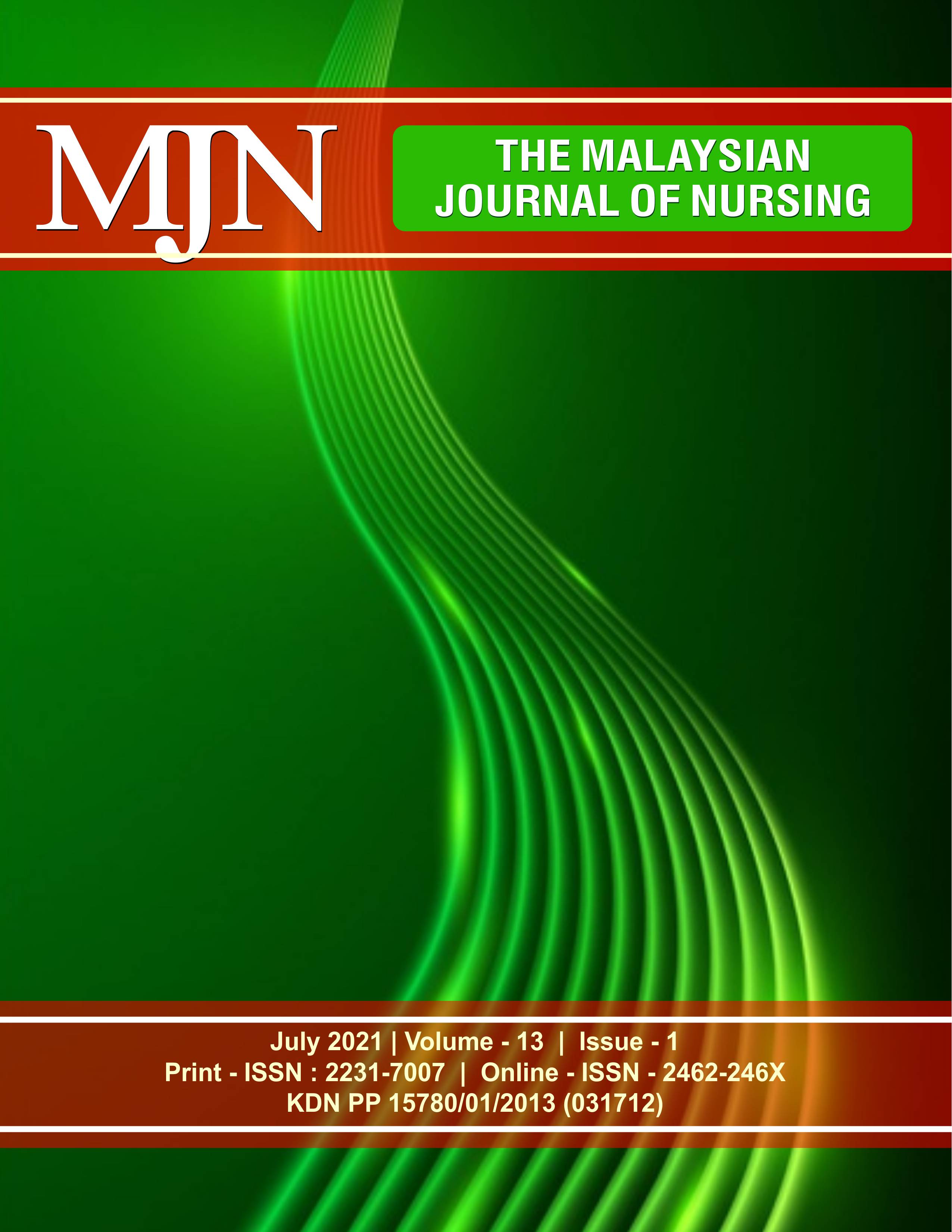 How to Cite
Tan Jia Hui, & Woan Ching Chang. (2021). NUTRITIONAL STATUS AMONG ELDERLY RESIDING IN LONGHOUSES AT KUCHING, SARAWAK. The Malaysian Journal of Nursing (MJN), 13(1), 42-47. https://doi.org/10.31674/mjn.2021.v13i01.006
License
Copyright (c) 2021 The Malaysian Journal of Nursing (MJN)
This work is licensed under a Creative Commons Attribution-NonCommercial-NoDerivatives 4.0 International License.