KNOWLEDGE AND ATTITUDE TOWARD BREAST SELF-EXAMINATION AMONG YOUNG ADULT NURSING STUDENTS IN A PUBLIC UNIVERSITY IN MALAYSIA
Abstract
This study aims to identify the knowledge and attitude towards breast self-examination among undergraduate nursing students in the public university at Peninsular Malaysia. The method used in the study is a cross-sectional descriptive study that was conducted among 188 undergraduate students studied in a public university at Peninsular Malaysia. The level of knowledge and attitude of breast self-examination (BSE) measured using self-administered questionnaires. All data were analyzed using SPSS Statistics 23.0 for Windows. The result of the study showed 33% of respondents had experienced BSE. 79.3% of respondents have good knowledge of cancer breast and BSE. 86.7% of respondents know about BSE and 35.1% of respondents had a positive attitude towards BSE. The educational level was found to have a significant relationship with an overall knowledge of breast cancer and BSE (p >0.001), and attitude towards BSE (p >0.001) and breast self-examination experienced (p >0.001). In conclusion, nursing students had good knowledge of breast cancer but they had not experienced BSE and have a negative attitude in practising BSE. An intervention should be designed to enhance nursing students' proficiency in performing BSE.
Keywords:
Knowledge, Attitude, Breast Self Examination (BSE), Nursing Students
Downloads
Download data is not yet available.
References
Ahmed, A., Zahid, I., Ladiwala, Z.F.R., Sheikh, R., & Memon, A. (2018). Breast self- examination awareness and practices in young women in developing countries: A survey of female students in Karachi, Pakistan. Journal of Education and Health Promotion, 7(1), 90.
Akhtari-Zavare, M., Lattif, L.A., Juni, M.H., Md Said, S., & Ismail, I.Z. (2015). Predictors affecting breast self-examination practice among undergraduate female students in Klang Valley, Malaysia. Journal of Obstetrics and Gynaecology Research, 41(12), 1982–1987.
Alsaraireh, A., & Darawad, M. W. (2019). Impact of a Breast Cancer Educational Program on Female University Students' Knowledge, Attitudes, and Practices. Journal of Cancer Education, 34(2), 315–322.
Ayed, A., Eqtait, F., Harazneh, L., Fashafsheh, I., Nazzal, S., Talahmeh, B., Hajar, D., & Awawdeh, R., (2015). Breast Self-Examination in Terms of Knowledge, Attitude, and Practice among Nursing Students of Arab American University/Jenin. Journal of Education and Practice, 6(4), 37-47.
Azeem, E., Gillani, S. W., Siddiqui, A., HA, A. S., Poh, V., Sulaiman, S. A. S., & Baig, M. (2015). Knowledge, attitude and behavior of healthcare providers towards breast cancer in Malaysia: A systematic review. Asian Pacific Journal of Cancer Prevention, 16(13), 5233- 5235.
Didarloo, A., Nabilou, B., & Khalkhali, H. R. (2017). Psychosocial predictors of breast self- examination behavior among female students: an application of the health belief model using logistic regression. BMC Public Health, 17(1), 1-8.
Erbil, N. (2014). Health beliefs and breast self-examination among female university nursing students in Turkey. Asian Pacific Journal of Cancer Prevention, 15(16), 6525–6529.
Gençtürk, N., Demirezen, E., & Ay, F. (2017). Health Beliefs of Midwifery Students at Istanbul University about Breast Cancer and Breast Self-Examination Acknowledgements. Journal of Cancer Education, 32(4), 784–789.
Haruna, H., Chukwu, E.O., Ahmadu, I., Teryila, K.R., Babaji, M., Nelson, L., Hamina, D., Teryila, R., & Dathini, H. (2017). Knowledge and Practice of Breast Self-Examination Among Female Nursing Students in University of Maiduguri. International Journal of Clinical Oncology and Cancer Research, 2(3), 57–64.
Ibnawadh, S., Alawad, M., Alharbi, S., Alduawihi, N., Alkowiter, F., Alsalhy, A., Alzahrani, A., & Alenizy, L. (2017). Knowledge, attitude and practice of breast self-examination among females in medical and non-medical colleges in Qassim University. Journal of Health Specialties, 5(4), 219-219.
Karadag, M., Iseri, O., & Etikan, I. (2014). Determining nursing student knowledge, behavior and beliefs for breast cancer and breast self-examination receiving courses with two different approaches. Asian Pacific Journal of Cancer Prevention, 15(9), 3885–3890.
Mohammad, F.A., Bayoumi, M., & Megahed, M. (2013). Efficacy of Instructional Training Program in Breast Self-Examination & Breast Screening for Cancer among University Students. Public Health Research, 3(3), 71–78.
Muhammed, E. (2014). Knowledge of Students Toward Breast Cancer and Breast Self- Examination Practice at High School Nursing in Basra City. Journal of Kufa for Nursing Science, 4(4), 2014.
Nimir, A. R., Al-Dubai, S. A., Alshagga, M. A., & Saliem, A. M. (2014). Knowledge and practice of breast self-examination among students in a private higher learning institution in malaysia. Malaysian Journal of Public Health Medicine, 14(3), 47-53.
Okolie, U. V. (2012). Breast self examination among female undergraduates in Enugu, Southeast, Nigeria. International Journal of Nursing and Midwifery, 4(1), 1-7.
Ozkan, A., Malak, A. T., Gurkan, A., & Turgay, A. S. (2010). Do Turkish nursing and midwifery students teach breast self-examination to their relatives. Asian Pac J Cancer Prev, 11(6), 1569-73.
Sambanje, M. N., & Mafuvadze, B. (2012). Breast cancer knowledge and awareness among university students in Angola. Pan African Medical Journal, 11(1), 70.
Sapountzi-Krepia, D., Rekleiti, M., Lavdaniti, M., Psychogiou, M., Chaliou, M., Xenofontos, M., & Savva, M. (2017). Evaluating female nursing students' knowledge and attitudes regarding breast self-examination. Health care for women international, 38(8), 786-795.
Segni, M. T., Tadesse, D. M., Amdemichael, R., & Demissie, H. F. (2016). Breast self- examination: knowledge, attitude, and practice among female health science students at Adama Science and Technology University, Ethiopia. Gynecology & Obstetrics (Sunnyvale), 6(368), 2161-0932.
World Health Organisation. (2013). Breast cancer: prevention and control. Geneva, Switzerland. http://www.who.int/cancer/detection/breastcancer/en/.
Yip, C. H., Pathy, N. B., & Teo, S. H. (2014). A review of breast cancer research in Malaysia. Med J Malaysia, 69(suppl A), 8-22.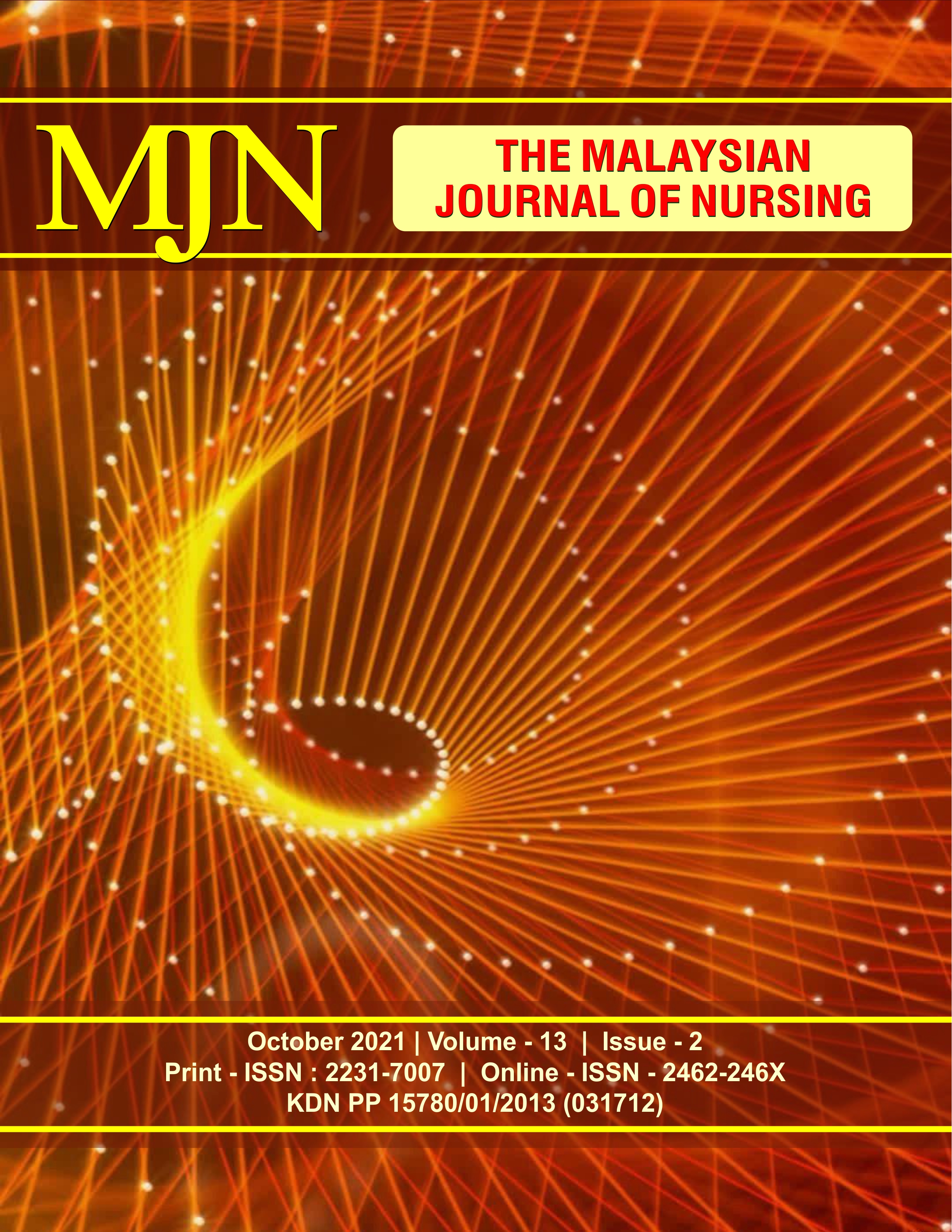 How to Cite
Norazilah Khalip, Khairil Anuar Mohd Isa, Norizan Masri, Haliza Abdul Rahman, Nooraziah Jalil, Siti Zuhaida Hussein, & Suraya Hanim Abu Bakar. (2021). KNOWLEDGE AND ATTITUDE TOWARD BREAST SELF-EXAMINATION AMONG YOUNG ADULT NURSING STUDENTS IN A PUBLIC UNIVERSITY IN MALAYSIA. The Malaysian Journal of Nursing (MJN), 13(2), 16-21. https://doi.org/10.31674/mjn.2021.v13i02.004
License
Copyright (c) 2021 The Malaysian Journal of Nursing (MJN)
This work is licensed under a Creative Commons Attribution-NonCommercial-NoDerivatives 4.0 International License.