KNOWLEDGE AND PRACTICES OF OSTEOPOROSIS PREVENTIVE MEASURES AMONG WOMEN IN A TERTIARY TEACHING HOSPITAL
Abstract
Introduction: Osteoporotic fracture is a major public health problem in the pre and peri-menopausal period, associated with substantial morbidity, socio-economic burden and mortality. Poor knowledge and practice related to osteoporosis have been noted worldwide. In Malaysia, few studies have measured the knowledge and practice of osteoporosis among women.
Objectives: This study aimed to determine the knowledge and practices of osteoporosis preventive measures among women in Hospital USM.
Methods: A cross-sectional study using a validated, self-administered questionnaire about knowledge and practices of osteoporosis measures was employed with 185 hospitalized women in Hospital USM. A simple random sampling was used for the recruitment of participants. The data were analyzed using Chi-Square tests.
Results: The Majority of the participants, 67%, belong to 45 – 55 age group with a mean age of 50.35 years. The findings indicate 40.5% had a good level of knowledge towards osteoporosis, while 53.5% had a poor practice level.
Conclusion: Knowledge of osteoporosis and practices is still at a fair level, affecting osteoporosis prevention practices. Time was spend watching television. Therefore, public health strategies should be developed in Malaysia to increase women's knowledge of osteoporosis prevention and change lifestyle habits.
Keywords:
Osteoporosis, Knowledge, Prevention Practices, Malaysian Women
Downloads
Download data is not yet available.
References
Abd-Alhameed, I., Saba, E. & Darwish, H. M. (2010). Prevalence and awareness of osteoporosis among postmenopausal Palestinian women. Archives of Osteoporosis, 5(1-2), pp 111-118.
Ahmad, M. S., Mohamed, I. N., Mokhtar, S. A. & Shuid, A. N. (2014). Review of the risk factor of osteoporosis in the Malaysian population. RUMes, 3, pp 77-82.
Alshammari, K. F. (2014). Women knowledge, attitude and practices about osteoporosis prevention "Riyadh Saudi Arabia". World Journal of Medical Sciences, 11(3), pp 422-431.
Barzanji, A. T., Alamri, F. A. & Mohamed, A. G. (2013). Osteoporosis: a study of knowledge, attitude and practice among adults in Riyadh, Saudi Arabia. Journal of Community Health, 38(6), pp 1098-1105.
Bilal, M., Haseeb, A., Merchant, A. Z., Rehman, A., Arshad, M. H., Malik, M., Rehman, A. H. U., Rani, P., Farhan, E., Rehman, T.S., Shamsi, U. S. & Sadia, A. (2017). Knowledge, beliefs and practices regarding osteoporosis among female medical school entrants in Pakistan. Asia Pacific Family Medicine, 16(1), pp.1-7.
De Silva, R. E. E., Haniffa, M. R., Gunathillaka, K. D. K., Atukorala, I., Fernando, E. D. P. S. & Perera, W. L. S. P. (2014). A descriptive study of knowledge, beliefs and practices regarding osteoporosis among female medical school entrants in Sri Lanka. Asia Pacific Family Medicine, 13(1), pp 15.
Fenech, J., Galea, R., Serracino-Inglott, A. & Azzopardi, L.M. (2011). Management and patient knowledge of osteoporosis. Journal of Applied Therapeutic Research, 8, pp 101-106.
International Osteoporosis Foundation (2017). Impact of Osteoporosis. Retrieved from: https://www.iofbonehealth.org/impact-osteoporosis
Jalili, Z., Nakhaee, N., Askari, R. & Sharifi, V. (2007). Knowledge, Attitude and Preventive Practice of Women Concerning Osteoporosis. Iranian Journal of Public Health, 36(2): pp 19 – 24.
Khan, Y. H., Sarriff, A., Khan, A. H. & Mallhi, T. H. (2014). Knowledge, attitude and practice (KAP) survey of osteoporosis among students of a tertiary institution in Malaysia. Tropical Journal of Pharmaceutical Research, 13(1), pp 155-162.
Leng, L. S., Ali, A. & Yusof, H. M. (2017). Knowledge, Attitude and Practices towards Osteoporosis Prevention among Adults in Kuala Lumpur, Malaysia. Malaysian Journal of Nutrition, 23(2), pp 279 – 290.
Martin, A. R., Sornay-Rendu, E., Chandler, J. M., Duboeuf, F., Girman, C. J., & Delmas, P. D. (2002). The impact of osteoporosis on quality-of-life: the OFELY cohort. Bone, 31(1), pp 32-36.
National Osteoporosis Foundation (2015). Fast facts on osteoporosis. Retrieved from: https://cdn.nof.org/wp-content/uploads/2015/12/Osteoporosis-Fast-Facts.pdf
Puttapitakpong, P., Chaikittisilpa, S., Panyakhamlerd, K., Nimnuan, C., Jaisamrarn, U. & Taechakraichana, N. (2014). Inter-correlation of knowledge, attitude, and osteoporosis preventive behaviors in women around the age of peak bone mass. BMC Women's Health, 14(1), pp 35.
Samia, A., Hejar, A.R., Suriani, I. & Emilia, Z.A. (2017). An overview of osteoporosis and heath promotional strategies for community-based osteoporosis prevention in Malaysia. International Journal of Public Health and Clinical Sciences, 4(1), pp 28-40.
Saw, S. M., Hong, C. Y., Lee, J., Wong, M. L., Chan, M. F., Cheng, A. & Leong, K. H. (2003). Awareness and health beliefs of women towards osteoporosis. Osteoporosis International, 14(7), pp 595-601.
Terrio, K. & Auld, G. W. (2002). Osteoporosis knowledge, calcium intake, and weight-bearing physical activity in three age groups of women. Journal of Community Health, 27(5), pp 307-320.
Tümay, S., Lale, Ö. & Nursel, C.B. (2017). An overview and management of osteoporosis. European Journal Rheumatology, 4(1), pp 46-56.
Vujasinovic-Stupar, N., Radojcic, L., Tadic, I. & Pavlov-Dolijanovic, S. (2017). Osteoporosis-related knowledge among Serbian postmenopausal women. Vojnosanitetski pregled, 74(5), pp 445-449.
World Health Rankings (WHO) (2018). Life expectancy in Malaysia. Retrieved from: https://www.worldlifeexpectancy.com/malaysia-life-expectancy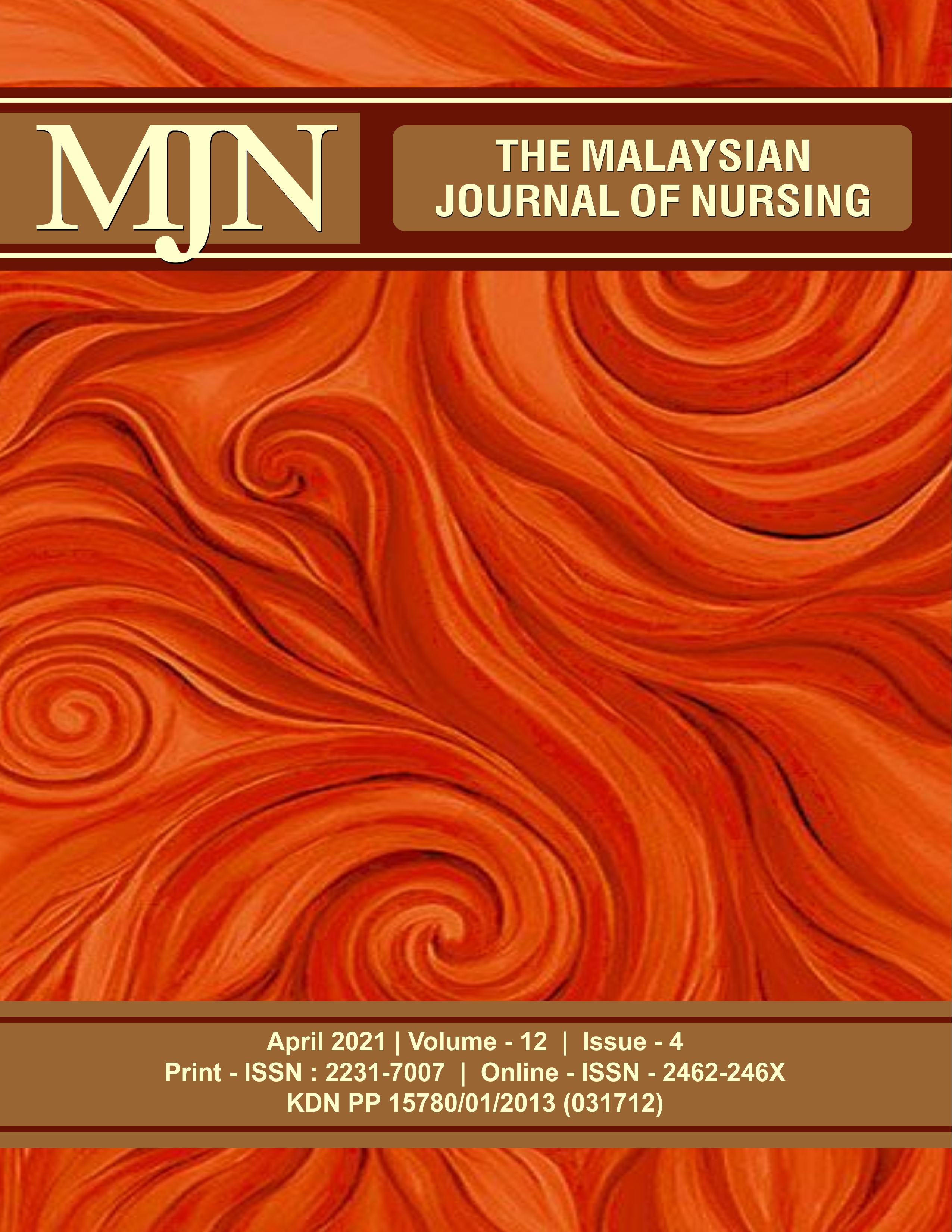 How to Cite
Hasni Embong, & Yew JM. (2021). KNOWLEDGE AND PRACTICES OF OSTEOPOROSIS PREVENTIVE MEASURES AMONG WOMEN IN A TERTIARY TEACHING HOSPITAL. The Malaysian Journal of Nursing (MJN), 12(4), 77-86. https://doi.org/10.31674/mjn.2021.v12i04.011
License
Copyright (c) 2021 The Malaysian Journal of Nursing (MJN)
This work is licensed under a Creative Commons Attribution-NonCommercial-NoDerivatives 4.0 International License.