FACTORS RELATED WITH SEXUAL BEHAVIOR IN INTELLECTUAL DISABILITIES IN SLB (SPECIAL NEEDS SCHOOL) DISTRICTS OF BANTUL, YOGYAKARTA
Abstract
Background: The prevalence of children with intellectual disabilities is reported to be 1-3% or 30 people out of 1,000 Indonesians. Intellectual disability is characterized by the main characteristic of weak thinking ability. Children with intellectual disabilities do not know what sexuality is, they are less able to adapt to the environment, but they have the same physical development and sexual development characteristics as normal children. Children with intellectual disabilities are at higher risk of having negative sexual behavior compared to normal children. Purpose: Knowing the factors (giving parents education about sexuality, adolescent knowledge about sexuality, parenting style, socioeconomic status, exposure to pornographic media, and alcohol consumption) that are related to sexual behavior in adolescents with intellectual disabilities in Bantul Regency SLB (Special Needs Schools), Yogyakarta. Methods: This study was a cross sectional design. The research subjects were all parents and middle school as well as high school intellectual disabilities students in the SLB of Bantul Regency. Research subjects were recruited using consecutive sampling techniques. The instrument used was a questionnaire giving education by parents about sexuality, adolescent knowledge about sexuality, parenting, sexual behavior and screening using peer problem questionnaires. Data analysis was carried out by Person and Independent Sample T-test. Results: 64 students (72.7%) had high risk sexual behavior. There is a significant relationship between exposure to pornographic media (p = 0,000) and knowledge of adolescents (p = 0.008) with adolescent sexual behavior in intellectual disabilities. There is no significant relationship between alcohol consumption, giving education by parents, parenting and socio-economic status with adolescent sexual behavior of intellectual disabilities. Conclusion: Exposure to pornographic media is the most dominant factor associated with adolescent sexual behavior in intellectual disabilities.
Keywords:
Intellectual Disability, Youth, Sexual Behavior
Downloads
Download data is not yet available.
References
Akrami, L. & Davudi, M. (2014). Comparison of Behavioral and Sexual Problems between Intellectually Disabled and Normal Adolescent Boys during Puberty in Yazd, Iran. Iranian Journal of Psychiatry and Behavioral Sciences, 8(2), pp 68–74.
Arulogun, O.S., Ogbu, I.A. & Dipeolu, I.O. (2016). Influence of internet exposure on sexual behaviour of young persons in an urban district of Southwest Nigeria. The Pan African Medical Journal, 25.
Asekun-Olarinmoye, O. S., Asekun-Olarinmoye, E. O., Adebimpe, W. O. & Omisore, A. G. (2014). Effect of mass media and Internet on sexual behavior of undergraduates in Osogbo metropolis, Southwestern Nigeria. Adolescent Health, Medicine and Therapeutics, 5, pp 15–23.
Atienzo, E. E., Walker, D. M., Campero, L., Lamadrid-Figueroa, H. & Gutiérrez, J. P. (2009). Parent-adolescent communication about sex in Morelos, Mexico: does it impact sexual behaviour? The European Journal of Contraception & Reproductive Health Care, 14(2), pp 111–119.
Chalmers, H., Tyrer, P. & Aggleton, P. (2006). Sex and relationships education in schools - Evaluation of a pilot programme for the certification of community nurses. Health Education Journal, 65(1), pp 28–40.
Clatos, K. & Asare, M. (2016). Sexuality Education Intervention for Parents of Children with Disabilities: A Pilot Training Program. American Journal of Health Studies, 31(3), pp 151–162.
Dionne, H. & Dupras, A. (2014). Sexual health of people with an intellectual disability: An ecosystem approach. Sexologies, 23(4), e85–e89.
Huebner, A. J. & Howell, L. W. (2003). Examining the relationship between adolescent sexual Risk-Taking and perceptions of monitoring, communication, and parenting styles. Journal of Adolescent Health, 33(2), pp 71–78.
Kaljee, L.M., Green, M., Lerdboon, P., Riel, R., Pham, V., Ha, N.T., Minh, T.T., Li, X., Chen, X. & Stanton, B. (2011). Parent–Youth communication and concordance between parents and adolescents on reported engagement in social relationships and sexually intimate behaviors in Hanoi and Khanh Hoa Province, Vietnam. Journal of Adolescent Health, 48(3), pp 268-274.
Kellogg, N. D. (2009). Clinical Report--The Evaluation of Sexual Behaviors in Children. American Academy of Pediatrics, 124(3), pp 992–998.
Kementerian Kesehatan RI. (2014). Profil Kesehatan Indonesia. Bab V Pelayanan Kesehatan Anak Dengan Disabilitas. Halaman 129. Jakarta.
Kim, H.Y., Park, M. & Lee, E. (2018). A cross-sectional survey of relationships between sexual knowledge, sexual attitudes, and reproductive health behaviour among female university students. Contemporary Nurse, 54(6), pp 640-650.
Kucuk, S., Platin, N. & Erdem, E. (2017). Increasing awareness of protection from sexual abuse in children with mild intellectual disabilities: An education study. Applied Nursing Research, 38, pp 153-158.
Lou, C., Cheng, Y., Gao, E., Zuo, X., Emerson, M. R. & Zabin, L. S. (2012). Media's Contribution to Sexual Knowledge, Attitudes, and Behaviors for Adolescents and Young Adults in Three Asian Cities. Journal of Adolescent Health, 50(3), S26–S36.
Luder, M.-T., Pittet, I., Berchtold, A., Akré, C., Michaud, P.-A. & Surís, J.-C. (2011). Associations Between Online Pornography and Sexual Behavior Among Adolescents: Myth or Reality? Archives of Sexual Behavior, 40(5), pp 1027–1035.
McKibbin, G., Humphreys, C. & Hamilton, B. (2017). "Talking about child sexual abuse would have helped me": Young people who sexually abused reflect on preventing harmful sexual behavior. Child Abuse & Neglect, 70, 210–221.
Muchimba, M., Haberstick, B. C., Corley, R. P. & McQueen, M. B. (2013). Frequency of Alcohol Use in Adolescence as a Marker for Subsequent Sexual Risk Behavior in Adulthood. Journal of Adolescent Health, 53(2), pp 215–221.
Paquette, G., Bouchard, J., Dion, J., Tremblay, K. N., Tourigny, M., Tougas, A.-M. & Hélie, S. (2018). Factors associated with intellectual disabilities in maltreated children according to caseworkers in child protective services. Children and Youth Services Review, 90, pp 38–45.
Raudsepp, L. (2007). The relationship between socio-economic status, parental support and adolescent physical activity. Acta Paediatrica, 95(1), pp 93–98.
Riset Kesehatan Dasar (Riskesdas) (2013). Badan Penelitian dan Pengembangan Kesehatan RI. Bab 3 Hasil dan Pembahasan Status Disabilitas. Halaman 123. Jakarta.
Stein, S., Kohut, T. & Dillenburger, K. (2017). The Importance of Sexuality Education for Children with and without Intellectual Disabilities: What Parents Think. Sexuality and Disability, 36(2), pp 141–148.
Strommen, L. T. & Mates, B. F. (2004). Learning to Love Reading: Interviews with Older Children and Teens. Journal of Adolescent & Adult Literacy, 48(3), pp 188–200.
Tsuda, S., Hartini, S., Hapsari, E. D. & Takada, S. (2017). Sex Education in Children and Adolescents with Disabilities in Yogyakarta, Indonesia From a Teachers' Gender Perspective. Asia Pacific Journal of Public Health, 29(4), pp 328–338.
World Health Organization (2014). Health Topics. Noncommunicable Diseases. Mental Health. Children's Right to Family Life. Intellectual Disability. Retrieved from: https://www.euro.who.int/en/health-topics/noncommunicable-diseases/mental health/news/news/2010/15/childrens-right-to-family-life/definition-intellectual-disability#:~:text=Intellectual%20disability%20means%20a%20significantly,a%20lasting%20effect%20on%20development.
Wilson, E. K., Dalberth, B. T., Koo, H. P. & Gard, J. C. (2010). Parents' Perspectives on Talking to Preteenage Children About Sex. Perspectives on Sexual and Reproductive Health, 42(1), pp 56–63.
Wissink, I. B., van Vugt, E., Moonen, X., Stams, G.-J. J. M., & Hendriks, J. (2015). Sexual abuse involving children with an intellectual disability (ID): A narrative review. Research in Developmental Disabilities, 36, pp 20–35.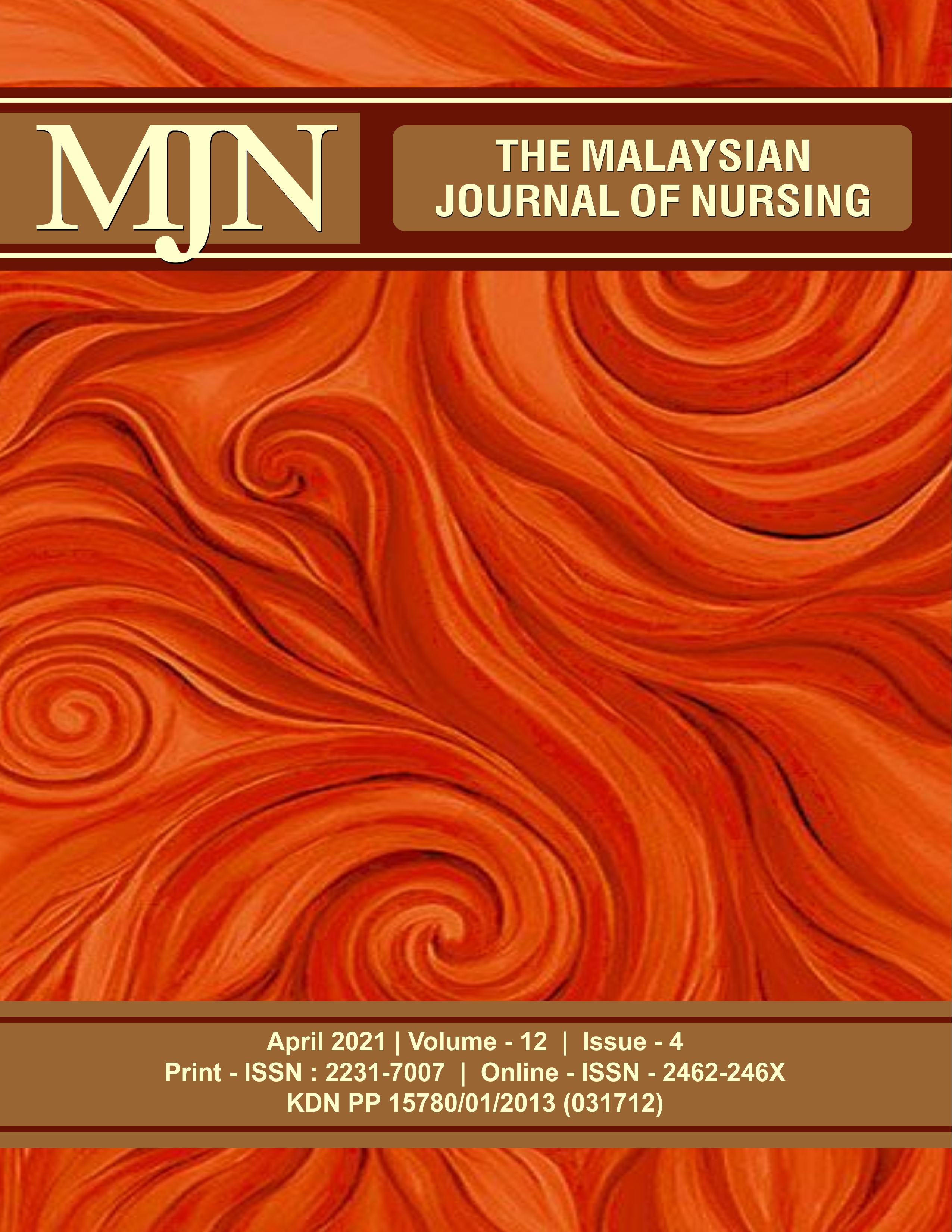 How to Cite
Shulhan Arief Hidayat, Sri Hartini, & Budi Wahyuni. (2021). FACTORS RELATED WITH SEXUAL BEHAVIOR IN INTELLECTUAL DISABILITIES IN SLB (SPECIAL NEEDS SCHOOL) DISTRICTS OF BANTUL, YOGYAKARTA. The Malaysian Journal of Nursing (MJN), 12(4), 87-95. https://doi.org/10.31674/mjn.2021.v12i04.012
License
Copyright (c) 2021 The Malaysian Journal of Nursing (MJN)
This work is licensed under a Creative Commons Attribution-NonCommercial-NoDerivatives 4.0 International License.