NURSES' SATISFACTION TOWARDS THE USAGE OF SBAR AS A COMMUNICATION TOOL FOR HANDOFF IN A PRIVATE HOSPITAL PENANG
Abstract
Background: Handoff is an important communication process involving the exchange of patient information between healthcare workers. Situation, Background, Assessment and Recommendation (SBAR) is a standardised tool that is created to enhance the efficiency of communication thus giving rise to effective collaboration, increases patient satisfaction as well as patient outcome. Although, SBAR was initiated in this private hospital for almost a decade and reinforced in 2017, the overall acceptance and usage of SBAR reflect otherwise. Hence, the purpose of this study is to determine the nurses' satisfaction towards the usage of SBAR as a communication tool and its association with socio-demographic variables.
Methods: A cross-sectional descriptive study design was conducted with 234 nurses selected using a simple random sampling at a private hospital, Penang. A piloted and validated, Handover Evaluation Scale (HES) was used as the study tool.
Result: Overall, nurses were satisfied with the use of SBAR (M = 68.9, SD = 11.94) and there was a significant association between gender and satisfaction of nurses towards usage of SBAR (t = 2.130, p < 0.05).
Conclusion: Although the nurses were satisfied with the use of SBAR, there is a need to look into the reason for lack of satisfaction with its efficiency of implementation.
Keywords:
Nurses, Satisfaction, Communication, SBAR, Handoff
Downloads
Download data is not yet available.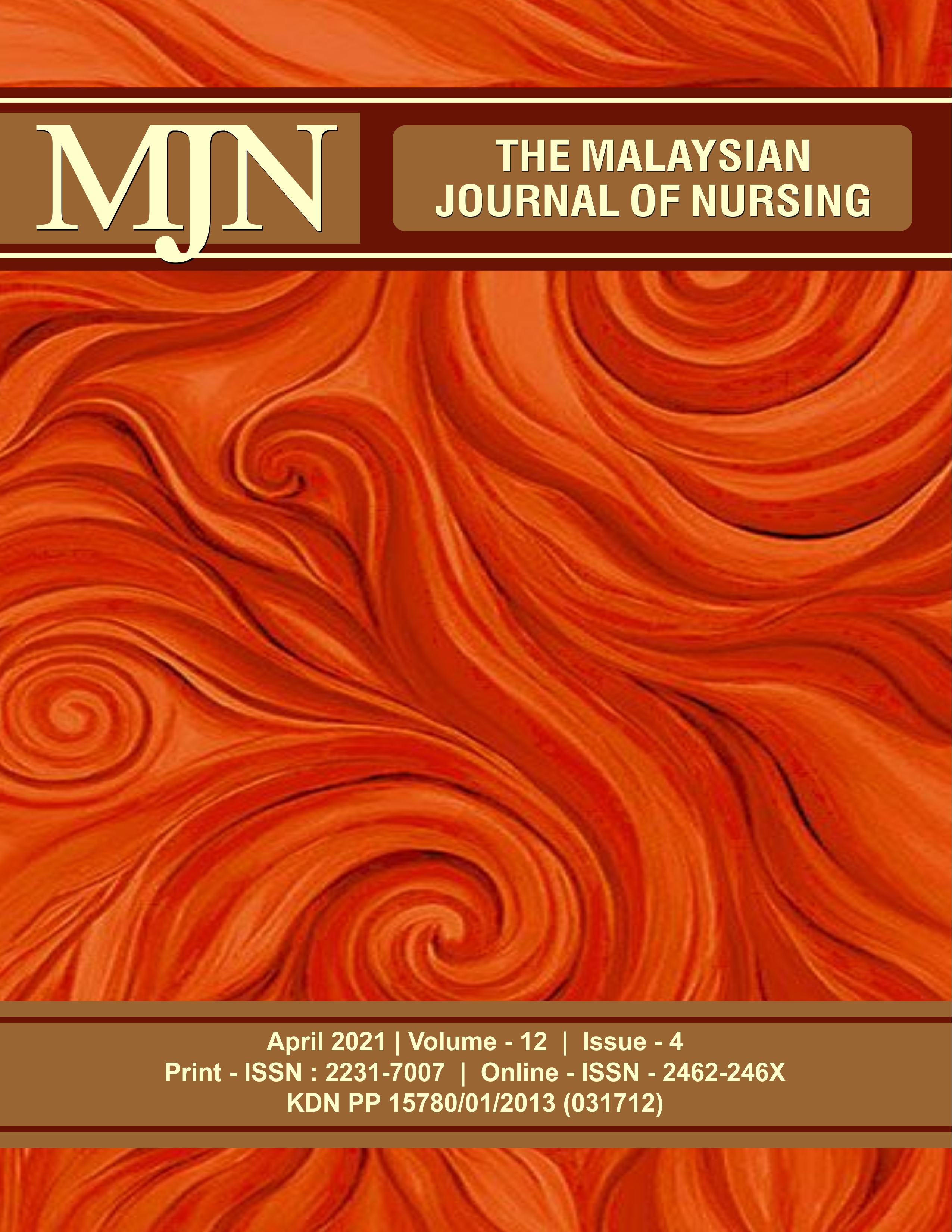 How to Cite
Lim Swee Geok, Choo Zhien Jou, & Cindy Lim Lye Imm. (2021). NURSES' SATISFACTION TOWARDS THE USAGE OF SBAR AS A COMMUNICATION TOOL FOR HANDOFF IN A PRIVATE HOSPITAL PENANG. The Malaysian Journal of Nursing (MJN), 12(4). Retrieved from https://ejournal.lucp.net/index.php/mjn/article/view/1257
License
Copyright (c) 2021 The Malaysian Journal of Nursing (MJN)
This work is licensed under a Creative Commons Attribution-NonCommercial-NoDerivatives 4.0 International License.