THE EFFECT OF KNEE EXERCISE AND PARAM GINGER TO REDUCE KNEE PAIN IN ELDERLY
Abstract
Background: Higher life expectancy in Indonesia contribute to the increasing number of elderly populations. Due to this situation, dependent burden of productive age to non-productive expanding. Many diseases occur in the elderly, including degenerative joint disease, account for 11.9% in Indonesia and 6% occurring in Special Region of Yogyakarta. Among 34 provinces in Indonesia, Yogyakarta and 4 other provinces identified to have an old population structure where the proportion of elderly reached 10 percent or above. In 2019, elderly population in Yogyakarta account for 14.50 percent (BPS, 2019). Following changes on the population structure in which number of elderly people is rising and occupied as province with highest elderly population rate, arthritis became the second highest disease incidence in Yogyakarta. Current evidence related exercise and ginger, did not present any studies that combine both of the intervention methods as researchers aimed to identify scientific evidence of exercise and ginger to reduce knee pain in the elderly. Objective: This study aimed to determine the effect of knee exercise and param ginger to reduce knee pain in the elderly. Methods: This is a quantitative study implementing quasi-experimental research, randomized pretest-posttest control design. Population of this study were elderly originated from Pringwulung Village, Yogyakarta. Purposive sample design was intended to recruit participants with age 55-70 years, experiencing knee pain, have no ginger allergy and willing to participate. Eligible sample of this study was 40 participants. The intervention was carried out for 4 weeks from September to October 2020. Results: Study identified significant differences in pain levels before and after knee exercise (p=0.004), before and after knee exercise and param ginger (p=0.004), and before and after receiving param ginger (p=0.006). Conclusion: Knee exercise and param ginger provide significant effect to reduce knee pain in the elderly.
Keywords:
Knee Exercise, Knee Pain, Param Ginger
Downloads
Download data is not yet available.
References
Ali, A. M. A., El-Nour, M. E. M. & Yagi, S. M. (2018). Total phenolic and flavonoid contents and antioxidant activity of ginger (Zingiber officinale Rosc.) rhizome, callus, and callus treated with some elicitors. Journal of Genetic Engineering and Biotechnology, 16(2), pp 677-682.
Alipour, Z., Asadizaker, M., Fayazi, S., Yegane, N., Kochak, M. & Haghighi Zadeh, M. H. (2017). The effect of ginger on pain and satisfaction of patients with knee osteoarthritis. Jundishapur Journal of Chronic Disease Care, 6(1), pp 1-6.
Bartels, E. M., Folmer, V. N., Bliddal, H., Altman, R. D., Juhl, C., Tarp, S. & Christensen, R. (2015). Efficacy and safety of ginger in osteoarthritis patients: a meta-analysis of randomized placebo-controlled trials. Osteoarthritis and Cartilage, 23(1), pp 13-21.
Central Bureau Of Statistics Indonesia. (2019). Statistik penduduk lanjut usia 2019. Retrieved from: https://www.bps.go.id/publication/2019/12/20/ab17e75dbe630e05110ae53b/statistik-penduduk-lanjut-usia-2019.html
Firmansyah, D. & Suprayitno, E. (2018). Pengaruh Latihan Gerak Sendi Lutut Terhadap Nyeri Sendi Lutut Pada Lansia Yang Mengalami Osteoatritis Di Wilayah Kerja Puskesmas Pengasih 1 Kulon Progo Yogyakarta. Retrieved from: http://digilib.unisayogya.ac.id/4322/1/NASPUB_ DEDI%20FIRMANSYAH_201410201017.pdf
Fransen, M., McConnell, S., Harmer, A. R., Van der Esch, M., Simic, M. & Bennell, K. L. (2015). Exercise for osteoarthritis of the knee: a Cochrane systematic review. British Journal of Sports Medicine, 49(24), pp 1554-1557.
Funk, J. L., Frye, J. B., Oyarzo, J. N., Chen, J., Zhang, H. & Timmermann, B. N. (2016). Anti-inflammatory effects of the essential oils of ginger (Zingiber officinale Roscoe) in experimental rheumatoid arthritis. Pharma Nutrition, 4(3), pp.123-131.
Gunathilake, K. & Rupasinghe, V. (2015). Recent perspectives on the medicinal potential of ginger. Botanics: Targets and Therapy. 5, pp 55-63. https://doi.org/10.2147/BTAT.S68099
Lee, T. Y., Lee, K. C., Chen, S. Y. & Chang, H. H. (2009). 6-Gingerol inhibits ROS and iNOS through the suppression of PKC-alpha and NF-kappaB pathways in lipopolysaccharide-stimulated mouse macrophages. Biochem Biophys Res Commun. 382(1), pp 134-9. DOI: 10.1016/j.bbrc.2009.02.160. Epub 2009 Mar 4. PMID: 19268427
Marlina, T. T. (2015). Efektivitas latihan lutut terhadap penurunan intensitas nyeri pasien osteoarthritis lutut di yogyakarta. Jurnal Keperawatan Sriwijaya, 2(1), 44-56. Retrieved from: https://ejournal.unsri.ac.id/index.php/jk_sriwijaya/article/view/2331, pp.44-56.
Marlina, T. T., Lucilla, S. & Aima, H. (2019). The effectiveness of hip and knee strengthening on reducing pain intensity among elderly with osteoarthritis. KnE Life Sciences, pp.600-608.
Morvaridzadeh, M., Fazelian, S., Agah, S., Khazdouz, M., Rahimlou, M., Agh, F. & Heshmati, J. (2020). Effect of ginger (Zingiber officinale) on inflammatory markers: A systematic review and meta-analysis of randomized controlled trials. Cytokine, 135, pp 155224.
Naderi, Z., Mozaffari-Khosravi, H., Dehghan, A., Nadjarzadeh, A. & Huseini, H. F. (2016). Effect of ginger powder supplementation on nitric oxide and C-reactive protein in elderly knee osteoarthritis patients: A 12-week double-blind randomized placebo-controlled clinical trial. Journal of Traditional and Complementary Medicine, 6(3), pp 199-203.DOI: 10.1016/j.jtcme.2014.12.007.
Manasa, D., Srinivas, P. & Sowbhagya, H. B. (2013). Enzyme-assisted extraction of bioactive compounds from ginger (Zingiber officinale Roscoe). Food Chemistry, 139(1-4), pp 509-514.
DOI: 10.1016/j.foodchem.2013.01.099. Epub 2013 Feb 11. PMID: 23561138
Permenkes, R. I. (2015). Penyelenggaraan Pelayanan Kesehatan Lanjut Usia Di Pusat Kesehatan Masyarakat. Kementrian Kesehatan Indonesia, pp. 1–140.
Pusat Data dan Informasi Kementrian Kesehatan RI. (2014). Situasi dan analisis lanjut usia. Retrieved from: https://pusdatin.kemkes.go.id/download.php?file=download/pusdatin/infodatin/infodatinlansia.pdf.
Ramadan, G., Al-Kahtani, M.A. & El-Sayed, W. M. (2011). Anti-inflammatory and anti-oxidant properties of Curcuma longa (turmeric) versus Zingiber officinale (ginger) rhizomes in rat adjuvant-induced arthritis. Inflammation. Aug;34(4). pp 291-301. : DOI: 10.1007/s10753-010-9278-0. PMID: 21120596
Riskesdas. (2013). Badan Penelitian Dan Pengembangan Kesehatan Kementerian Kesehatan RI Tahun 2013. Retrieved From: http://www.depkes.go.id/resources/download/general/Hasil%20Riskesdas %202013.pdf
Riskesdas. (2018). Badan Penelitian Dan Pengembangan Kesehatan Kementerian Kesehatan Ri Tahun 2018. http://www.depkes.go.id/resources/download/info-terkini/hasil-riskesdas-2018.pdf
Rondanelli, M., Riva, A., Allegrini, P., Faliva, M. A., Naso, M., Peroni, G. & Perna, S. (2020). The Use of a New Food-Grade Lecithin Formulation of Highly Standardized Ginger (Zingiber officinale) and Acmella oleracea Extracts for the Treatment of Pain and Inflammation in a Group of Subjects with Moderate Knee Osteoarthritis. Journal of Pain Research, 13, pp 761–770. DOI: 10.2147/JPR.S214488.
Rondanelli, M., Fossari, F., Vecchio, V., Gasparri, C., Peroni, G., Spadaccini, D. & Infantino, V. (2020). Clinical trials on pain lowering effect of ginger: A narrative review. Phytotherapy Research, pp 1-14.
Semwal, R. B., Semwal, D. K., Combrinck, S. & Viljoen, A. M. (2015). Gingerols and shogaols: Important nutraceutical principles from ginger. Phytochemistry, 117, pp 554-568. DOI: 10.1016/j.phytochem.2015.07.012, pp 554–568.
The world Bank. Life expectancy at birth, total (years) – Indonesia. Life expectancy at birth, total (years) - Indonesia | Data (worldbank.org)
Wang, X., Zheng, Z., Guo, X., Yuan, J. & Zheng, C. (2011). Preparative separation of gingerols from Zingiber Officinale by high-speed counter-current chromatography using stepwise elution. Food Chemistry. 125, pp 1476-1480.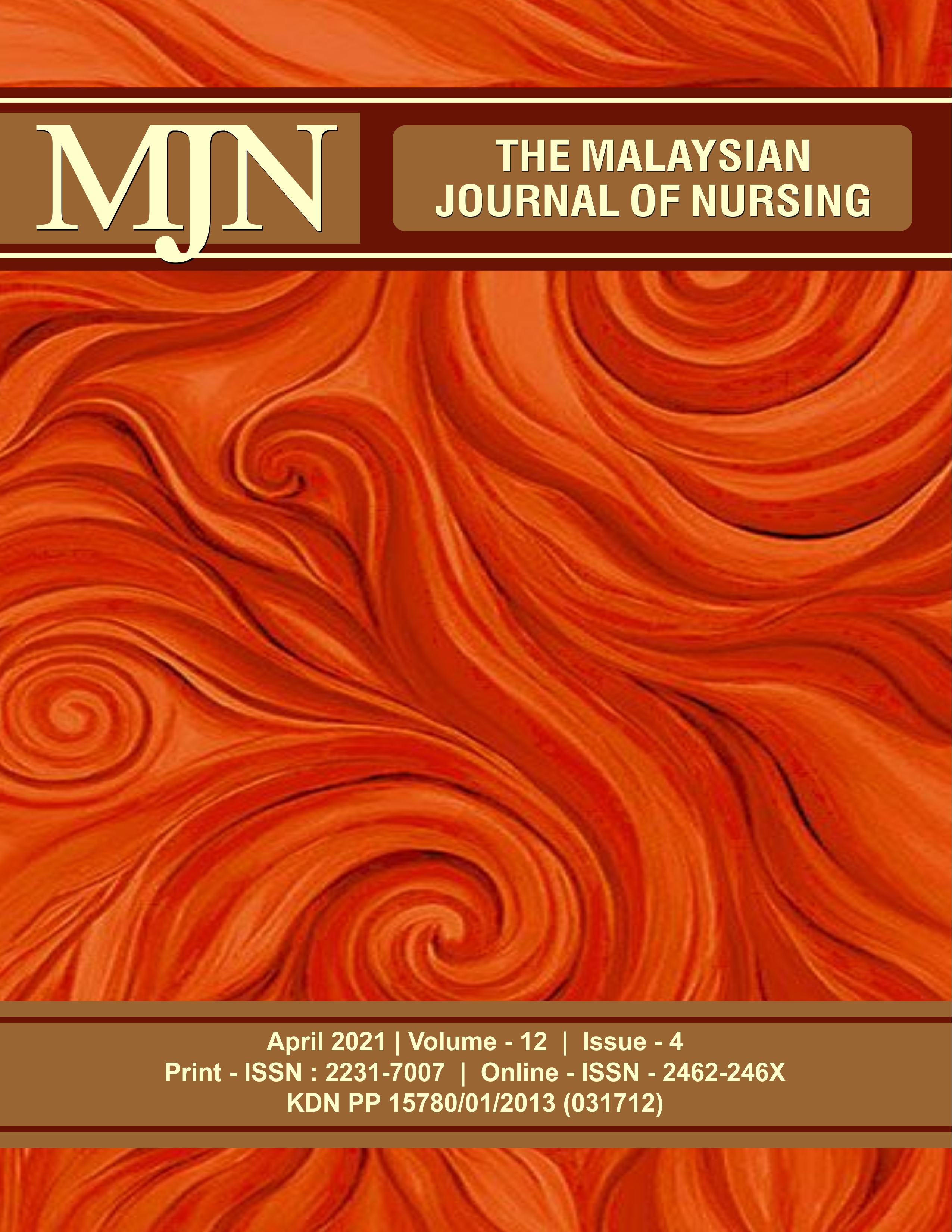 How to Cite
Theresia Titin Marlina, & Veronica Ima Pujiastuti. (2021). THE EFFECT OF KNEE EXERCISE AND PARAM GINGER TO REDUCE KNEE PAIN IN ELDERLY. The Malaysian Journal of Nursing (MJN), 12(4), 54-59. https://doi.org/10.31674/mjn.2021.v12i04.008
License
Copyright (c) 2021 The Malaysian Journal of Nursing (MJN)
This work is licensed under a Creative Commons Attribution-NonCommercial-NoDerivatives 4.0 International License.