EMPLOYEE RETENTION OF REGISTERED NURSES IN A MALAYSIAN PRIVATE HOSPITAL: A PILOT STUDY
Abstract
Background: Employee retention among registered nurses working in a hospital is one of the most challenging existing global issues. This study aim to develop a pilot study for employee retention of registered nurses working in medical and medical wards in one of the tertiary hospitals in Kuala Lumpur, Malaysia. Methods and Materials: The pilot study was performed after the approval of Ethics Committee. Self-administered questionnaires were distributed to 30 respondents with informed consent. This study measures the variables of family social support, employee engagement, working environment and condition, manager and peer support and development opportunities on job satisfaction as a mediator to dependent variable, employee retention. Descriptive analysis and reliability analysis were used to analyse the data via statistical analysis in IBM SPSS version 23.0. Findings: 100% of the registered nurses working in medical surgical wards were females and 50% of them were Malays. 70% of them were 30 years old and above. 66.7% nursing working experience in the current hospital fall in between 1 month to 5 years and 73.3% average working hours per day were in between 7 – 10 hours. The Cronbach's alpha in each variable is ranging from 0.882 to 0.950. The overall construct of Cronbach's alpha is 0.972. Conclusion: The reliability analysis findings affirm that family social support, employee engagement, working environment and condition, manager and peer support, development opportunities, job satisfaction and employee retention are having high level of internal consistency prior proceeding to actual study.
Keywords:
Pilot Study, Registered Nurses, Private Hospital
Downloads
Download data is not yet available.
References
Abuhashesh, M., Al-Dmour, R. & Masa'deh, R. (2019). Factors that affect employees job satisfaction and performance to increase customers' satisfactions. Journal of Human Resources Management Research, 2019, pp 1-23.
Antwi, Y.A. & Bowblis, J.R. (2018). The impact of nurse turnover on quality of care and mortality in nursing homes: evidence from the great recession. American Journal of Health Economics, 4(2), pp 131-163.
Avanzi, L., Fraccaroli, F., Sarchielli, G., Ullrich, J. & van Dick, R. (2014). Staying or leaving, a combined social identity and social exchange approach to predicting employee turnover intention. International Journal of Productivity and Performance Management, 63(3), pp 272-289.
Bhatia, Y. & Srilatha, S. (2016). Impact of family support on job involvement in women professionals in India. Journal of Business Management & Social Sciences Research, 5(5), pp 147-154.
Bobbio, A. & Manganelli, A.M. (2015). Antecedents of hospital nurses' intention to leave the organization: A cross sectional survey. International Journal of Nursing Studies, 52(7), pp 1180-1192.
Brunetto, Y., Shacklock, K., Teo, S. & Farr-Wharton, R., 2014. The impact of management on the engagement and well-being of high emotional labour employees. The International Journal of Human Resource Management, 25(17), pp 2345-2363.
Bujang, M.A., Omar, E.D. & Baharum, N.A. (2018). A review on sample size determination for Cronbach's alpha test: a simple guide for researchers. The Malaysian journal of medical sciences: MJMS, 25(6), p 85.
Chiou-Fen, L.I.N., Huang, C.I., Che-Ming, Y.A.N.G. & Meei-Shiow, L.U. (2019). The relationship between work environment satisfaction and retention intention among nursing administrators in Taiwan. The Journal of Nursing Research, 27(5), p e43.
Fraser, J., Fahlman, D., Arscott, J. & Guillot, I. (2018). Pilot Testing for Feasibility in a Study of Student Retention and Attrition in Online Undergraduate Programs. International Review of Research in Open and Distributed Learning, 19(1), pp 260-278.
Hee, O. C., Ong, S. H., Ping, L. L., Kowang, T. O. & Fei, G. C. (2019). Factors Influencing Job Satisfaction in the Higher Learning Institutions in Malaysia. International Journal of Academic Research in Business and Social Sciences, 9(2), pp 10-20.
Irabor, I. E. & Okolie, U. C. (2019). A Review of Employees' Job Satisfaction and its Affect on their Retention. Annals of Spiru Haret University. Economic Series, 19(2), pp 93 – 114.
Jain, S. & Nair, S. K. (2017). Work Support and Family Support as Predictors of Work-to-family Enrichment and Family-to-work Enrichment. Global Business Review, 18(5), pp 1307-1324.
Motlou, R. G., Singh, S. & Karodia, A. M. (2016). An Evaluation of the Impact of Job Satisfaction on Employee Retention at Lonmin Rowland Shaft North West Province. Kuwait Chapter of Arabian Journal of Business and Management Review, 5(10), pp 15-49.
Othman, N. & Nasurdin, A. M. (2019). Job characteristics and staying engaged in work of nurses: Empirical evidence from Malaysia. International Journal of Nursing Sciences, 6(4), pp 432-438.
Permarupan, P.Y., Al Mamun, A., Samy, N.K., Saufi, R.A. & Hayat, N. (2020). Predicting nurses burnout through quality of work life and psychological empowerment: A study towards sustainable healthcare services in Malaysia. Sustainability, 12(1), p 388.
Razak, N.A., Ma'amor, H. & Hassan, N. (2016). Measuring reliability and validity instruments of work environment towards quality work life. Procedia Economics and Finance, 37(16), pp 520-528.
Rosales, R.A., Labrague, L.J. & Rosales, G.L. (2013). Nurses' Job satisfaction and Burnout: Is there a connection? International Journal of Advanced Nursing Studies, 2(1), p 1.
Sellar, T., Arulrajah, A.A. & Lanka, V. (2019). The Role of Social Support on Job Burnout in the Apparel Firm. International Business Research, 12(1), pp 110-118.
Tavakol, M. & Dennick, R. (2011). Making sense of Cronbach's alpha. International journal of medical education, 2, p 53.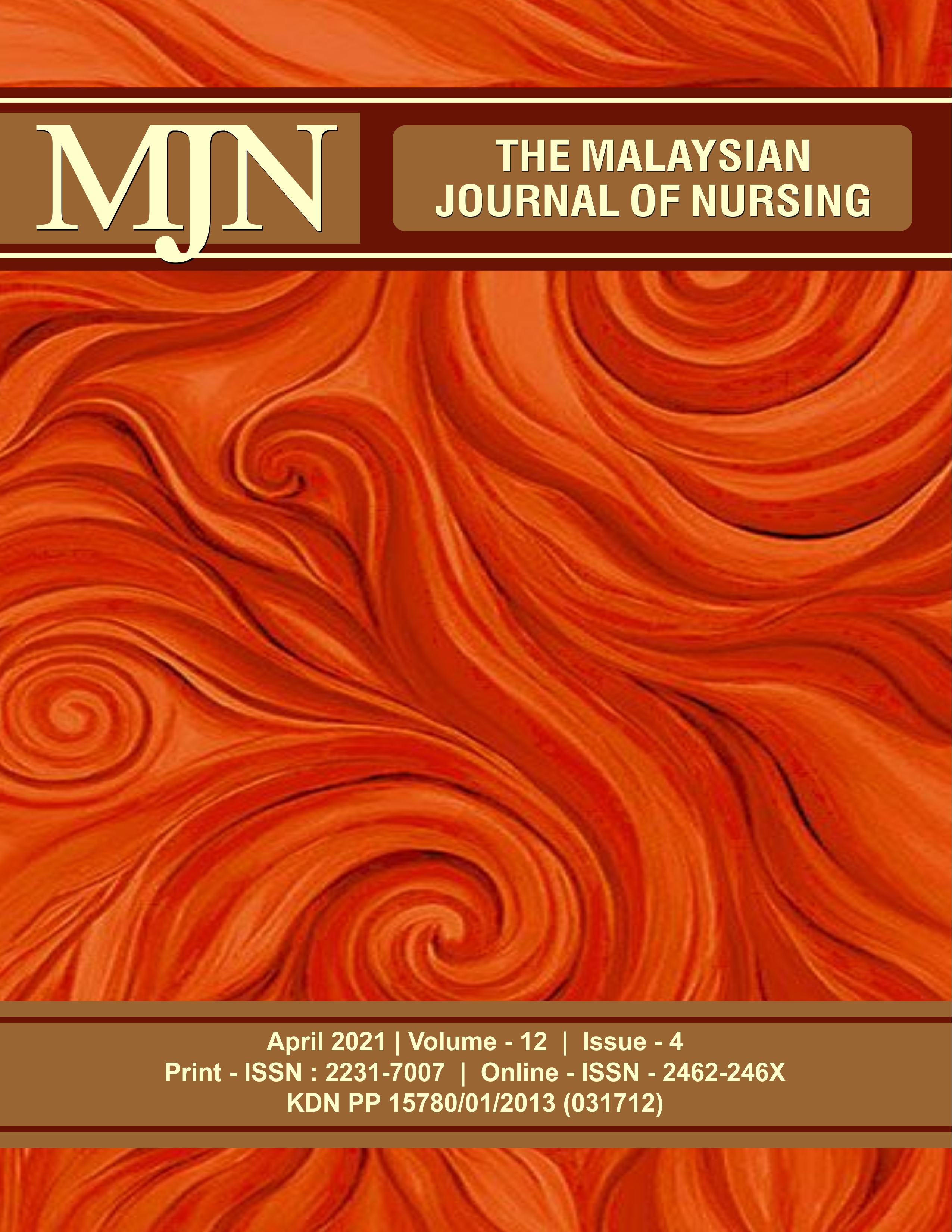 How to Cite
Fong Chin Mun, S. M. Ferdous Azam, & Ahmad Rasmi Suleiman Albattat. (2021). EMPLOYEE RETENTION OF REGISTERED NURSES IN A MALAYSIAN PRIVATE HOSPITAL: A PILOT STUDY. The Malaysian Journal of Nursing (MJN), 12(4), 17-21. https://doi.org/10.31674/mjn.2021.v12i04.003
License
Copyright (c) 2021 The Malaysian Journal of Nursing (MJN)
This work is licensed under a Creative Commons Attribution-NonCommercial-NoDerivatives 4.0 International License.