EFFECTIVENESS OF INHALATION OF LAVENDER OIL IN RELIEVING POST-CESAREAN SECTION PAIN
Abstract
Background: Lavender proved to be effective in relieving pain arising from many conditions. However, there is a paucity of studies addressing its effectiveness in the relief of post-cesarean section (CS) pain. Aim: to investigate the effectiveness of inhalation of Lavender oil in relieving post-CS pain. Subjects and methods: This quasi-experimental controlled study was carried at the Postpartum Unit affiliated to Suez-Canal University Hospitals on a convenience sample of 100 postpartum women delivered by CS. They were randomly divided into two equal groups, 50 receiving Lavender oil and oxygen, and 50 control. An interview questionnaire sheet with the Visual Analogue Scale (VAS), and the Modified Version of Johansson Pain-O-Meter (MJPOM) pain scale was used to collect data. The work was from October 2013 to January 2014. Results: Women in the two groups had similar demographic and obstetric characteristics. The mean VAS pain score was almost double in the control group compared with the study group (p<0.001). Moreover, the mean MJPOM pain scores (sensory, affective, and total) were all higher in the control group (p<0.001).  Pain scores were higher among primiparas (p<0.001), and 68.0% of study group women reported that Lavender was effective in decreasing their post-CS pain. Conclusion and recommendations: Lavender oil inhalation is effective in relieving post-CS pain. A duplication of this study using a full randomized clinical trial design is recommended to provide a stronger evidence of its effectiveness and to overcome the limitations of the quasi-experimental design concerning internal validity.
Keywords:
Lavender, Cesarean section, VAS, MJPOM
Downloads
Download data is not yet available.
References
Aafaque, S. (2019). Effect of Aromatherapy on Dental Anxiety Among Orthodontic Patients: A Randomized Controlled Trial. Cureus, 11(8), e5306.
Abbasijahromi, A., Hojati, H., Nikooei, S., Jahromi, H.K., Dowlatkha,h H.R., Zarean, V., Farzaneh, M. & Kalavani, A. (2019). Compare the effect of aromatherapy using lavender and Damask rose essential oils on the level of anxiety and severity of pain following C-section: A double-blinded randomized clinical trial. Journal of Complementary and Integrative Medicine, [Epub ahead of print]
Ahmady, S., Rezaei, M. & Khatony, A. (2019). Comparing effects of aromatherapy with lavender essential oil and orange essential oil on fatigue of hemodialysis patients: A randomized trial. Complementary Therapies in Clinical Practice, 36, pp 64-68.
Arslan, I., Aydinoglu, S. & Karan, N.B. (2020). Can lavender oil inhalation help to overcome dental anxiety and pain in children? A randomized clinical trial. Eur J Pediatr.
Bakhtiari, S., Paki, S., Khalili, A., Baradaranfard, F., Mosleh, S. & Jokar, M. (2019). Effect of lavender aromatherapy through inhalation on quality of life among postmenopausal women covered by a governmental health center in Isfahan, Iran: A single-blind clinical trial. Complementary Therapies in Clinical Practice, 34, pp 46-50.
Colley, S., Kao, C.H., Gau, M. & Cheng, S.F. (2018). Women's perception of support and control during childbirth in The Gambia, a quantitative study on dignified facility-based intrapartum care. BMC Pregnancy Childbirth, 18(1), pp 413.
Daneshpajooh, L., Najafi Ghezeljeh, T. & Haghani, H. (2019). Comparison of the effects of inhalation aromatherapy using Damask Rose aroma and the Benson relaxation technique in burn patients: A randomized clinical trial. Burns, 45(5), pp 1205-1214.
Delgado, D.A., Lambert, B.S., Boutris, N., McCulloch, P.C., M.D., Robbins, A.B., Moreno, M.R. and Harris, J.D. (2018). Validation of Digital Visual Analog Scale Pain Scoring with a Traditional Paper-based Visual Analog Scale in Adults. JAAOS Global Research & Reviews, 2(3), e088.
Faydalı, S. & Çetinkaya, F. (2018). The Effect of Aromatherapy on Sleep Quality of Elderly People Residing in a Nursing Home. Holistic Nursing Practice, 32(1), pp 8-16.
Fazlollahpour-Rokni, F., Shorofi, S.A., Mousavinasab, N., Ghafari R., & Esmaeili R. (2019). The effect of inhalation aromatherapy with rose essential oil on the anxiety of patients undergoing coronary artery bypass graft surgery. Complementary Therapies in Clinical Practice, 34, pp 201-207.
Flannelly, K.J., Flannelly, L.T. & Jankowski, K.R.B. (2018). Threats to the Internal Validity of Experimental and Quasi-Experimental Research in Healthcare. Journal of Health Care Chaplaincy, 24(3), pp 107-130.
Franco, L., Blanck, T.J., Dugan, K., Kline, R., Shanmugam, G., Galotti, A., von Bergen Granell, A. & Wajda, M. (2016). Both lavender fleur oil and unscented oil aromatherapy reduce preoperative anxiety in breast surgery patients: a randomized trial. Journal of Clinical Anesthesia, 33, pp 243-9.
Gaston-Johansson, F. (1996). Measurement of pain: the psychometric properties of the Pain-O-Meter, a simple, inexpensive pain assessment tool that could change health care practices. Journal of Pain and Symptom Management, 12(3), pp 172-181.
Hamdamian, S., Nazarpour, S., Simbar, M., Hajian, S., Mojab, F. & Talebi, A. (2018). Effects of aromatherapy with Rosa damascena on nulliparous women's pain and anxiety of labor during first stage of labor. Journal of Integrative Medicine,16(2), pp 120-125.
Hulley, S.B., Cummings, S.R., Browner, W.S., Grady, D. & Newman, T.B. (2013). Designing clinical research: an epidemiologic approach. 4th ed. Philadelphia, PA: Lippincott Williams & Wilkins; Appendix 6A, page 73.
Katz, J. & Melzack, R. (1999): Measurement of pain. Surgical Clinics of North America, 79(2), pp 231-252.
Nasiri, A., Mahmodi, M.A. & Nobakht, Z. (2016): Effect of aromatherapy massage with lavender essential oil on pain in patients with osteoarthritis of the knee: A randomized controlled clinical trial. Complementary Therapies in Clinical Practice, 25, pp 75-80.
Nasiri Lari Z., Hajimonfarednejad M., Riasatian M., Abolhassanzadeh Z., Iraji A., Vojoud M., Heydari M. & Shams M. (2020). Efficacy of inhaled Lavandula angustifolia Mill. Essential oil on sleep quality, quality of life and metabolic control in patients with diabetes mellitus type II and insomnia. Journal of Ethnopharmacology, 251:112560.
Nikjou R., Kazemzadeh R., Rostamnegad M., Moshfegi S., Karimollahi M. & Salehi, H. (2016). The Effect of Lavender Aromatherapy on the Pain Severity of Primary Dysmenorrhea: A Triple-blind Randomized Clinical Trial. Annals of Medical and Health Science Research, 6(4), pp 211-215.
Steflitsch, W. (2017). Aromatherapy - From Traditional and Scientific Evidence into Clinical Practice. Deutsche Medizinische Wochenschrift, 142(25), pp 1936-1942.
Tsai, S.S., Wan,g H.H. & Chou, F.H. (2019). The Effects of Aromatherapy on Postpartum Women: A Systematic Review. The Journal of Nursing Research [Epub ahead of print]
Unalmis Erdogan, S., Yanikkerem, E. & Goker, A. (2017). Effects of low back massage on perceived birth pain and satisfaction. Complementary Therapies in Clinical Practice, 28, pp 169-175.
Westergren A., Edin K., Lindkvist M., and Christianson M. (2020). Exploring the medicalisation of childbirth through women's preferences for and use of pain relief. Women and Birth, in press.
Yayla, E.M. & Ozdemir, L. (2019). Effect of Inhalation Aromatherapy on Procedural Pain and Anxiety After Needle Insertion into an Implantable Central Venous Port Catheter: A Quasi-Randomized Controlled Pilot Study. Cancer Nursing, 42(1), pp 35-41.
Yazdkhasti, M. & Pirak, A. (2016). The effect of aromatherapy with lavender essence on severity of labor pain and duration of labor in primiparous women. Complementary Therapies in Clinical Practice, 25, pp 81-86.
Zardosht, R., Basir, A., Sahebkar, A. & Emami S.A. (2020). Effect of chamomile oil on cesarean section pain in primiparous women: a randomized clinical trial. Current Clinical Pharmacology, [Epub ahead of print]
Zeng Y.S., Wang C., Ward K.E & Hume A.L. (2018). Complementary and Alternative Medicine in Hospice and Palliative Care: A Systematic Review. Journal of Pain and Symptom Management, 56(5), pp 781-794.e4.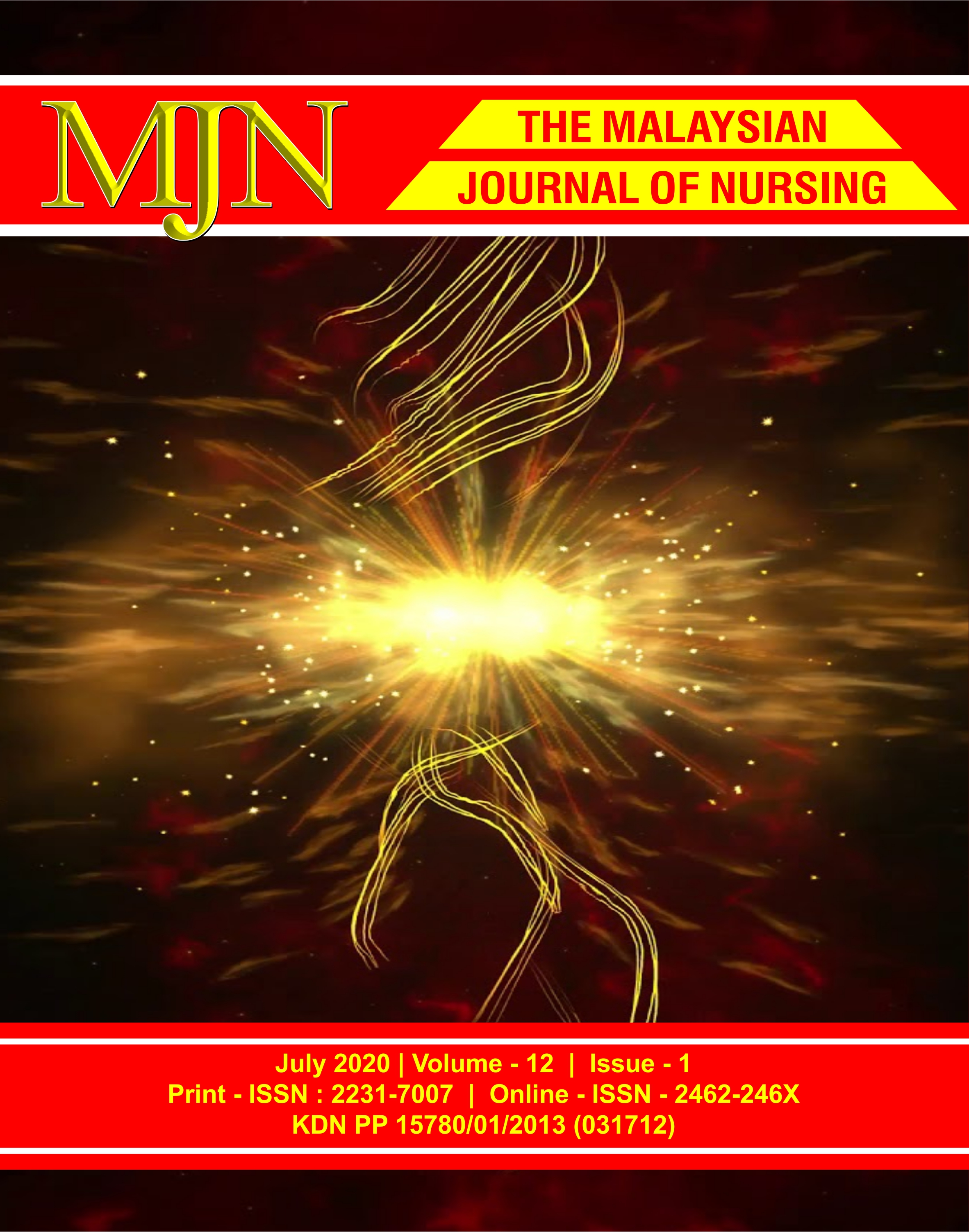 How to Cite
Ragaa Ali Abdraboo, Hadayat Abdel-Raof Amasha, & Sally Ebrahim Ali. (2020). EFFECTIVENESS OF INHALATION OF LAVENDER OIL IN RELIEVING POST-CESAREAN SECTION PAIN. The Malaysian Journal of Nursing (MJN), 12(1), 113-122. https://doi.org/10.31674/mjn.2020.v12i01.014
License
This work is licensed under a Creative Commons Attribution-NonCommercial-NoDerivatives 4.0 International License.