EXPLORING THE CONNECTION BETWEEN SPIRITUAL WELL-BEING AND QUALITY OF LIFE AMONG OLDER ADULTS IN MARAWI CITY
Abstract
This study aims to explore the relationship between spiritual well-being and the quality of life of older adults. Thus, a descriptive correlational study was conducted with 97 older adults from Marawi City who were residing in temporary evacuation centers. The older adults were recruited by census from 5 evacuation centers located in Iligan City and the Municipalities of Pantar, Saguiaran, and Balo-i. Data were collected through the Spirituality Assessment Scale, and the Older People's Quality of Life Questionnaire. Most of the older adults attained a fair or mixed spiritual well-being (overall mean=3.80) and a fairly positive overall quality of life (overall mean=3.50). According to Spearman Rho Correlation, there was a positive correlation between spiritual wellbeing and quality of life (p=0.048). Therefore, as spiritual well-being increases, so does the quality of life.
Keywords:
Spiritual Well-Being, Quality of Life, Older Adults
Downloads
Download data is not yet available.
References
Barnum BS. Spirituality in nursing: From traditional to new age. New York: Springer Publishing Company; 1996.
Bowling, A. (2009). Psychometric properties of the Older People's Quality of Life Questionnaire Validity. Current Gerontology and Geriatrics Research. www.hindawi.com/journals/cggr/2009/298950.abs.html
Freidmann M, Mouch J, Racey T. Nursing the spirit: the framework of systemic organization. The Journal of Advanced Nursing. 2002;39:325–332. [PubMed]
Genia, V. (2015). The Spiritual Experience Index: Revision and reformulation. Review of Religious Research, 38, 344-361 https://www.researchgate.net/publication/271895436_The_Spiritual_Experience_Index_Revision_and_Reformulation
George, J.B. (2000). Nursing Theories: The Base for Professional Practice. Retrieved from: http://currentnursing.com/nursing_theory/Lydia_Hall_Care_Cure_Core.html
Graham, J., Coholic, D., & Coates, J. (2006). Spirituality as a guiding construct in the development of Canadian social work: Past and present considerations. Critical Social Work, 7(1). Available at: http://cronus.uwindsor.ca/units/socialwork/critical.nsf/main
Grimsley LP. Spirituality and quality of life in HIV-positive persons. Journal of Cultural Diversity. 2006;13(2):113–118. [PubMed]
Hill PC, Pargament KI. Advances in the conceptualization and measurement of religion and spirituality: implications for physical and mental health research. American Psychologist. 2003;58(1):64–74. [PubMed]
Jafari E, Najafi M, Sohrabi F, Dehshiri GR, Soleymani E, Heshmati R. Life satisfaction, spirituality well-being and hope in cancer patients. Procedia Soc Behav Sci. 2010;5:1362–6. [Ref list]
Kelly J. Spirituality as a coping mechanism. Dimensions of Critical Care Nursing. 2004;23:162–168.[PubMed]
Landis, B. J. (2010). Uncertainty, spiritual well- being, and psychosocial adjustment to chronic illness. Issues in Mental Health Nursing, 17, 217-321.
Lark, R. E. (2007). The relation of mood and spirituality to status hope and dispositional forgiveness. Dissertation, University of Southern Mississippi.
O'Brien ME. Spirituality in nursing: Standing on holy ground. 2. Boston: Jones and Bartlett Publishers; 2003.
Koenig HG, Cohen HJ. The link between religion and health: Psychoneuroimmunology and the faith factor. New York: Oxford University Press; 2002
Manning- Walsh, J. (2005). Spiritual struggle: effect on quality of life and life satisfaction in women with breast cancer. HJournal of holistic nursing : official journal of the American Holistic Nurses' AssociationH Volume 23, Issue 2, June 2005, Pages 120-140; discussion 141-144.
Mascaro, N; Rosen, d. H; & Morey, L. c. (2004). The development, construct validity, and clinical utility of the spiritual meaning scale. Personality and Individual Differences, 37, 845- 860.
Miller WR, Thoresen CE. Spirituality, religion and health. American Psychologist. 2003;58:24–35.[PubMed]
Moberg, D. O. &Brusek, P. M. (1978).Spiritual well-being: A neglected subject in quality of life research. Social Indicators Research, 5, 303-323
Moberg, D.A. (2005). Research in spirituality, religion, and aging. Journal of Gerontological Social Work, 45 (1/2), 11-40.
Monareng, L.V., 2012, 'Spiritual nursing care: A concept analysis', Curationis 35(1), Art. #28, 9 pages.http://dx.doi.org/10.4102/curationis.v35i1.28
Mueller PS, Plevak DJ, Rummans TA. Religious involvement, spirituality, and medicine: implications for clinical practice. Mayo Clinic Proceedings. 2001;76(12):1225–1235. [PubMed]
Musgrave CF, Allen CE, Allen GJ. Spirituality and health for women of color. American Journal of Public Health. 2002;92(4):557–560. [PMC free article] [PubMed]
Nannis ED, Patterson TL, Semple SJ. Coping with HIV disease among seropositive women: psychosocial correlates. Women and Health. 1997;25(1):1–23. [PubMed]
Rabin BS. Stress, immune function, and health: The connection. New York: Wiley-Liss; 1999
Ridnour, Heather Hammermeister, Jon(2008) Spiritual well-being and its influence on athletic coping profiles. Journal of Sport Behavior Publisher. Source Volume: 31 Source Issue: 1
Rippentrop, A .E;H HAltmaier, E. M.H & HBurns, C. P.H (2006). The relationship of religiosity and spirituality to quality of life among cancer patients. Journal of Clinical Psychology in Medical SettingsH. Volume 13, Issue 1, March 2006, Pages 31-37.
Sarna L, van Servellen G, Padilla G, Brecht ML. Quality of life in women with symptomatic HIV/AIDS. Journal of Advanced Nursing. 1999;30(3):597–605. [PubMed]
Simoni JM, Martone MG, Kerwin JF. Spirituality and psychosocial adaptation among women with HIV/AIDS: implications for counseling. Journal of Counseling Psychology. 2002;49:139–147.
Snyder, C. R., Harris, C., Anderson, J. R., Holleran, S. A., Irving, L. M., Sigmon, S. T., et al. (1991). The will and the ways: Development and validation of an individual-differences measure of hope. Journal of Personality and Social Psychology, 60, 570–585.
Sowell R, Moneyham L, Hennessy M, Guillory J, Demi A, Seales B. Spiritual activities as a resistance resource for women with human immunodeficiency virus. Nursing Research. 2001;49:73–82. [PubMed]
Tate DG, Forchheimer M. Quality of life, life satisfaction, and spirituality: Comparing outcomes between rehabilitation and cancer patients. American Journal of Physical Medicine and Rehabilitation. 2002;81(6):400–410. [PubMed]
Tuck I, McCain NL, Elswick RK. Spirituality and psychosocial factors in persons living with HIV. Journal of Advanced Nursing. 2000;33:776–783. [PMC free article] [PubMed]
Weinfurt KP, Willke RJ, Glick HA, Freimuth WW, Shulman KA. Relationship between CD4 count, viral burden, and quality of life over time in HIV-1 infected patients. Medical Care. 2000;38:404–410. [PubMed]
Yoon, D. P. (2006). Factors affecting subjective well-being for rural elderly individuals: The importance of spirituality, religiousness, and social support. HJournal of Religion and Spirituality in Social WorkH. Volume 25, Issue 2, 2006, Pages 59-7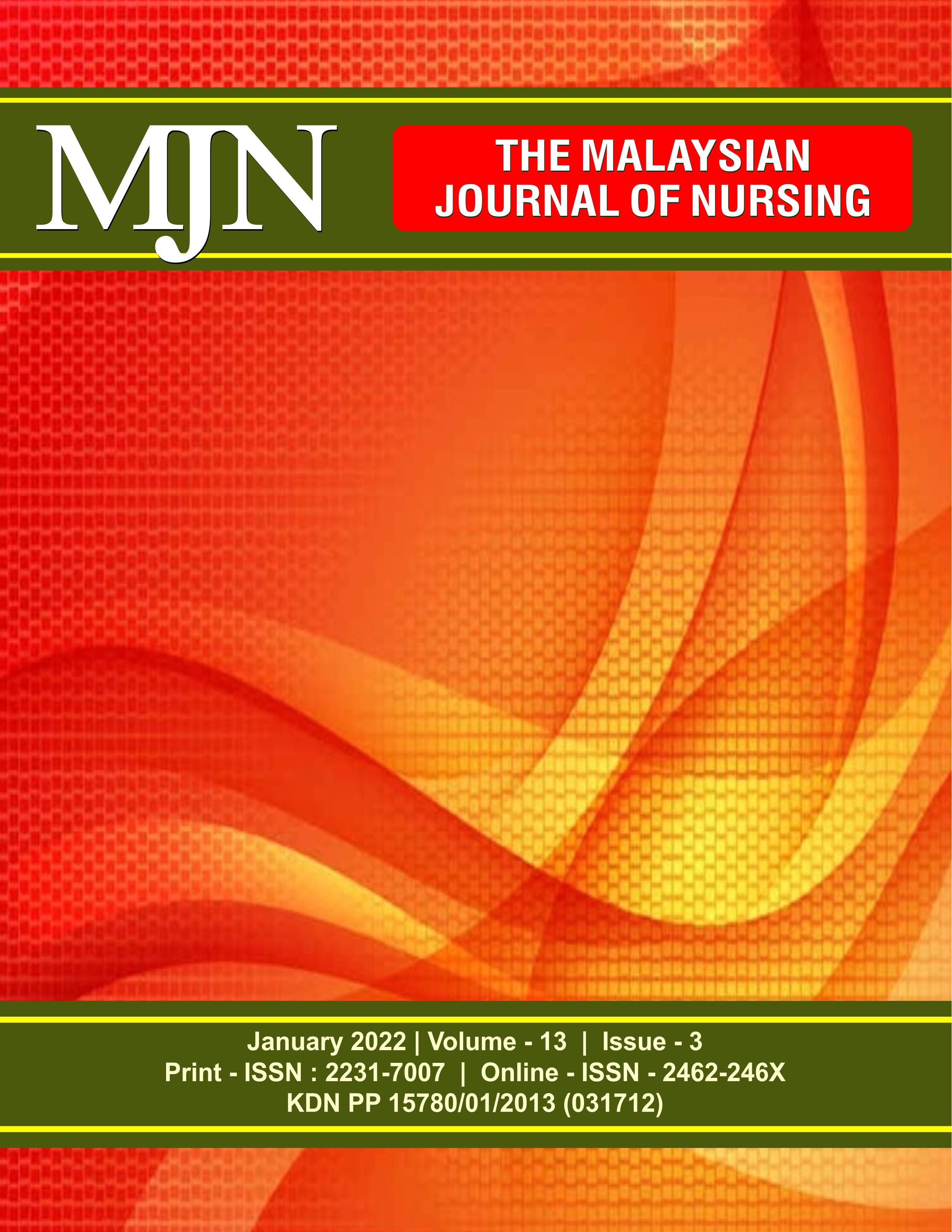 How to Cite
Ashley A. Bangcola, & Hamdoni Pangandaman. (2021). EXPLORING THE CONNECTION BETWEEN SPIRITUAL WELL-BEING AND QUALITY OF LIFE AMONG OLDER ADULTS IN MARAWI CITY. The Malaysian Journal of Nursing (MJN), 13(3). Retrieved from https://ejournal.lucp.net/index.php/mjn/article/view/1111
License
Copyright (c) 2021 The Malaysian Journal of Nursing (MJN)
This work is licensed under a Creative Commons Attribution-NonCommercial-NoDerivatives 4.0 International License.