NURSES' EXPERIENCE OF CARING FOR CRIMINALS AT EMERGENCY DEPARTMENT
Abstract
Introduction: Nurses have important roles in treating criminals. To treat the criminals is complex and it has different challenges. Nurses feel uncomfortable in treating an individual whoever injured, raped, and murdered other individuals. They have difficulties to apply caring principles in such an unsafe and dangerous situation with a physical-attack risk that could influence their nursing practice and quality. Objective: To explore the nurses' experiences in caring for criminals at the emergency department. Methodology: it is qualitative research with a phenomenological approach. This research was conducted by an in-depth interviewing of 10 nurses in the emergency department.  The applied data analysis technique is the Interpretative Phenomenological Analysis (IPA). Findings: the emerging themes in this research are: awareness toward the obligation and responsibility as nurses, implementation of caring principle in treating the criminals, and having no intention for the police officers to get involved in the patients' treatment processes. Conclusion: Nurses need to internalize and reflect caring as the philosophy of nursing. It is also important to realize without caring, a recovery process and the purpose of giving treatment will not be achieved.
Keywords:
Caring, Criminals, Experiences, Nurse
Downloads
Download data is not yet available.
References
Christensen, S. (2014). Enhancing nurses' ability to care within the culture of incarceration. Journal of Transcultural Nursing, 25(3), pp 223–231.
Courtwright, A., Raphael, T. & Collichio, F. (2008). Shackled : The challenge of caring for an incarcerated patient. American Journal of Hospice & Palliative Medicine, 25(1), pp 315–317.
Creswell, J.W. (2014). Research design: Quantitative, qualitative and mixed methods approaches, 4th edition. SAGE Publications, California.
Dhaliwal, K. & Hirst, S. (2016). Caring in correctional nursing: A systematic search and narrative synthesis. Journal of Forensic Nursing, 12(1), pp 5–12.
Junewicz, A. (2014). Shackled : providing health care to prisoners outside of prison. The American Journal of Bioethics, 14(7), pp 2013–2014.
Maeva, M. K. & Vaughn, M. S. (2001). Nursing with prisoners: the practice of caring, forensic nursing or penal harm nursing. Advances in Nursing Science, 24(2), pp 47-64.
Margalith, I., Tabak, N. & Granot, T. (2008). Student nurses' care of terrorists and their victims. Nursing Ethics, 15(5), pp 601-613.
McConville, S., Mooney, C., Williams, A. & Hsia, Y. (2018). How do ED patients with criminal justice contact compare with other ED users? A retrospective analysis of ED visits in California. BMJ Open, 8(1), pp 1–8.
Melillo, K. D. (2009). Caring for incarcerated older adults, aging, mental health, and incarceration. Journal of Gerontological Nursing, 35(1), pp 3-6.
Nursing Law Of Indonesia. (2014). Undang-undang keperawatan no. 37 b, pp 8-9.
Redgewell, S. (2010). Patient or prisoner? Caring in a secure environment. Criminal justice Matters, 81(1), pp 6-7.
Smith, F. D. (2016). Perioperative care of prisoners: providing safe care. Association of Registered Nurses Journal, 103(3), pp 282-288.
Smith, J.A. & Osborn, M. (2008). Interpretative phenomenological analysis. Qualitative Psychology, 2(1), pp 53-80.
Susanti, R. H. (2015). Meningkatkan kesadaran tanggung jawab siswa SMP melalui penggunaan teknik klarifikasi nilai. Jurnal Konseling Indonesia, 1(1), pp 38–46.
United Nations Office on Drug and Crime (2019). Retrived from: https://www. unodc.org/unodc/en/data-and-analysis/crimedata.html.
Watson, J. (1999). Postmodern nursing and beyond. Churchill Livingstones, Edinburgh.
Weiskopf, C. S. (2005). Nurses' experience of caring for inmate patients. Journal of Advanced Nursing, 49(4), pp 336–343.
Zust, B. L., Busiahn, L., & Janisch, K. (2013). Nurses' experiences caring for incarcerated patients in a perinatal unit. Issues in Mental Health Nursing, 34(1), pp 25–29.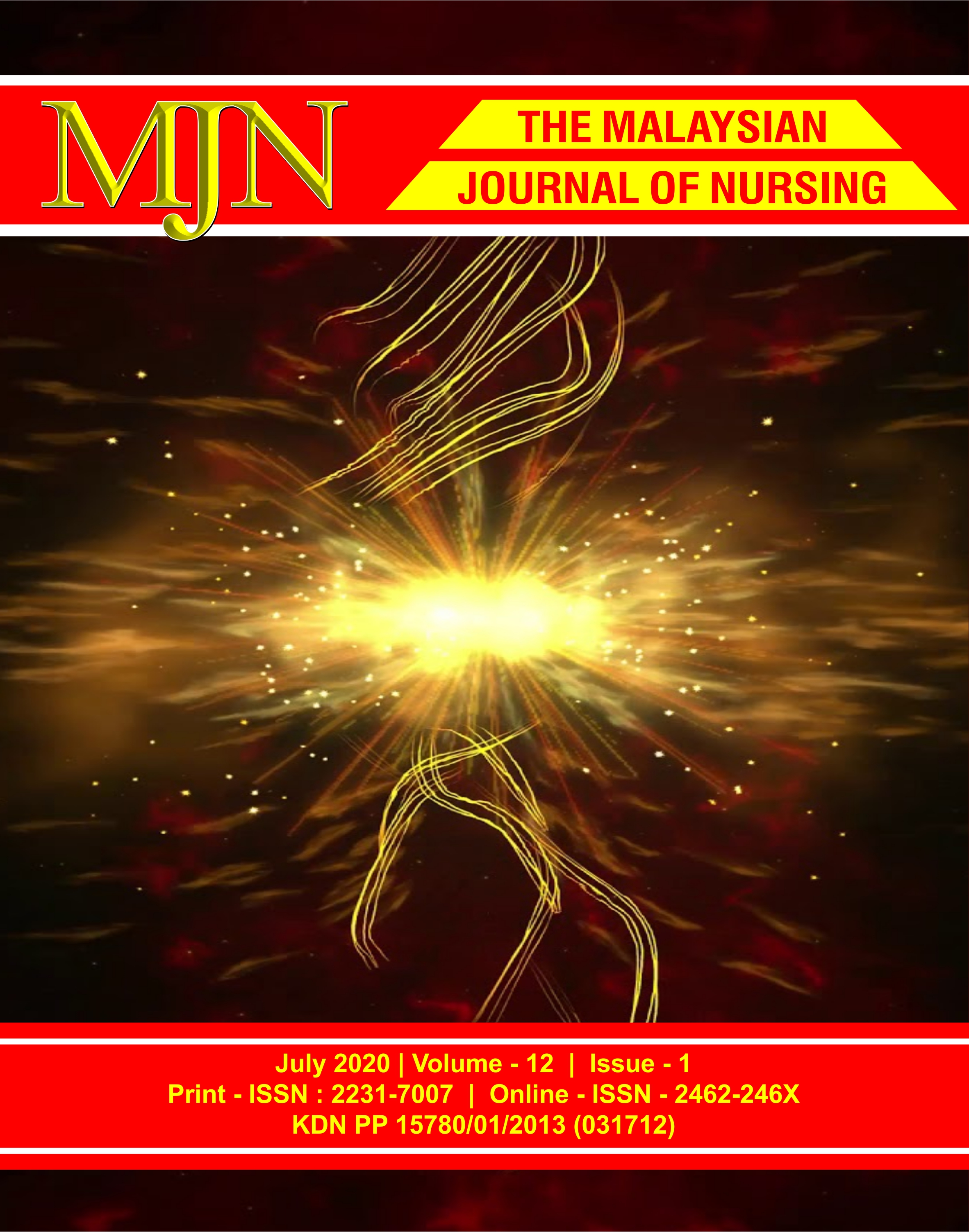 How to Cite
Wirmando, Asti Melani Astari, & Laily Yuliatun. (2020). NURSES' EXPERIENCE OF CARING FOR CRIMINALS AT EMERGENCY DEPARTMENT. The Malaysian Journal of Nursing (MJN), 12(1), 57-62. https://doi.org/10.31674/mjn.2020.v12i01.007
License
This work is licensed under a Creative Commons Attribution-NonCommercial-NoDerivatives 4.0 International License.