PERCEPTION OF JOB SATISFACTION AMONG OPERATION ROOM NURSES IN A TERTIARY HOSPITAL, SAUDI ARABIA
Abstract
Introduction: Nurses are Saudi Arabia's largest healthcare provider group for health promotion and disease prevention. The study aims to assess factors contributing on job satisfaction among the operation room (OR) nurses employed in a tertiary hospital, the capital of Saudi Arabia. Methodology: This study used descriptive and cross-sectional design. Total of 122 registered OR nurses participated in the study using self-administered questionnaires. Results: The findings of the study revealed that work-life balance of the OR nurses was the main factor affecting their job satisfaction. Discussion: This study determined the work-life balance as a main factor that influences the job satisfaction of nurses working in a tertiary hospital in Saudi Arabia. The results aligned with the information presented in the past literature that workload in the operating rooms, lack of job security, and lack of motivation affect job satisfaction among nurses.
Keywords:
Job Satisfaction, Nurses, Work-Life Balance, Tertiary Hospital
Downloads
Download data is not yet available.
References
Aamir, A., Hamid, A.B.A., Haider, M. & Akhtar, C.S. (2016). Work-life balance, job satisfaction and nurses' retention: Moderating role of work volition. International Journal of Business Excellence, 10(4), pp 488-501.
Admasu, B.G., Temamen, T.Y., Dagmawit, B.K. & Abdela, A.D. (2018). Job satisfaction and associated factors among nurses working in the operation theatre at government hospitals of Eastern Ethiopia, 2017. Palliative Medical Care, 5(2), pp 1-7.
Al‐Ahmadi, H. (2009). Factors affecting performance of hospital nurses in Riyadh Region, Saudi Arabia. International Journal of Health Care Quality Assurance, 22(1), pp 40–54.
Alboliteeh, M., Magarey, J. & Wiechula, R. (2017). The profile of Saudi nursing workforce: A cross-sectional study. Nursing Research and Practice, pp 1-9.
Al-Dossary, R., Vail, J. & Macfarlane, F. (2012). Job satisfaction of nurses in a Saudi Arabian university teaching hospital: A cross-sectional study. International Nursing Review, 59(3), pp 424–430.
Al-Mahmoud, S., Mullen, P. & Spurgeon, P. (2012). Saudisation of the nursing workforce: Reality and myths about planning nurse training in Saudi Arabia. Journal of American Science, 8(4), pp 369-379.
Almutairi, K.M. (2015). Culture and language differences as a barrier to provision of quality care by the health workforce in Saudi Arabia. Saudi Medical Journal, 36(4), pp 425–431.
Alostaz, Z.M. (2016). Job satisfaction among critical care nurses in Al Baha, Saudi Arabia: A cross-sectional study. Gulf Medical Journal, 5(1), pp 64-68.
Alzahrani, N., Jones, R. & Abdel-Latif, M.E. (2018). Attitudes of doctors and nurses toward patient safety within emergency departments of two Saudi Arabian hospitals. BMC Health Services Research, 18(1), 736.
Buitendach, J. & Rothmann, S. (2009). The validation of the Minnesota Job satisfaction questionnaire in selected organisations in South Africa. SA Journal of Human Resource Management, 7(1), pp 1-8.
Gillet, N., Fouquereau, E., Coillot, H., Cougot, B., Moret, L., Dupont, S., Bonnetain, F. & Colombat, P. (2018). The effects of work factors on nurses' job satisfaction, quality of care and turnover intentions in oncology. Journal of Advanced Nursing, 74(5), pp 1208-1219.
Gorgich, E.A.C., Arbabisarjou, A., Taji, F. & Barfroshan, S. (2016). Job satisfaction and external effective factors in operating room nurses working educational hospitals in 2015: A cross-sectional questionnaire study. Global Journal of Health Science, 9(1), 74-81.
Grove, S.K., Gray, J.R. & Burns, N. (2015). Understanding nursing research: Building an evidence-based practice. 6th edition. St. Louis: Elsevier.
Halcomb, E., Smyth, E. & McInnes, S. (2018). Job satisfaction and career intentions of registered nurses in primary health care: an integrative review. BMC Family Practice, 19(1), 136.
Herzberg, F. (2005). Motivation-hygiene theory. In J.B. Miner (Ed.), Organisational behaviour one: Essential theories of motivation and leadership (pp. 61-74). New York: ME Sharpe Inc.
Higgins, C. & Duxbury, L. (2002). The 2001 National Work-Life Conflict Study: Report One. Retrieved from: http://www.hc-sc.gc.ca/ pphb-dgspsp/publicat/work-travail/index.html
Lamadah, S.M. & Sayed, H.Y. (2014). Challenges facing nursing profession in Saudi Arabia. Journal of Biology, Agriculture and Healthcare, 4(7), pp 20-25.
Tasneem, S., Cagatan, A.S., Avci, M.Z., & Basustaoglu, A.C. (2018). Job satisfaction of health service providers working in a public tertiary care hospital of Pakistan. The Open Public Health Journal, 11(1), pp 17-27
Zaghloul, A.A., Al-Hussaini, M.F. & Al-Bassam, N.K. (2008). Intention to stay and nurses' satisfaction dimensions. Journal of Multidisciplinary Healthcare, 1, pp 51-58.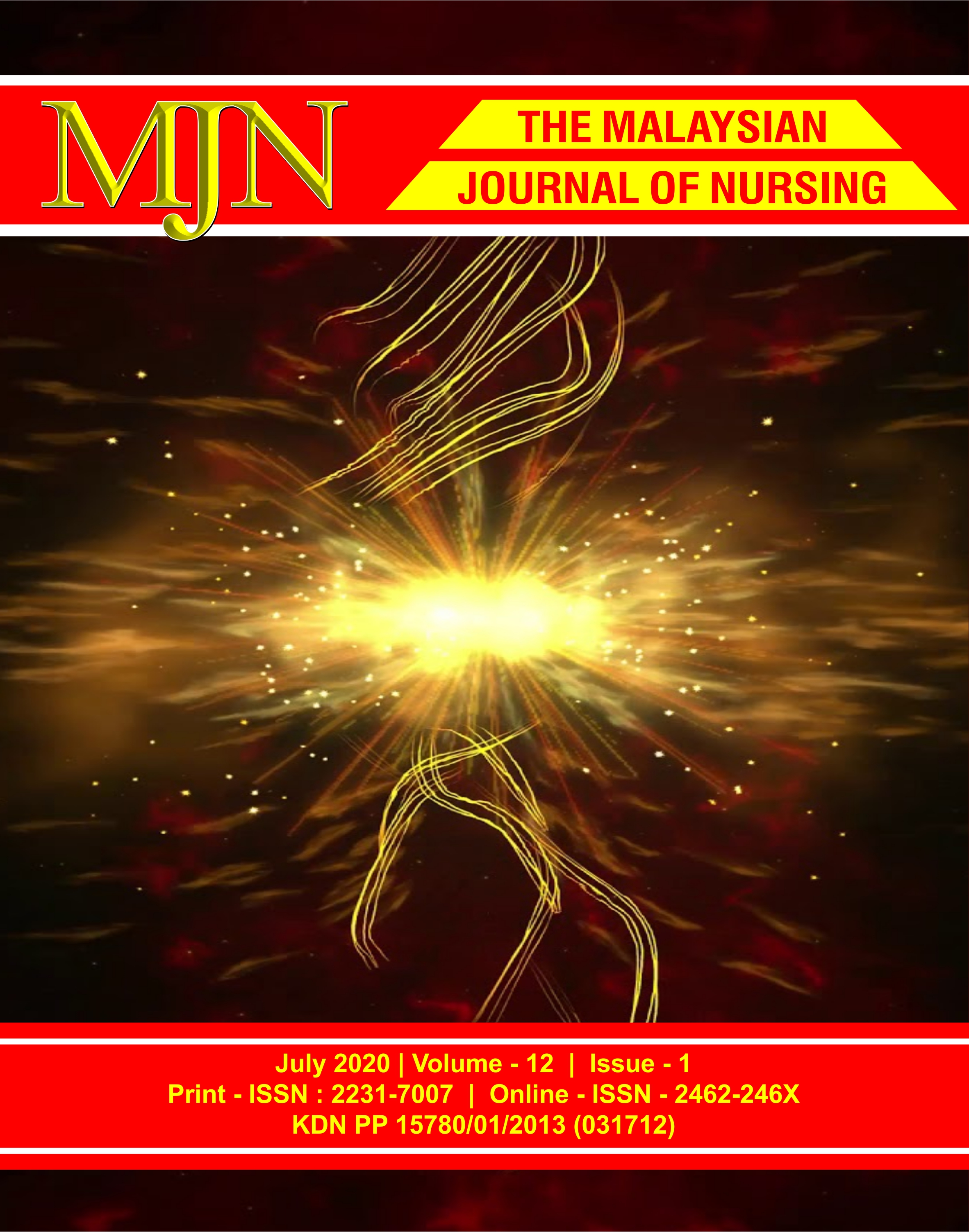 How to Cite
Ong Khai-Lee, Chang Woan-Ching, & Yee Bit-Lian. (2020). PERCEPTION OF JOB SATISFACTION AMONG OPERATION ROOM NURSES IN A TERTIARY HOSPITAL, SAUDI ARABIA. The Malaysian Journal of Nursing (MJN), 12(1), 3-9. https://doi.org/10.31674/mjn.2020.v12i01.001
License
This work is licensed under a Creative Commons Attribution-NonCommercial-NoDerivatives 4.0 International License.