ACCURACY OF ALLEN SCORE IN PREDICTING STROKE TYPE
Abstract
Background: Stroke is an emergency condition that can cause a decrease in nerve function that is affected by injuries to the central nervous system. The initial examination is needed by nurses to find out the type of stroke that can determine the right treatment and quickly. Determination of the type of stroke is done by using a CT scan tool that has limited facilities in some hospitals, so we need a tool in the form of a stroke scoring that can be used.
Aim: This study aims to determine the accuracy of Allen's score in predicting the type of stroke in patients
Methods: This study uses an observational analytic method with a cross-sectional design. The sample selection uses purposive sampling with the number of respondents as many as 100 stroke patients. Observations were made using the Allen score.
Results: The results showed 100 patients. Demographic characteristics of patients who have the most strokes are men, the age group that has the most strokes is 54-64 years, working privately. The sensitivity, specificity, NPP, NPN, and accuracy of Allen scores were 98.6%, 100%, 100%, 96%, and 99.0% in predicting the type of ischemic stroke. Whereas in predicting the type of hemorrhagic stroke, sensitivity, specificity, NPP, NPN, and accuracy are 83.3%, 92.6%, 71.4%, 96.2%, and 91%.
Conclusion: Determining the type of stroke quickly and precisely, help is needed by using stroke scoring that can be done by nurses as a basis for providing collaborative care inpatient management.
Keywords:
Allen Stroke Score, Sensitivity, Specificity Allen Score, Stroke, Scoring Stroke
Downloads
Download data is not yet available.
References
Amjad, Z., Nadeem, M., Mustafvi, S. A., & Baqai, H. Z. (2015). Accuracy of Siriraj Stroke Score in Ascertaining the Type of Stroke. Journal of Islamabad Medical & Dental College (JIMDC), 4(4), pp 167-170.
An, S.J., Kim, T.J. & Yoon, B.W. (2017). Epidemiology, risk factors, and clinical features of intracerebral hemorrhage: an update. Journal of Stroke, 19(1), p 3.
Arsava, E. M., Helenius, J., Avery, R., Sorgun, M. H., Kim, G. M., Pontes-Neto, O. M., ... & Ay, H. (2017). Assessment of the predictive validity of etiologic stroke classification. JAMA Neurology, 74(4), pp 419-426.
Choudhury, M. S., Chowdhury, M. D., Nayeem, Abu, & Jahan, Waseka. (2015). Modifiable and Non-Modifiable Risk Factors of Stroke: A Review Update. Journal of the National Institute of Neurosciences Bangladesh, 1, 22.
Connor, M. D., Modi, G., & Warlow, C. P. (2007). Accuracy of the Siriraj and Guy's hospital stroke scores in urban South Africans. Stroke, 38(1), 62-68.
Di Legge, S., Koch, G., Diomedi, M., Stanzione, P., & Sallustio, F. (2012). Stroke prevention: managing modifiable risk factors. Stroke Research and Treatment, 2012.
Feigin, V. L., Krishnamurthi, R. V., Parmar, P., Norrving, B., Mensah, G. A., Bennett, D. A., & Roth, G. A. (2015). Update on the global burden of ischemic and hemorrhagic stroke in 1990-2013: the GBD 2013 study. Neuroepidemiology, 45(3), 161-176.
Gaire, D., AD, P. A. R., Rana, K. J., & Karki, L. (2015). Stroke Scoring??? Does it have role. Post-Graduate Medical Journal of NAMS, 12(01).
Gibson, C. L. (2013). Cerebral ischemic stroke: is gender important?. Journal of Cerebral Blood Flow & Metabolism, 33(9), pp 1355-1361.
Girijala, R. L., Sohrabji, F., & Bush, R. L. (2017). Sex differences in stroke: review of current knowledge and evidence. Vascular Medicine, 22(2), pp 135-145.
Goswami, R., Karmakar, P., & Ghosh, A. (2013). Bedside utility of clinical scoring systems in classifying stroke. Indian Journal of Medical Sciences, 67(5/6), 137.
Middleton, S., Grimley, R., & Alexandrov, A. W. (2015). Triage, treatment, and transfer: evidence-based clinical practice recommendations and models of nursing care for the first 72 hours of admission to hospital for acute stroke. Stroke, 46(2), e18-25.
Nilanont, Y., Komoltri, C., Saposnik, G., Côté, R., Di Legge, S., Jin, Y., Prayoonwiwat, N., Poungvarin, N. & Hachinski, V. (2010). The Canadian Neurological Scale and the NIHSS: development and validation of a simple conversion model. Cerebrovascular Diseases, 30(2), pp 120-126.
Putri, N. N., Islam, M. S., & Subadi, I. (2018). Comparison of Acute Ischemic Stroke Functional Outcome in Smokers and Nonsmokers Measured By Canadian Neurological Scale (CNS) and NIHSS. Malang Neurology Journal, 4(2), pp 65-71.
Raghuram, P., Biradar, M.S. & Jeganathan, J. (2012). Comparison of the Siriraj Stroke Score and the Guy's Hospital Score in South India. Journal of Clinical & Diagnostic Research, 6(5).
Rahman, A., & Jamal, Q. (2015). Comparison of Siriraj Stroke Score With Computerized Tomography in Establishing the Type of the Stroke Among Pakistani Population (P1. 078).
Sacco, R.L., Kasner, S.E., Broderick, J.P., Caplan, L.R., Connors, J.J., Culebras, A., Elkind, M.S., George, M.G., Hamdan, A.D., Higashida, R.T. & Hoh, B.L. (2013). An updated definition of stroke for the 21st century: a statement for healthcare professionals from the American Heart Association/American Stroke Association. Stroke, 44(7), pp 2064-2089.
Sherin, A., Khan, A., Rehman, S., Shah, N. H., Shabbier, G., & Zarif, M. (2011). Comparability and validity of Siriraj stroke score and Allen stroke score in differentiation of acute ischemic and haemorrhagic stroke. Journal of Postgraduate Medical Institute (Peshawar-Pakistan), 25(3).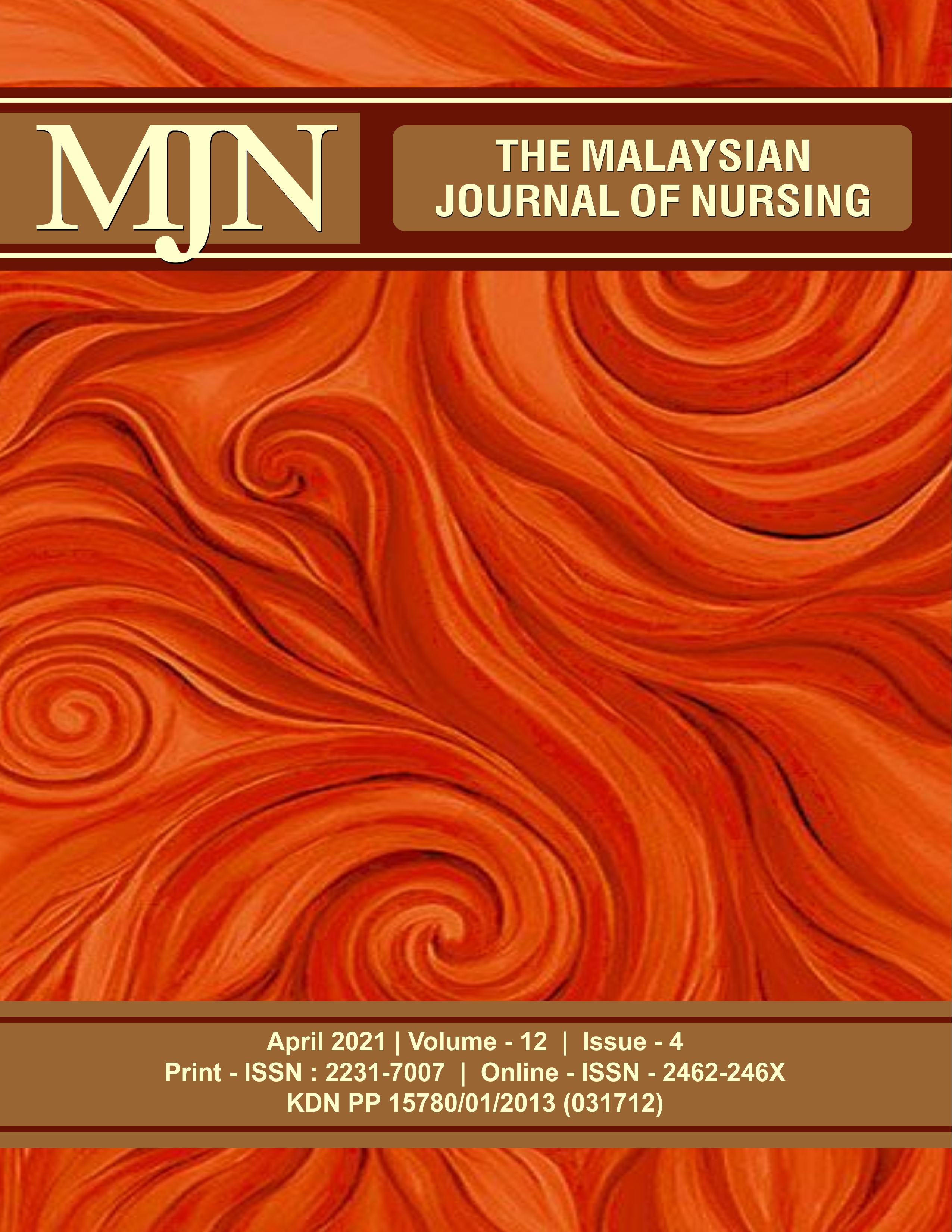 How to Cite
Berna Detha Meilyana, Sri Andarini, & Yati Sri Hayati. (2021). ACCURACY OF ALLEN SCORE IN PREDICTING STROKE TYPE. The Malaysian Journal of Nursing (MJN), 12(4), 22-27. https://doi.org/10.31674/mjn.2021.v12i04.004
License
Copyright (c) 2021 The Malaysian Journal of Nursing (MJN)
This work is licensed under a Creative Commons Attribution-NonCommercial-NoDerivatives 4.0 International License.