THE CORRELATION BETWEEN NURSE TIME RESPONSE AND THE HEMODINAMIC STATUS TO THE HEAD INJURY PATIENT IN IGD ROOM OF RSUD DR. MOEWARDI
Abstract
Background : Head injury is the accidence that cause disability even death. The head injury prevalence always increase so it need the proper and accurate handling is ussualy called by response time. The cancelled handling cause the worse hemodinamic status to the head injury patient.
Objective : This objective of the research is to know the correlation nurse response time to the hemodinamic status to the head injury patient in the IGD room of RSUD Dr. Moewardi.
Methods : The research design  is using analitycal observational to this research by using kohort prospective approach. The research was held in IGD room RSUD Dr. Moewardi during 17th of February-25th of March 2020. The research population is all head injury patient in IGD. The sampling technique isusing the sum of sampling with the sample total 105 patient. The research instrument use responce time observation paper and the hemodinamic status (Modified aldrete score). Univariat analysis use frequency and distribution. Bivariat analysis use the spearman test because the data can not be normaly distributed.
Result: Fast Response time can influence the hemodinamic status to the head injury  patient by the score is p value 0,000. The old respose time make the head injury patient condition getting worse becuse the worse of blood circulation in the brain or the bleeding in the brain. The worsen of blood circultion will influence the brain function so the hemodinamic is decese.
Conclusion : There is a correlation between the nurse response time with the hemodynamic status to the head injury patient in IGD room RSUD Dr. Moewardi
Keywords:
Response Time, Hemodynamic Status, Head Injury
Downloads
Download data is not yet available.
References
Apriani, A. (2017). Hubungan Kegawat Daruratan dengan Waktu Tanggap pada Pasien Jantung Koroner di RSI Siti Khadijah Palembang. Jurnal Kesehatan, 8(3), pp 471-477.
Fadhilah, N., Harahap, W. A. & Lestari, Y. (2015). Faktor-faktor yang Berhubungan dengan Waktu Tanggap pada Pelayanan Kasus Kecelakaan Lalu Lintas di Instalasi Gawat Darurat Rumah Sakit Umum Pusat Dr. M. Djamil Padang Tahun 2013. Jurnal Kesehatan Andalas, 4(1).
Gabbe, B. J., Lyons, R. A., Simpson, P. M., Rivara, F. P., Ameratunga, S., Polinder, S., Derrett, S. & Harrison, J. E. (2016). Disability weights based on patient-reported data from a multinational injury cohort. Bulletin of the World Health Organization, 94(11), pp 806–816C.
Haryatun, N. & Sudaryanto, A. (2008). Perbedaan Waktu Tanggap Tindakan Keperawatan Pasien Cedera Kepala Kategori 1–V Di Instalasi Gawat Darurat Rsud Dr. Moewardi. Jurnal Berita Ilmu Keperawatan, 1(2), pp 69-74.
Kayana, I. B. A., Maliawan, S. & Kawiyana, I. K. S. (2013). Intracranial pressure monitoring technique. E-Jurnal Medika Udayana, pp 480-501.
Kyker, M., & Burke, B. (2013). Speeds criteria vs. modified aldrete and fast-track criteria for evaluating recovery in outpatients. Open Journal of Anesthesiology, 3(07), pp 309.
Leksana, E. (2011). Pengelolaan Hemodinamik. Dalam Jurnal CDK, (38).
Lumandung, F. T., Siwu, J. F. & Mallo, J. F. (2014). Gambaran Korban Meninggal Dengan Cedera Kepala Pada Kecelakaan Lalu Lintas Di Bagian Forensik Blu Rsup Prof. Dr. Rd Kandou Manado Periode Tahun 2011-2012. e-CliniC, 2(1).
Nevin, D. G., Perkins, Z. & Lockey, D. L. (2012). The relationship between head injury and the haemodynamic response to tracheal intubation. Scandinavian Journal of Trauma, Resuscitation and Emergency Medicine, 20(1), pp 1-1.
Rahmanti, A. & Putri, D. K. (2016). Mobilisasi Progresif terhadap Perubahan Tekanan Darah Pasien di Intensive Care Unit (ICU). Jurnal Ilmiah Kesehatan Keperawatan, 12(1).
Rapsang, A. G. & Shyam, D. C. (2015). Scoring systems of severity in patients with multiple trauma. Cirugía Española (English Edition), 93(4), pp 213-221.
Rembet, M. A., Mulyadi, N. & Malara, R. (2015). Hubungan Response TIME Perawat Dengan Tingkat Kepercayaan Keluarga Pasien Pada Triase Kuning (Urgent) Di Instalasi Gawat Darurat RSU Gmim Kalooran Amurang. Jurnal Keperawatan, 3(2).
Riskesdas. (2018). Riset Kesehatan Dasar. Badan Penelitian dan Pengembangan Kesehatan Kementerian Kesehatan RI.
Surtiningsih, D., Susilo, C. & Hamid, M. A. (2016). Penerapan Response Time Perawat Dalam Pelaksanaan Penentuan Prioritas Penanganan Kegawatdaruratan Pada Pasien Kecelakaan Di IGD RSD Balung. The Indonesian Journal of Health Science, 6(2).
Suwaryo, P. A. W., Wihastuti, T. A. & Fathoni, M. (2016). Analisis faktor-faktor yang berhubungan dengan outcome pasien cedera kepala di IGD RSUD Prof. Dr. Margono Soekardjo Purwokerto. Jurnal Ilmiah Kesehatan Keperawatan, 12(3).
Widaryati, W. (2016). Pengaruh terapi murotal Al Qur'an terhadap hemodinamik dan GCS pasien cedera kepala. Jurnal Kebidanan dan Keperawatan, 12(1), pp 78-83.
Yulius, T. (2010). Acid-base disorder due to hypernatremia in head injury. Journal of Anastesia and Critical Care, 28(3), pp 34-44.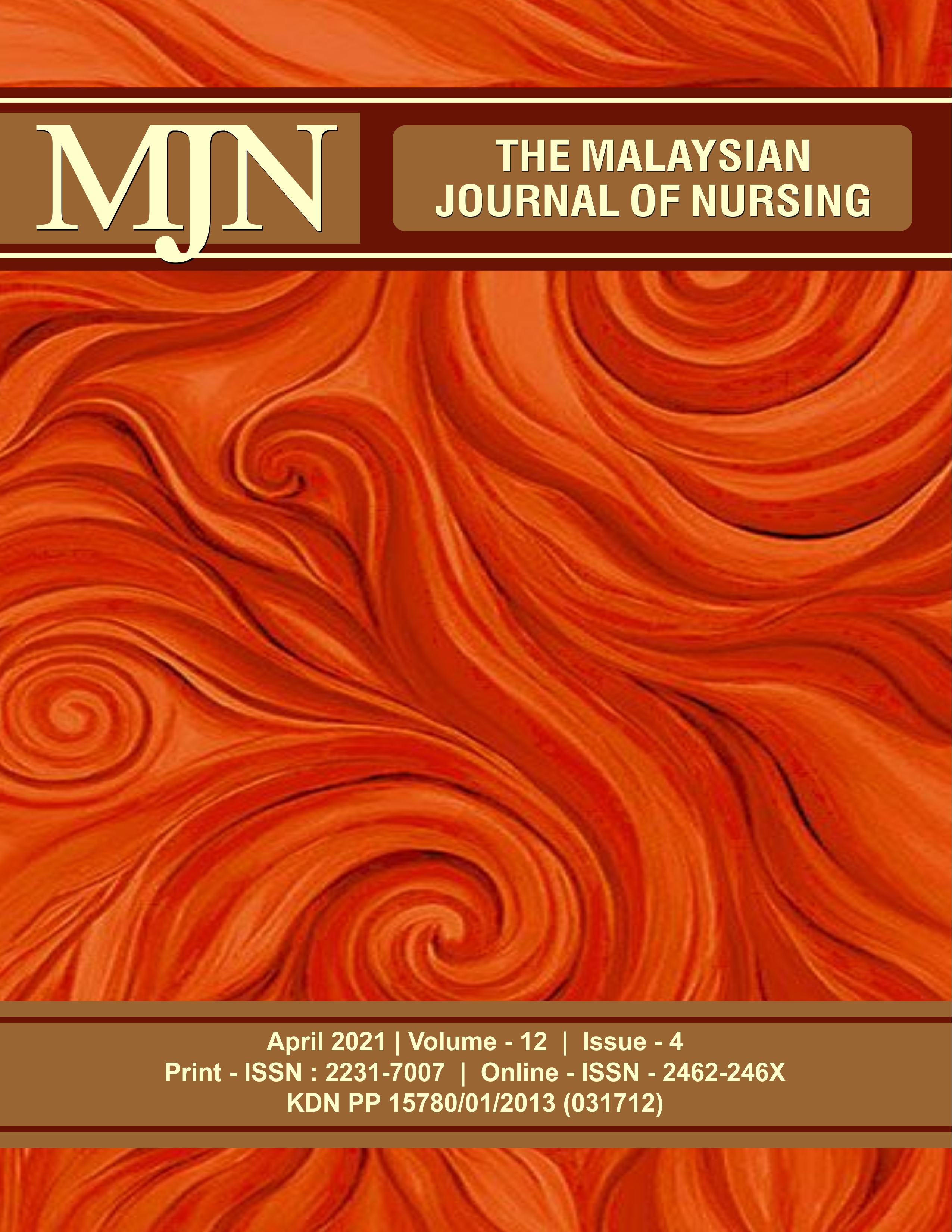 How to Cite
Sutiyo Dani Saputro, Siswanto, & Yulian Wiji Utami. (2021). THE CORRELATION BETWEEN NURSE TIME RESPONSE AND THE HEMODINAMIC STATUS TO THE HEAD INJURY PATIENT IN IGD ROOM OF RSUD DR. MOEWARDI. The Malaysian Journal of Nursing (MJN), 12(4), 12-16. https://doi.org/10.31674/mjn.2021.v12i04.002
License
Copyright (c) 2021 The Malaysian Journal of Nursing (MJN)
This work is licensed under a Creative Commons Attribution-NonCommercial-NoDerivatives 4.0 International License.