FAMILY AWARENESS AND WILLINGNESS TO ACCEPT DISCHARGE PLANNING ACCORDING TO NURSING ADVOCACY PROGRAM
Abstract
Background: Planning for patients to go home raises the issue of whether the patient is ready to face health problems at home. The lack of a support system becomes a problem especially as the patient needs continuity of care both in the healing process and in maintaining the patient's health status.
Research Objectives: Role of Advocacy given by Nurses with Readiness in Receiving Discharge Planning by patients and families.
Research Methods: Correlation study with cross sectional approach in which the population in this study is the family of patients who take care of their sick family member in the Internal Medicine and Surgery ward. The sampling was 97 respondents.
Results: Family perceptions about the role of nurse advocacy was in the positive category (73.2%). The level of family readiness in receiving discharge planning in the good category (53.6%). The results of the bivariate analysis using the Spearman Rank there showed that there is relationship between family perceptions about nurse advocacy with readiness in receiving discharge planning with a p-value of 0.00 <alpha 0.01. The closeness of the relationship between family perceptions about nurse advocacy with readiness to receive discharge planning in the Inpatient Ward is in the stronger category with Coefficient Correlation (r) 0.641. This proves that family support is needed by patients to cure patients.
Conclusion: Family perceptions about nurse advocacy with readiness to accept discharge planning have a strong positive relationship.
Keywords:
Family, Nurses, Patients, Discharge Planning
Downloads
Download data is not yet available.
References
Arikunto, S. (2002). Prosedur Penelitian Suatu Pendekatan Praktek. Jakarta: Rineka Cipta. Ester, M. (2005). Pedoman Perawatan Pasien. Jakarta:EGC.
Gaffar, L. O. (2014). Pengantar Keperawatan Profesional. Jakarta: EGC.
Judha, M. (2016). Pengalaman Care Worker Dalam Memenuhi Kebutuhan Dasar Retardasi Mental Di Panti Asuhan. Yogyakarta: Jurnal Keperawatan Respati, III(1), pp 85-91
Judha, M. (2017). Pengetahuan, Pendidikan Dan Status Ekonomi Berhubungan Dengan Ketaatan Kontrol Gula Darah Pada Penderita DM Di Rsup Dr Soeradji Tirtonegoro Klaten. Yogyakarta: Jurnal Medika Respati, 12(February), pp 41-47.
Keeling, A.W. & Ramos, M.C. (1995). The Role of Nursing History in Preparing Nursing for the Future," Nursing and Healthcare: Perspectives on Community, 16(1), pp 30–34.
Kozier, B. (2011). Alih Bahasa Devi Yulianti dkk. Fundamental Keperawatan. Edition 7. Jakarta: Pener¹bit Buku Kedokteran EGC.
Notoatmojo, S. (2010). Metode Penelitian Kesehatan. Edtion Rev. Jakarta: Rineka Cipta. Notoatmojo, S. (2003). Pendidikan Dan Perilaku Kesehatan. Jakarta: PT. Rineka Cipta.
Nursalam. (2002) Manajemen Keperawatan: Aplikasi dalam praktek keperawatan. 4th edition. Jakarta: Salemba Medika.
Pemila, Uke. (2009). Internet. Konsep Discharge Planning. Diakses dari. Retrieved from: http:152.118.148.220/ pkko/ fikes/ konsep%,20 DISCHARGE% PLANNING.doc.
Suliswati, Sumijatun, Anita, T., Maruhawa, J. & Sianturi, Y. (2005). Konsep Dasar Keperawatan Jiwa. Jakarta: EGC.
Supriyati (2008). Hubungan tingkat pengetahuan dengan sikap perawat dalam aplikasi pencegahan ansietas penderita pre operatif elektif di Rumah sakit Orthopedi Prof. Dr.R Soeharso Surakarta, penelitian. Thesis. Universitas Muhammadiyah Surakarta, Indonesia.
Yusnawati (2007). Kesiapan berwirausaha siswa jurusan kecantikan SMKN. Skripsi Yogyakarta: FT UNY.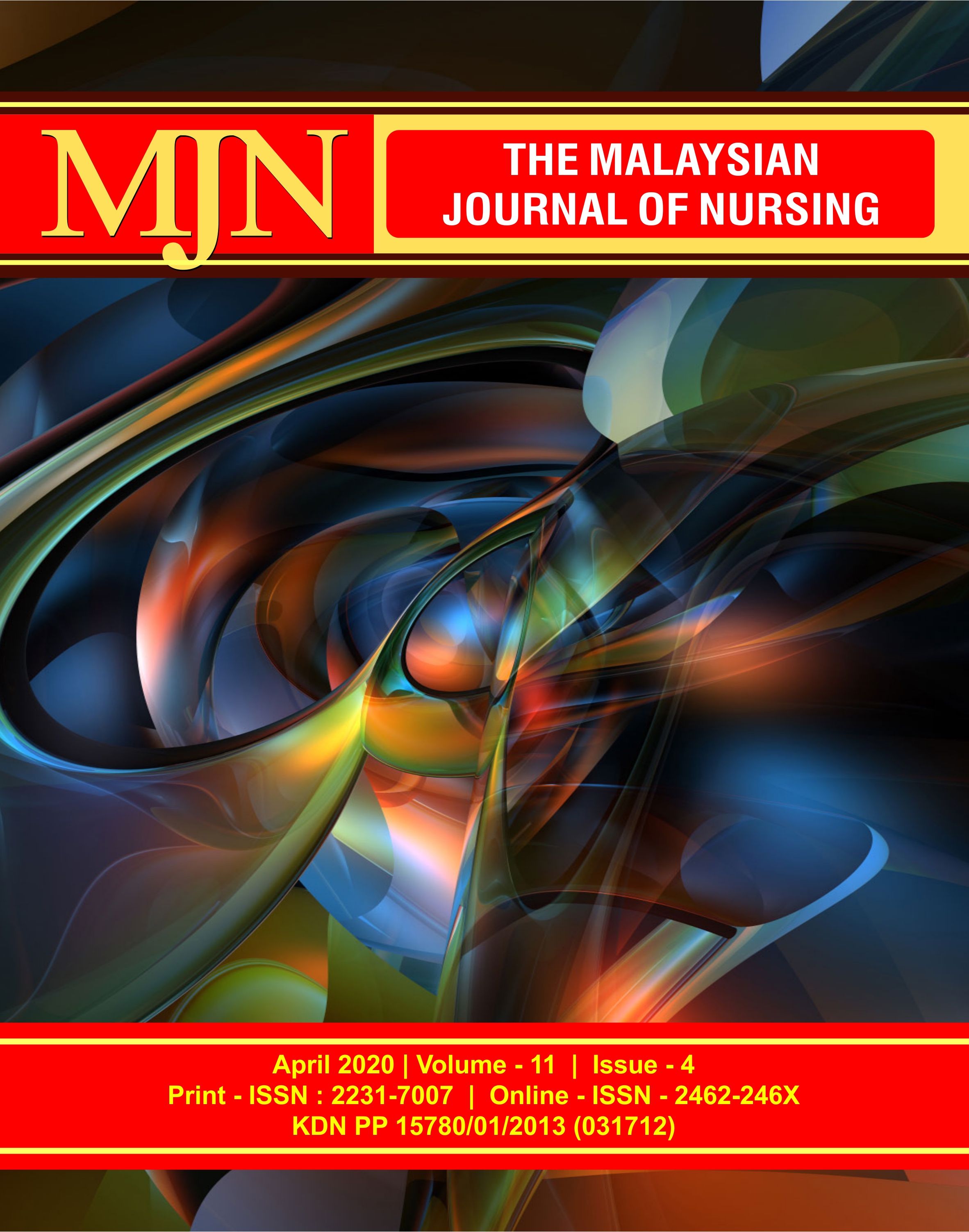 How to Cite
Mohamad Judha. (2020). FAMILY AWARENESS AND WILLINGNESS TO ACCEPT DISCHARGE PLANNING ACCORDING TO NURSING ADVOCACY PROGRAM. The Malaysian Journal of Nursing (MJN), 11(4), 92-98. https://doi.org/10.31674/mjn.2020.v11i04.010
License
This work is licensed under a Creative Commons Attribution-NonCommercial-NoDerivatives 4.0 International License.