THE ANALYSIS OF THE PSYCHOLOGICAL HEALTH STATUS OF SENIOR CITIZENS FROM NURSING HOMES IN LUOYANG, A THIRD LINE CITY OF CHINA
Abstract
Objective: This study aims to investigate the psychological status of old pensioners who live in aged care facilities in Luoyang; and meanwhile, analyzing factors related those older adults. Methods: Totally 250 older people from 10 nursing homes in the urban area of Luoyang were investigated by random sampling method. A questionnaire-based survey with Self-rating Anxiety Scale (SAS) and Self-rating Depression Scale (SDS) was conducted to elderly participants. We also conducted the structured interview for some residents. Results: The age,monthly income,the number of chronic diseases that they suffered from and self- care ability were influential factors of SAS score in elderly participants. The age,the number of chronic diseases that they suffered from and self-care ability were influential factors of SDS score in the elderly participants. Conclusion: The psychological health status of the elderly is closely related to their age,number of chronic disease that they suffered from and self-care ability.
Keywords:
Nursing homes, Older residents, Psychological health, Self-care ability, Care requirements, Physical health, Chronic diseases
Downloads
Download data is not yet available.
References
Feng, Z., Liu, C., Guan, X. & Mor, V. (2012). China's rapidly aging population creates policy challenges in shaping a viable long-term care system. Health Affairs, 31(12), pp 2764– 2773.
Miyawaki T., Kumamoto K., Shimoda K., Tozato F. & Iwaya T. (2017). Relationship among motor function, ADL disability, and psychological concerns in elderly people with locomotive disorders. Journal Orthopaedic Science, 22(2), pp 339–344.
Park M. & Tang J.H. (2007). Evidence–Based Guideline Changing the Practice of Physical Restraint Use in Acute Care. Journal of Gerontological Nursing, 33(2), pp 9–16.
Tomek-Roksandic S, Popek I, Mrcela N.T., Šostar Z., Kolarić B., Narančić N.S., Rukavina A.S. & Ljubičić M. (2017). Psychogeriatric diagnoses in old people's homes and negative health behaviour. Psychiatria Danubina, 29(3), pp 369–375.
Vancampfort D., Koyanagi A., Hallgren M., Probst M. & Stubbs B. (2017). The relationship between chronic physical conditions, multimorbidity and anxiety in the general population: A global perspective across 42 countries. General Hospital Psychiatry, 45, pp 1–6.
World Health Organization. (2017). Mental health and older adults. Retrieved from: https://www.who.int/news-room/fact-sheets/detail/mental-health-of-older-adults
Zhang H., Gao T., Gao J., Kong Y., Hu Y., Wang R. & Mei S. (2017). A comparative study of negative life events and depressive symptoms among healthy older adults and older adults with chronic disease. International Journal of Social Psychiatry, 63(8), pp 699–707.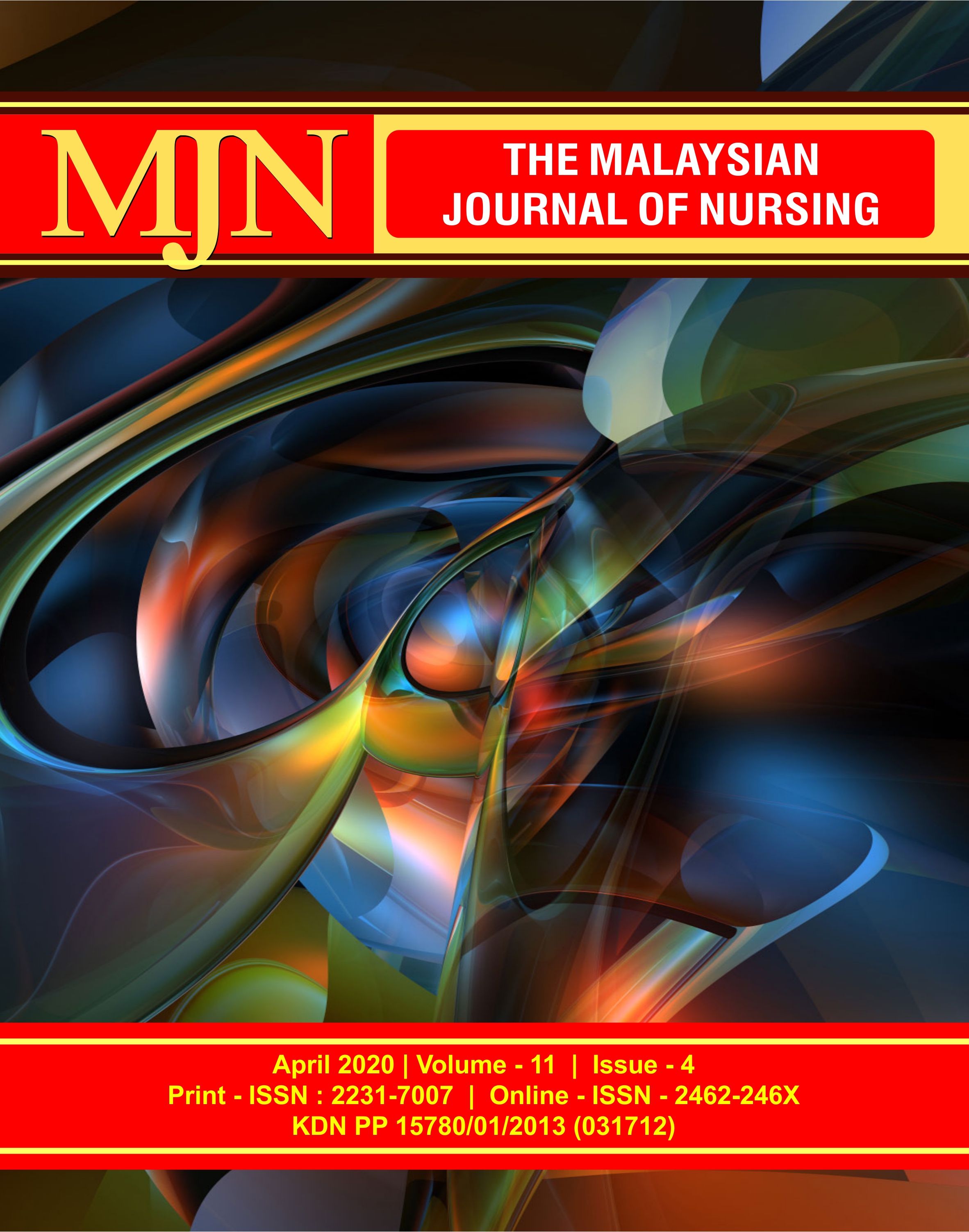 How to Cite
Huang Yang. (2020). THE ANALYSIS OF THE PSYCHOLOGICAL HEALTH STATUS OF SENIOR CITIZENS FROM NURSING HOMES IN LUOYANG, A THIRD LINE CITY OF CHINA. The Malaysian Journal of Nursing (MJN), 11(4), 63-67. https://doi.org/10.31674/mjn.2020.v11i04.006
License
This work is licensed under a Creative Commons Attribution-NonCommercial-NoDerivatives 4.0 International License.