WHY WORKERS DO NOT USE HEALTH CARE SERVICES IN PUBLIC CLINICS- A CASE OF NON-CITIZENS IN MALAYSIA
Abstract
Migration of large number of people creates opportunities for the transmission of common or novel infectious diseases. Most non-citizens in this country are from least developed and poor countries, therefore, receiving treatment in public sector is more affordable for them as the Malaysian government subsidizes health care heavily. This study is aimed to find the reasons that hinder immigrant workers to use public clinic services.
To achieve the objective of the study survey was conducted to target immigrant workers in the urban regions in Malaysia. From 360 questionnaires distributed we managed to collect 352 samples (97.77% response rate). Questionnaire was divided into three sections; demographic characteristics, general questions and questions related to barriers.
The result of this study shows that, most of the respondents (75.9%) seek treatment in private clinic when they are ill and 58% refer to private clinics for routine medical checkup. Around 73% of our sample population believes inequality exists in access to primary health care services between immigrant workers and citizens.
The main personal factor was the participants' belief about necessity of receiving the services from the clinics. Long waiting time and long distance to public clinics were the most important structural factors. Transportation cost and having insurance coverage which could benefit at private clinics are known as financial barriers for the respondents. However, the most important barriers amongst these three types are structural barrier followed by personal barrier, and financial barrier seems to be less significant.
Keywords:
Immigrants, Health Care, Public Clinics, Utilization
Downloads
Download data is not yet available.
References
Basu, S., Andrews, J., Kishore, S., Panjabi, R. & Stuckler, D. (2012). Comparative Performance of Private and Public Healthcare Systems in Low-And Middle-Income Countries: A Systematic Review. PLoS Med, 9(6), e1001244.
Berendes, S., Heywood, P., Oliver, S. & Garner, P. (2011). Quality of Private and Public Ambulatory Health Care in Low- and Middle-Income Countries: Systematic Review of Comparative Studies. PLoS Med, 8(4), pages 10.
Epstein, A. J. (2001). The Role of Public Clinics in Preventable Hospitalizations among Vulnerable Populations. Health Services Research, 36(2), pp 405-420.
Gadd, M., Sundquist, J., Johansson, S.-E. & Wändell, P. (2005). Do Immigrants Have an Increased Prevalence of Unhealthy Behaviors and Risk Factors for Coronary Heart Disease? European Journal of Cardiovascular Prevention & Rehabilitation, 12(6), pp 535-541.
Gordon-Larsen, P., Harris, K.M., Ward, D.S. & Popkin, B.M. (2003). Acculturation and Overweight-Related Behaviors among Hispanic Immigrants to the US: The National Longitudinal Study of Adolescent Health. Social Science & Medicine, 57(11), pp 2023-2034.
Hooi, S. & Hooi, S. (2003). Utilisation of Ophthalmic Services by Foreign Nationals in Johor: A Review of 452 Patients. Medical Journal of Malaysia, 58(4), pp 579-586.
Irsyad, A. (2014). Illegal Immigrants: Are They a Threat to our Health? Malaysian Digest, 20th November 2014. Retrieved From: http://www.malaysiandigest.com/features/528742- illegal-immigrants-are-they-a-threat-to-our-health.html
Karim, A.H.M.Z. & Diah, N.M. (2015). Health Seeking Behavior of the Bangladeshi Migrant Workers in Malaysia: Some Suggestive Recommendations in Adjustive Context. Asian Social Science, 11(10), pp 348-357. DOI:10.5539/ass.v11n10p348.
Leong, C.C. (2006). Pre-Employment Medical Examination of Indonesian Domestic Helpers in a Private Clinic in Johor Bahru-An Eigth Year Review. Medical Journal of Malaysia, 61(5), pp 592-598.
Mimi, O., Tong, S., Nordin, S., Teng, C., Khoo, E., Abdul-Rahman, A., Zailinati, A., Lee, V., Chen, W., Shihabudin, W., Noridah, M.S., & Fauziah, Z.E. (2011). A Comparison of Morbidity Patterns in Public and Private Primary Care Clinics in Malaysia. Malaysian Family Physician, 6(1), pp 19-25.
Mohamed, R.K.M.J., Ramendran, C. & Yacob, P. (2012). The Impact of Employment of Foreign Workers: Local Employability and Trade Union Roles in Malaysia. International Journal of Academic Research in Business and Social Sciences, 2(10), pp 530-541.
MOHR, (2013). Immigration in Malaysia: Assessment of its Economic Effects, and a Review of the Policy and System. Human Development Social Protection and Labor Unit East Asia and Pacific Region, Document of the World Bank. Retrieved From: https://umcms.um.edu.my/sites/population-studies- unit/img/Recommended%20Reading/Recommended/Immigration%20in%20Malaysia.pdf
MOHR. (2015). Employment and Labour Statistics (Statistik Pekerjaan dan Perburuhan), Ministry of Human Resources Malaysia, 6(4), December, p. 3.
Nayagam, J. (1992). Migrant Labor Absorption in Malaysia. Asian and Pacific Migration Journal, 1(3-4), pp 477-494.
Peters, D.H., Garg, A., Bloom, G., Walker, D.G., Brieger, W.R. & Rahman, M.H. (2008). Poverty and Access to Health Care in Developing Countries. Annals of the New York Academy of Sciences, 1136(1), pp 161-171.
Sheamini S, Rahman, N.A., Noh, K.M. & Khoo, E.M. (2016). Health Profiles of Foreigners attending Primary Care Clinics in Malaysia. BMC Health Services Research, 16(197), pages 9.
Soto, S. (2009). Human Migration and Infectious Diseases. Clinical Microbiology and Infection, 15 (1), pp 26-28.
Swartz, K. (2009). "Health care for the poor: for whom, what care, and whose responsibility? Focus," in Changing Poverty, Changing Policies, M. Cancian and S. Danziger, Eds., pp. 330–364, Russel Sage Foundation. USA.
Wagstaff, A. (2002). Poverty and Health Sector Inequalities. Bulletin of the World Health Organization, 80(2), pp 97-105.
WHO. (2003). DAC Guidelines and Reference Series: Poverty and Health. OECD Publishing. France.
WHO. (2008). Health of Migrants. The Sixty-first World Health Assembly, World Health Organization, 7th April 2008. Retrieved From: http://apps.who.int/iris/bitstream/handle/10665/23467/A61_12-en.pdf?sequence=1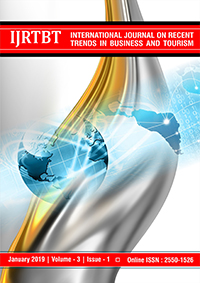 How to Cite
Maryam Sohrabi, Ahmad Farid Osman, & Makmor Tumin. (2019). WHY WORKERS DO NOT USE HEALTH CARE SERVICES IN PUBLIC CLINICS- A CASE OF NON-CITIZENS IN MALAYSIA. International Journal on Recent Trends in Business and Tourism (IJRTBT), 3(1), 1-7. Retrieved from https://ejournal.lucp.net/index.php/ijrtbt/article/view/75
License
Copyright (c) 2019 International Journal on Recent Trends in Business and Tourism (IJRTBT)
This work is licensed under a Creative Commons Attribution-NonCommercial-NoDerivatives 4.0 International License.
Metrics