MARKETING THE PRO-POOR TOURISM AS A MEAN OF PROMOTING TOURISM AT THE TIMES OF CRISES
Abstract
Egypt's famous historical heritage sites enabled the Egyptians to carry out simple market promotion for a long time. Therefore, it is important to develop an appropriate market promotion plan for the cultural tourism, as a tool to enhance the Egyptian tourism product, especially in the crises times.
During the crises period, the marketing strategies in the tourism destinations are considerably changing. If, in the beginning, the destination offer important sums to promote the brand's image, with the aim of going public, during the crises period they focus on tactical and advertising campaigns. Marketing managers' face many difficulties have to overcome in crises periods but they always must to keep the position of the tourism destination at the standard that achieve the clients' expectations. Pro-poor tourism can be a new market in crises periods through creating and rejuvenating some unique products, such as the cultural events and the traditional handicrafts.
Nubia is very rich of its traditional culture, which appears at the customs and traditions and their traditional festivals and ceremonies, which are a great source of attraction for the tourist. The most famous traditional events they have, are the marriage ceremony, celebrating the new born babies (Sobou') and el Tahteeb festival.
Methodology: The data collection method which will be used is the personal interviews with the event organizers and a sample of the local community.
Recommendations: The study will be finalized by a set of categorized recommendations for the Ministry of Tourism, Egyptian Tourism Authority and the Touristic societies.
Keywords:
Crisis, Pro-Poor Tourism, Cultural Tourism, Nubia, Local Community, Marketing Strategies
Downloads
Download data is not yet available.
References
Abdou, D.S. & Zaazou, Z. (2013). The Egyptian Revolution and Post Socio-Economic Impact. Topics in Middle Eastern and African Economies. 15(1). pp 92-115.
Abied. (2008). Metode Penelitian, Jenis Penelitian, Macam-macamDataPenelitian. (online). Tersedia: http://meetabied.wordpress.com/2008/01/13/metode-penelitian-macam-penelitian/[3 Februari 2010]
Adnan, M. (2014). Pakistan's Crisis Management: Examining Proactive and Reactive Strategies. Journal of Political Studies. 21(1). pp 161-177.
Ashley C, Roe D. (2002). Making tourism work for the poor: Strategies and challenges in southern Africa. Development Southern Africa. 19. 61–82.
Ashley, C., Roe, D. & Goodwin, H. (2001). Pro-poor tourism strategies: 'Making tourism work for the poor: Areview of experience'. Pro-poor tourism report No. 1. April, ODI/IIED/CRT. The Russell Press. Nottingham.
Bien, A. (2002). Environmental Certification for Tourism in Central America: CST and other programs. I, Honey, M. (Ed.). Ecotourism Certification. Island Press, Washington, DC. pp 133 – 159.
Biggs, D., Ban, N.C. & Hall, C.M. (2012). Lifestyle values, resilience, and nature-based tourism's contribution to conservation on Australia's Great Barrier Reef. Environmental Conservation. 39(4). 370–379.
Bramwell, B. & Lane, B. (2011). Crises, Sustainable Tourism and Achieving Critical Understanding. Journal of Sustainable Tourism. 19(1). pp 1-3.
Cornelia, B.M. & Mihaela, B. (2011). About the Crisis Marketing and the Crisis of Marketing. Journal of Academic Research in Economics. 3(3). pp 311-316.
Erdem, B. & Tetik, N. (2013). A New Trend in the Hotel Industry: Ecolodges. Journal of Studia Ubb Geographia.58(1). pp 85-92.
Fink, S. (1986). Crisis Management. 1st Edition. American Management Association. pp 22-26. New York.
Getz, D. (2007). Event Studies- Theory, Research, and policy for planned events. Butterworth-Heineman. Oxford.
Gustavo, N. (2013). Marketing Management Trends in Tourism and Hospitality Industry: Facing the 21st Century Environment, International Journal of Marketing Studies. 5(3). pp.115-126.
Hall, C. (1992). Hallmark Tourism Events: Impacts, Management & Planning. Belhaven Press. UK.
Hannam, K. (2004). Tourism and Development II: Marketing Destinations, Experiences and Crises. Progress in Development Studies. 3(4). pp 256–263.
Horváth, D, Mitev, A. & Bauer. A. (2014). Winning Media Strategies in the Time of the Economic Crisis. Marketing.45(2). pp 46-52.
International Finance Corporation. (2004). IFC 2004 Annual Report: Adding Value to Private Sector Investment, Volume 1. Washington, DC
International Hotel & Restaurant Association (IHRA), Iordache, C. (2013). Management Strategies of the Financial-Economical Crisis in the Hotel's Domain. Theoretical and Applied Economics. 20(9). pp 115-126.
Israeli, A.A., Mohsin, A., & Kumarc, B. (2010). Hospitality Crisis Management Practices: The Case of Indian luxury Hotels. International Journal of Hospitality Management, 12(4). pp 1–8.
Jalis, M.H., Zahari, M.S.M., Izzat, M. & Othman, Z. (2009). Western Tourists Perception of Malaysian Gastronomic Products. Asian Social Sciences. 5(1). pp 25-36.
Jumet, K.D. (2014). The Egyptian Uprisings from 2011 to 2013: Who Says They Were About Democracy? American Political Science Association.
Kilbride, E. (2017). Nubians of Egypt and Sudan seek recognition and return, The New Arab.
Lexicon Universal Encyclopedia. (1986). Lexicon Publications, Vol. 21. USA.
Malindžák, D. Mervart, J. & Lenort, R. (2011). The Logistic Principles for Fast Flexible Strategy Design of the Company in Crisis Time. Managing Global Transitions. 9(2). pp 129-149.
McConnell, A. & Drennan, L. (2006). Mission Impossible? Planning and Preparing for Crisis 1, Journal of Contingencies and Crisis Management, 14(2). pp 59-70.
McCool, B.N. (2012). The Need to be Prepared: Disaster Management in the Hospitality Industry. Journal of Business & Hotel Management. 1(2). pp 1-5.
Mehta, H. (2007). Towards an internationally recognized ecolodge certification. In Black, R. and Crabtree, A. (Eds.). Ecotourism series, number 5: Quality Assurance and Certification in Ecotourism. CABI Publishing, London, 415 – 434.
Olsen, M., West. J., & Tse. E. (2008). Strategic Management in the Hospitality Industry. pp 13. Prentice Hall. New Jersey.
Rady, A. (2002). Tourism and Sustainable Development in Egypt. Submitted to: Plan Blue.
Rejda, G. (2003). Principles of Risk Management and Insurance. Boston: Addison Wesley. Report of a Joint FAO/WHO Consultation (1997) Risk Management and Food Safety, Rome, Italy.
Sausmarez, N. (2007). Crisis Management, Tourism and Sustainability: The Role of Indicators, Journal of Sustainable Tourism. 15(6). pp 700-714.
Swan, S. (1999). Elegant Solutions. Saudi Aramco World, July/August 1999, 50(4).
UNWTO. (2013). Compendium of Tourism Statics. Madrid: UNWTO. (statics.unwto.org/en/content/compendium-tourism-statics)
Wahab, S. (1996). Tourism and Terrorism: Synthesis of the Problem with Emphasis on Egypt. In Pizam, A. and Mansfeld, Y., editors, Tourism, crime, and international security issues. Chichester: Wiley.
Wassef, H.H. (2004). Food Habits of the Egyptians: Newly Emerging Trends, International Journal of La Revue de Santé de la Méditerranée Orientale, 10(6). pp 898-915.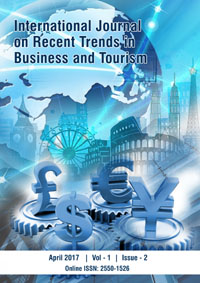 Downloads
How to Cite
Noha Saad EL Shaer, & Amira Hassan Abdou. (2017). MARKETING THE PRO-POOR TOURISM AS A MEAN OF PROMOTING TOURISM AT THE TIMES OF CRISES. International Journal on Recent Trends in Business and Tourism (IJRTBT), 1(2), 28-46. Retrieved from https://ejournal.lucp.net/index.php/ijrtbt/article/view/284
License
Copyright (c) 2017 International Journal on Recent Trends in Business and Tourism (IJRTBT)
This work is licensed under a Creative Commons Attribution-NonCommercial-NoDerivatives 4.0 International License.