IMPACT OF ORGANIZED RETAILING: AN ANALYTICAL DISCOURSE
Abstract
The retail sector in India is rapidly expanding and modernizing keeping pace with the economic growth of the country. The overall retail sector is expected to grow at a compounded rate of 15% amounting to INR 47 trillion in 2016-17. Some of the key drivers to the retail consumption in India are increasing urbanization, increasing disposable incomes, favorable demographics and nuclearisation of families. Organized retail is estimated to grow at a CAGR of 24% and attain a 10.2% share of total retail by 2016-17. There have been continuous debates on the impact of the growth of organized retail on traditional retailers. In favor of organized retailing it has been argued that growth of organized retailing, will yield efficiencies in the supply chain, enabling better access to markets, to producers (including farmers and small producers) and lower prices to consumers. In the context of divergent views on the impact of organized retail, this analytical study has been conducted to assess the impact of the organized retail on the different aspects of the economy and suggest certain strategies for marketers and policymakers to catalyze and project the benefits of Organized Retailing.
Keywords:
Organized Retail, E-Retailers, Grocery Stores, Hypermarkets
Downloads
Download data is not yet available.
References
Mishra, P. & Rajagopalan, K. (2014). Pulse of Indian retail market A survey of CFOs in the Indian retail sector. Ernst &Young Report. India.
ATKearney's Global Retail Development Index (GRDI). (2015). Global Retail Expansion: An Unstoppable Force.
Chetan, B., Rajnish, T. & Nidhi, S. (2006). Retail Management. Oxford University Press. India.
Deloitte (2011). Indian Retail Market: Embracing a new trajectory. Available at www.deloitte.com/assets/Dcom-India/.../Indian_Retail_Market.pdf
Deloitte (2013). Indian Retail Market Opening more doors. Available at www.deloitte.com/...India/.../ Indian_Retail_ Report_Opening_more_doors.
IBEF Report (2017a). Retail Industry in India. Available at www.ibef.org/industry/retail-india.aspx
IBEF Report (2017b). Indian Retail Industry Analysis. Available at https://www.ibef.org/industry/indian-retail-industry-analysis-presentation
Levy, M., Barton, W. & Beattie, S. (2008). Retailing Management. McGraw-Hill Ryerson Higher Education. New Delhi, India.
MacKenzie, I., Meyer, C. & Noble, S. (2013). How retailers can keep up with consumers. McKinsey & Company report, US.
Price Waterhouse Coopers (2011). Winning in India's retail sector, Factors for success. Available at: http://rasci.in/downloads/ 2011/Winning_India_Retail_Sector_2011.pdf
Verma, N. (2013). Foreign Direct Investment in Indian Retail Sector: Drawing lessons from the International Experience. International Journal of Trends in Economics, Management and Technology, 2(5), pp 13-20. Also available at http://www.iosrjournals.org/iosr-jbm/papers/Vol17-issue7/Version-3/N017738994.pdf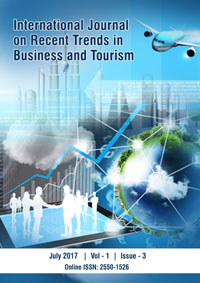 Downloads
How to Cite
Rochita Burman. (2017). IMPACT OF ORGANIZED RETAILING: AN ANALYTICAL DISCOURSE. International Journal on Recent Trends in Business and Tourism (IJRTBT), 1(3), 29-35. Retrieved from https://ejournal.lucp.net/index.php/ijrtbt/article/view/267
License
Copyright (c) 2017 International Journal on Recent Trends in Business and Tourism (IJRTBT)
This work is licensed under a Creative Commons Attribution-NonCommercial-NoDerivatives 4.0 International License.