The Apple Company's Foreign Expansion and Market Entry Strategy
Abstract
A company's marketing plan is one of the most crucial components in determining its success. In addition to conceptualization and creation, a comprehensive marketing plan must be implemented. Businesses use limited resources to implement their marketing strategy in order to sell their way to the goals and objectives they have defined. A marketing strategy is a process that allows a corporation to explore and evaluate its limited resources in order to grow sales and attain market leadership. It acts as a basic or main key to the aims of the structure. The primary or most important component of Apple's marketing strategy is the product. This product aids in increasing market share, brand recognition, and customer loyalty. In recent years, Apple has been unbeatable because of its innovative business practises. They are most renowned for their unique sense of style and design, good marketing strategies, and superior communication skills. With its products like the iPad, iPhone, iPod, and Macintosh, among others, Apple has had tremendous success in recent years. Consumers are quickly drawn in by a combination of the newest hardware and attractive designs, performance, and user-friendliness. Apple Inc. employs an effective marketing plan. For all of their products, they use the same approach. This study is based on Apple's marketing approach. The type of marketing technique used to promote Apple products is addressed. People are given a questionnaire, which has been developed and circulated; it is used to record the responses' ideas and opinions. The results and recommendations are provided below, along with a detailed discussion of the questionnaire responses.
Keywords:
Apple's Marketing Approach, Brand Recognition, Consumers, Marketing Plan
Downloads
Download data is not yet available.
References
Arunachalam, S., Bahadir, S. C., Bharadwaj, S. G., & Guesalaga, R. (2020). New Product Introductions for Low-Income Consumers in Emerging Markets. Journal of the Academy of Marketing Science, 48, 914-940. https://doi.org/10.1007/s11747-019-00648-8
Brodsky, J. K. (2021). Dismantling the Patriarchy, Bit by Bit: Art, Feminism, and Digital Technology. Bloomsbury Publishing.https://books.google.co.in/books?hl=en&lr=&id=h9s_EAAAQBAJ&oi=fnd&pg=PP1&dq=Michael+L.+Mallin
Chen, X., Liu, Y., & Gong, H. (2021, December). Apple Inc. Strategic Marketing Analysis and Evaluation. In 2021 3rd International Conference on Economic Management and Cultural Industry (ICEMCI 2021) (pp. 3053-3061). Atlantis Press. https://doi.org/10.2991/assehr.k.211209.499
Cox, J. (2021). The Higher Education Environment Driving Academic Library Strategy: A Political, Economic, Social and Technological (PEST) Analysis. The Journal of Academic Librarianship, 47(1), 102219. https://doi.org/10.1016/j.acalib.2020.102219
David, F. R., Creek, S. A., & David, F. R. (2019). What is the Key to Effective SWOT Analysis, Including AQCD Factors. SAM Advanced Management Journal, 84(1), 25-32.
da Silva, E. M., Ramos, M. O., Alexander, A., & Jabbour, C. J. C. (2020). A Systematic Review of Empirical and Normative Decision Analysis of Sustainability-Related Supplier Risk Management. Journal of Cleaner Production, 244, 118808. https://doi.org/10.1016/j.jclepro.2019.118808
Huang, K. X., Tian, G., & Zhao, L. (2022). Propelling Steady Growth and High‐Quality Development Through Deeper Reform and More Comprehensive opening up: Outlook, Policy Simulations, and Reform Implementation—A Summary of the Annual SUFE Macroeconomic Report (2021–2022). International Studies of Economics, 17(1), 2-20. https://doi.org/10.1002/ise3.2
Khanduja, H. (2022). How Leaders Decide: Tackling Biases and Risks in Decision-making. SAGE Publishing India. https://books.google.co.in/books?hl=en&lr=&id=xUhxEAAAQBAJ&oi=fnd&pg=PT13&dq=I+Phone+sales+contributed+for+fifty+percent+(50%25)+of+Apple%27s+entire+income+of+%24274+billion+during+its+2020+fiscal+year.&ots=DKvqvpeqBQ&sig=FR_tUl4tRjVatUkJdrCprTiorjw&redir_esc=y#v=onepage&q&f=false
Li, X. (2022, December). Financial Analysis of Apple Inc. Based on 2021 Apple Annual Report. In 2022 2nd International Conference on Financial Management and Economic Transition (FMET 2022) (pp. 63-72). Atlantis Press. https://doi.org/10.2991/978-94-6463-054-1_9
Nooney, L. (2023). The Apple II Age: How the Computer Became Personal. University of Chicago Press. https://books.google.co.in/books?hl=en&lr=&id=a7G1EAAAQBAJ&oi=fnd&pg=PP8&dq=Apple+Inc.
Onoz, E., & Giachetti, C. (2023). Will Rivals Enter or Wait Outside When Faced with Litigation Risk? Patent Litigation in Complex Product Industries and International Market Entry. Strategic Organization, 21(2), 339-379. https://doi.org/10.1177/1476127021998258
Smarandache, Florentin, Collected Papers (On Various Scientific Topics), Volume XII (2022). Global Knowledge Publishing House, 2022. ISBN: 978-1-59973-741-6. https://ssrn.com/abstract=4316990
Tromberg, B. J., Schwetz, T. A., Pérez-Stable, E. J., Hodes, R. J., Woychik, R. P., Bright, R. A., ... & Collins, F. S. (2020). Rapid Scaling up of Covid-19 Diagnostic Testing in The United States—The NIH RADx initiative. New England Journal of Medicine, 383(11), 1071-1077.
Wang, Q., Shen, J., & Ngai, E. W. (2023). Does Corporate Diversification Strategy affect stock Price Crash Risk? International Journal of Production Economics, 258, 108794. https://doi.org/10.1016/j.ijpe.2023.108794
Yao, X., Yasmeen, R., Li, Y., Hafeez, M., & Padda, I. U. H. (2019). Free Trade Agreements and Environment for Sustainable Development: A Gravity Model Analysis. Sustainability, 11(3), 597. https://doi.org/10.3390/su11030597
Yusuf, M., Saiyed, R., & Sahala, J. (2022, December). Swot Analysis in Making Relationship Marketing Program. In Proceeding of the International Conference on Economics and Business (Vol. 1, No. 2, pp. 573-588). https://doi.org/10.55606/iceb.v1i2.221
Zendle, D., Flick, C., Deterding, S., Cutting, J., Gordon-Petrovskaya, E., & Drachen, A. (2023). The Many Faces of Monetisation: Understanding the Diversity and Extremity of Player Spending in Mobile Games Via Massive-Scale Transactional Analysis. ACM Games: Research and Practice, 1(1), 1-28. https://doi.org/10.1145/3582927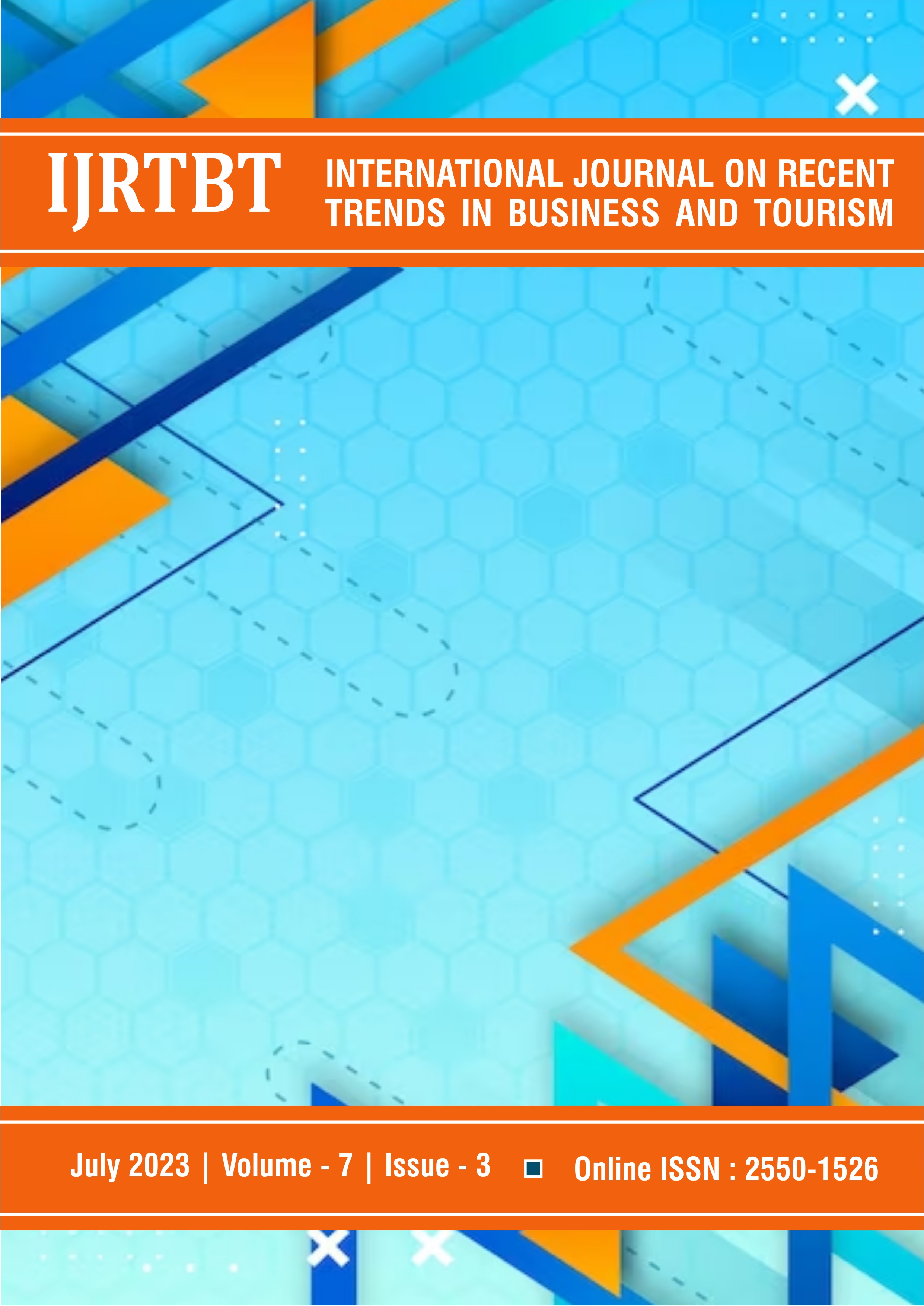 How to Cite
Lin, Q., Xiaoyu, L. ., & Jianqiang, Z. . (2023). The Apple Company's Foreign Expansion and Market Entry Strategy. International Journal on Recent Trends in Business and Tourism (IJRTBT), 7(3), 47-60. https://doi.org/10.31674/ijrtbt.2021.v07i03.004
License
Copyright (c) 2023 International Journal on Recent Trends in Business and Tourism (IJRTBT)
This work is licensed under a Creative Commons Attribution-NonCommercial-NoDerivatives 4.0 International License.