Employee Retention and Enhancement of Performance by Motivation and Work Discipline in the Pharmacy Department in Manembo-nembo Bitung Hospital
Abstract
Introduction: The performance of a pharmacist as the implementer of pharmaceutical services is an important issue that must be studied to increase the quality of hospital services. A good performance of a pharmacist is an indicator of health services. From point of view of human resources, motivation, and work discipline are the main factors that influence a pharmacist's performance. Objective: To determine the influence of motivation and discipline on employee performance at the department pharmacy of Manembo-nembo hospital, Bitung. Method: A cross-sectional study was conducted in June 2020. The respondent is all of the pharmacists in the pharmacy department as many as 25 people. The questionnaire is used as a measuring tool which consists of three variables namely motivation, work discipline, and performance. The data was processed using SPPS version 23 for windows. Results: The results showed that normality test were normally distributed, free of multicollinearity data, and heteroskedastic. Motivation and work discipline effects performance value 12.3% and 42.8% Conclusion: There is a positive and significant effect between motivation and work discipline variables on performance variables.
Keywords:
Motivation, Discipline, Performance, Pharmacy, Hospital
Downloads
Download data is not yet available.
References
Athiyah, U., Setiawan, C. D., Nugraheni, G., Zairina, E., Utami, W., & Hermansyah, A. (2019). Assessment of pharmacists' knowledge, attitude and practice in chain community pharmacies towards their current function and performance in Indonesia. Pharmacy Practice (Granada), 17(3), 1518. https://doi.org/10.18549/PharmPract.2019.3.1518
Azar, M., & Shafighi, A. A. (2013). The effect of work motivation on employees' job performance (Case study: employees of Isfahan Islamic Revolution Housing Foundation). International journal of academic research in business and social sciences, 3(9), 432. https://doi.org/10.6007/IJARBSS/V3-I9/231
BAstAri, A., & Ali, H. (2020). Service Performance Model Through Work Motivation: Analysis of Transformational Leadership, Managerial Coaching, and Organizational Commitments (At the Regional Development Bank of South Kalimantan). Systematic Reviews in Pharmacy, 11(12), 827-838
Chappell, S. G. (2020). Virtue Ethics and Climate Change 1. In Moral Theory and Climate Change (pp. 177-192). Routledge.
Chien, G. C., Mao, I., Nergui, E., & Chang, W. (2020). The effect of work motivation on employee performance: Empirical evidence from 4-star hotels in Mongolia. Journal of Human Resources in Hospitality & Tourism, 19(4), 473-495. https://doi.org/10.1080/15332845.2020.1763766
Daoud, J. I. (2017, December). Multicollinearity and regression analysis. In Journal of Physics: Conference Series (Vol. 949, No. 1, p. 012009). IOP Publishing.
Dung, D. V., & Thang, D. Q. (2019). The factors affecting work motivation of employees in the organizations: res earch case study of the enterprises in the industrial parks in Vietnam. Journal of Business School , 2(5), 23-33. https://doi.org/10.26677/TR1010.2019.120
Hasibuan, M. S., & Hasibuan, H. M. S. (2016). Manajemen sumber daya manusia. Bumi Aksara.
Klein, A. G., Gerhard, C., Büchner, R. D., Diestel, S., & Schermelleh-Engel, K. (2016). The detection of heteroscedasticity in regression models for psychological data. Psychological Test and Assessment Modeling, 58(4), 567. 567 – 592. https://psycnet.apa.org/record/2017-22389-001.
Lestariningsih, T., Hadiyati, E., & Astuti, R. (2018). Study of service quality and patient satisfaction to trust and loyalty in public hospital, Indonesia. International Journal of Business Marketing and Management, 3(2), 1-12.
Meštrović, A., Staničić, Ž., Hadžiabdić, M. O., Mucalo, I., Bates, I., Duggan, C., ... & Košiček, M. (2012). Individualized education and competency development of Croatian community pharmacists using the general level framework. American journal of pharmaceutical education, 76(2), 23. https://doi.org/10.5688/ajpe76223
Naz, K., Sarmad, M., Ikram, A., Rasheed, I., & Khan, M. (2020). Investigating Pharmacists' Perceived Organizational Performance through Learning and Innovation under the Moderating Role of Power Distance. International Journal of Psychosocial Rehabilitation, 24(07), 10679-10690. https://doi.org/10.37200/IJPR/V24I7/PR271072
Oloke, O. C., Oni, A. S., Babalola, D., & Ojelabi, R. A. (2017). Incentive package, employee's productivity and performance of real estate firms in Nigeria. European Scientific Journal, 13(11), 246-260. https://doi.org/10.19044/esj.2017.v13n11p246
Pakdel, B. (2013). The historical context of motivation and analysis theories individual motivation. International Journal of Humanities and Social Science, 3(18), 240-247.
Salamon, T., & Mesko, M. (2016). Can an ethical work climate influence payment discipline?. Journal of Industrial Engineering and Management, 9(1), 73-89. http://dx.doi.org/10.3926/jiem.1537
Sastrohadiwiryo, S., & Syuhada, A. H. (2021). Manajemen tenaga kerja Indonesia. Bumi aksara.
Schafheutle, E. I., Seston, E. M., & Hassell, K. (2011). Factors influencing pharmacist performance: a review of the peer-reviewed literature. Health Policy, 102(2-3), 178-192. https://doi.org/10.1016/j.healthpol.2011.06.004
Sugiarti, E., Mukrodi, M., & Mawardi, S. (2022). Manajemen Sumber Daya Manusia.
Tatliyer, A., Bas, S., & Yagci, S. (2019). Use of Factor Scores in Multiple Regression for Predicting Live Weight in Indigenous Savak Akkaraman Lambs. Pakistan Journal of Zoology, 51(3), 1035-1040. http://dx.doi.org/10.17582/journal.pjz/2019.51.3.1035.1040
Thoman, D., & Lloyd, R. (2018). A review of the literature on human resource development: Leveraging HR as strategic partner in the high performance organization. Journal of International & Interdisciplinary Business Research, 5(1), 147-160.
Udin, U. D. I. N., & Yuniawan, A. (2020). Psychological capital, personality traits of big-five, organizational citizenship behavior, and task performance: Testing their relationships. The Journal of Asian Finance, Economics and Business, 7(9), 781-790. https://doi.org/10.13106/JAFEB.2020.VOL7.NO9.781
Wang, S., & Cui, H. (2013). Generalized F test for high dimensional linear regression coefficients. Journal of Multivariate Analysis, 117, 134-149. https://doi.org/10.1016/j.jmva.2013.02.010
Yami, A., Hamza, L., Hassen, A., Jira, C., & Sudhakar, M. (2011). Job satisfaction and its determinants among health workers in jimma university specialized hospital, southwest ethiopia. Ethiopian journal of health sciences, 21(Suppl 1), 19-27.
Zehir, C., Gurol, Y., Karaboga, T., & Kole, M. (2016). Strategic human resource management and firm performance: The mediating role of entrepreneurial orientation. Procedia-Social and Behavioral Sciences, 235, 372-381. https://doi.org/10.1016/j.sbspro.2016.11.045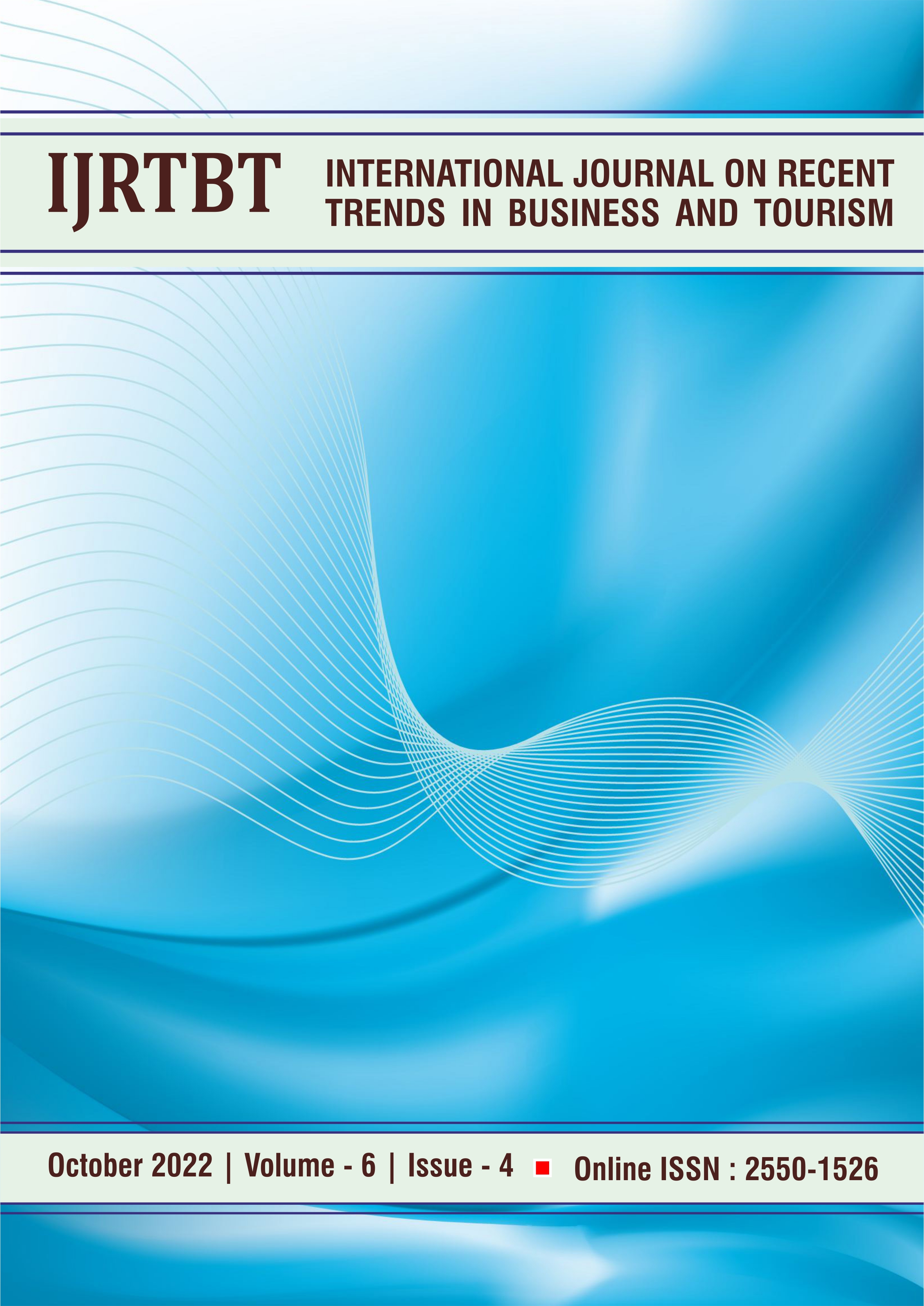 How to Cite
Citraningtyas, G., Lolo, W. A. ., Jayanto, I. ., Tampa'i, R. ., & Wijaya, H. . (2022). Employee Retention and Enhancement of Performance by Motivation and Work Discipline in the Pharmacy Department in Manembo-nembo Bitung Hospital. International Journal on Recent Trends in Business and Tourism (IJRTBT), 6(4), 49-60. https://doi.org/10.31674/ijrtbt.2022.v06i04.004
License
Copyright (c) 2022 International Journal on Recent Trends in Business and Tourism (IJRTBT)
This work is licensed under a Creative Commons Attribution-NonCommercial-NoDerivatives 4.0 International License.