ROLE OF DESIGN THINKING AND CREATIVE COGNITION FOR THE GROWTH OF DIGITAL ENTREPRENEURSHIP
Abstract
Digital Entrepreneurship can be defined as embracing new ventures and the transformation of existing business by creating and using novel digital technologies. On the other hand, Design Thinking is now considered to be one of the effective problem-solving methodology and appropriate for complex business understanding and facilitate innovation. Design thinking tools are well aligned with creative understanding. The study attempted to identify the attributes related to Design Thinking and Creative cognition that can contribute to innovation and understand how these attributes are interrelated.  About 30 students responded to some open-ended questions relevant to the objectives. This resulted to creation of a corpus of text or transcripts. Grounded theory in association with Affinity Mapping was applied to identify the attributes from the transcript. Open Coding, Axial Coding and Selective coding under grounded theory facilitated to reveal the underlying attributes from a significantly large corpus of text. The key attribute which evolved through different coding under Grounded theory is Business Model Creation which is linked to all other attributes like Creative Intelligence, Productive Risk Taker, and Navigate through Complexity, Effective Communication, Empathy, and Emphasis on Process, Deep User Understanding, and Prediction
Keywords:
Digital Entrepreneurship, Design Thinking, Creative Cognition, Innovation, Business Model, Grounded Theory, Affinity Diagram
Downloads
Download data is not yet available.
References
Blank, S. (2013). The Four Steps to the Epiphany: Successful Strategies for Products that Win. 5th edition. K & S Ranch. California.
Corbin, J.M., & Strauss, A. (1990). Grounded Theory Research: Procedures, canons and evaluative criteria. Qualitative Sociology, 13(1), pp 3-21.
Courage, C. & Baxter K. (2005). Understanding your users. A practical guide to user requirements: Methods, tools and techniques. Morgan Kaufmann. San Francisco, CA.
Foster, S.T. & Ganguly, K.K. (2007). Managing Quality: Integrating the Supply Chain. Pearson Prentice Hall. Upper Saddle River. New Jersey.
Glaser, B.G. & Strauss, A. L. (1967). The Discovery of Grounded Theory: Strategies for Qualitative Research. Aldine De Gruyter. New York.
Goulding, C. (2002). Grounded Theory: A Practical Guide for Management, Business and Market Researchers. 1st Edition. SAGE Publications Ltd. US.
Liedtka, J. (2015). Perspective: Linking Design Thinking with Innovation Outcomes through Cognitive Bias Reduction. Journal of Product Innovation Management, 32(6), pp 925-938. DOI: 10.1111/jpim.12163
Müller, B. & Rammer, C. (2012). Start-up promotion instruments in OECD countries and their application in developing countries. ZEW Gutachten/ Forschungsberichte. Deutsche Gesellschaft für Internationale Zusammenarbeit (GIZ) GmbH. Germany.
Parry, K.W. (2003). How? and Why? Theory Emergence and Using the Grounded Theory Method to Determine Levels of Analysis. Research in Multi-Level Issues, 2, pp 127-141. DOI: 10.1016/ S1475-9144(03)02008-3.
Ries, E. (2011). The Lean Startup: How Today's Entrepreneurs Use Continuous Innovation to Create Radically Successful Businesses. Currency Press. Australia.
Schwab, K. (2014). The Global Competitiveness Report 2014–2015. World Economic Forum. Geneva. Retrieved From: http://www3.weforum. org/docs/WEF_GlobalCompetitivenessReport_2014-15.pdf
Strauss, A. & Corbin, J. (1998). Basics of Qualitative Research: Techniques and Procedures for Developing Grounded Theory. Sage Publications, Inc. Thousand Oaks, CA.
Subrahmanya, M.H.B. (2017). How did Bangalore Emerge as a Global Hub of Tech Start-Ups in India? Entrepreneurial Ecosystem-Evolution, Structure and Role. Journal of Developmental Entrepreneurship, 22(01), 1750006. DOI: 10.1142/S1084946717500066
Ward, T.B. (2004). Cognition, Creativity, and Entrepreneurship. Journal of Business Venturing, 19(2), pp 173-188. DOI:10.1016/S0883-9026 (03) 00005-3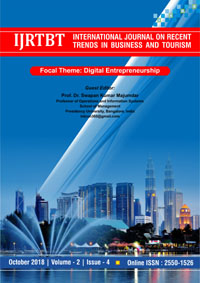 Downloads
How to Cite
Sanjukta Ghosh. (2018). ROLE OF DESIGN THINKING AND CREATIVE COGNITION FOR THE GROWTH OF DIGITAL ENTREPRENEURSHIP. International Journal on Recent Trends in Business and Tourism (IJRTBT), 2(4), 53-57. Retrieved from https://ejournal.lucp.net/index.php/ijrtbt/article/view/177
License
Copyright (c) 2018 International Journal on Recent Trends in Business and Tourism (IJRTBT)
This work is licensed under a Creative Commons Attribution-NonCommercial-NoDerivatives 4.0 International License.