The Challenges of Sustainable Development in Employee Retention of Large-Scale Industries in West Bengal Through Decent Work Indicators
Abstract
Purpose – The notion of sustainable growth was introduced at the United Nations Conference on Sustainable Development in Rio de Janeiro in 2012. It was decided that developed countries' actions must support all the aims. The MDGs primarily addressed issues in underdeveloped and poor countries, whereas the SDGs also involve rich countries. MDGs assumed a 'one-size-fits-all' approach. The two most important factors of survival — the environment and development – are not adequately integrated. On the 25th of September 2015, the United Nations Sustainable Development Summit accepted the global agenda 'Transforming Our World: the 2030 Agenda for Sustainable Development'. The purpose of the paper is to identify the proper retention strategy required for large scale industries in West Bengal in transition of change and to find the possibility of finding the scope of application of decent work indicators in large scale industries in West Bengal.
 Methodology - A total sample size of 607 participants from 22 large scale organizations in West Bengal is taken. Questions on decent work indicators are laid out on a five —point Likert scale. [5- Strongly Agree; 4-Agree; 3-Neither Agree nor Disagree; 2- Disagree: 1-Stronly Disagree]. The Secondary data had been collected from published and unpublished research works, research journals & reference books, magazines & Periodicals Newspapers, and websites, etc. This approach can be termed as doctrinal method of study.
Results - The primary data reveal that decent work indicators can be used as important criteria for employee retention. This new approach has not been touched by earlier researchers. The objective of decent work is to improve the organization's capacity to handle its internal and external functioning and relationships. All discriminatory practices, unacceptable work conditions and violence including gender-based violence should be abolished. This helps in generating employee trust, belongingness towards organization. These practices are helpful for employee retention in large scale industries. This is growth of informal employment in regular wage category in organized and large-scale industries in West Bengal which is called as 'formal informalization'.
Practical application – Labor market uncertainties grew at a rapid pace in developing countries like India. Formal sector jobs had not been created at satisfactory pace and labor force migration took place towards informal sector. The new challenges have evolved due to rapid globalization in India. Frictional unemployment grew at a great pace in large scale industries in West Bengal. Development of proper decent work system under sustainable development agenda can create protection in the event of changes in economy and society, can reduce fear of change and can improve gainful and productive full employment in an economy.
Keywords:
Sustainable Development, Decent Work, Anti-discrimination, Employee Retention, Labor Force Migration
Downloads
Download data is not yet available.
References
De Vos, A., & Meganck, A. (2009). What HR managers do versus what employee's value: Exploring both parties' views on retention management from a psychological contract perspective. Personnel Review.
Deeb, A., Alananzeh, O. A., Tarhini, A., & Masa'deh, R. E. (2020). Factors affecting job performance: the case of Jordanian hotels' kitchen staff. International Journal of Public Sector Performance Management, 6(3), 340-360.
Dessler, G. & Varrkey, B. (2020). Human Resource Management. Pearson.
Katou, A. A. (2009). The impact of human resource development on organisational performance: Test of a causal model. Journal of Behavioral and Applied Management, 10(3), 335-356.
Mata, F. J., Fuerst, W. L., & Barney, J. B. (1995). Information technology and sustained competitive advantage: A resource-based analysis. MIS quarterly, 487-505.
Mutembei, G. C., & Tirimba, O. I. (2018). Role of human resource management strategy in organizational performance in Kenya. International Journal of Scientific and Research Publication, 4(10), 125-141.
Noe, R., Hollenbeck, J., Gerhart, B., & Wright, P. (2006). Human Resources Management: Gaining a Competitive Advantage, Tenth Global Edition. New York, MA: McGraw-Hill Education.
Satpal & Dhillon, M. (2016). Retaining Employees in Indian IT sector. International Journal of Science Technology and Management, 5(3), 163-168.
Wang, W., & Seifert, R. (2017). Pay reductions and work attitudes: the moderating effect of employee involvement practices. Employee Relations.
Zachariah, M., & Roopa, T. N. (2012). A study on employee retention factors influencing it professionals of Indian IT companies and multinational companies in India. Interdisciplinary Journal of contemporary research in business, 4(7), 449-466.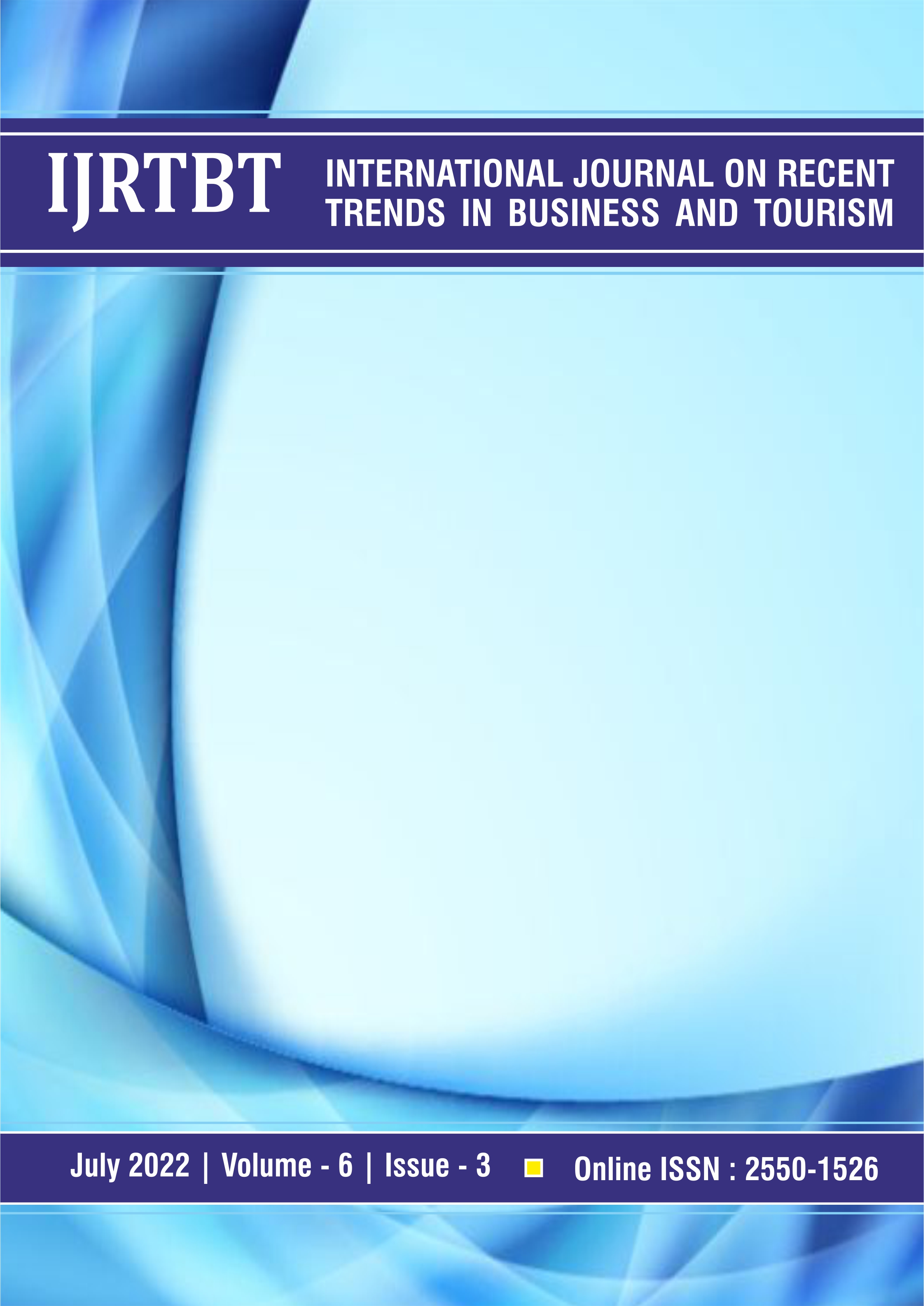 How to Cite
Kar, S. K. ., & Banerjee, K. . (2022). The Challenges of Sustainable Development in Employee Retention of Large-Scale Industries in West Bengal Through Decent Work Indicators . International Journal on Recent Trends in Business and Tourism (IJRTBT), 6(3), 51-62. https://doi.org/10.31674/ijrtbt.2022.v06i03.005
License
Copyright (c) 2022 International Journal on Recent Trends in Business and Tourism (IJRTBT)
This work is licensed under a Creative Commons Attribution-NonCommercial-NoDerivatives 4.0 International License.