The Emerging Need for Corporate Social Responsibility and Sustainable Investment in the Healthcare Sector during Covid 19
Abstract
The present study is a descriptive analysis of the emerging need for CSR and Sustainable Investment during COVID 19. The information has been gathered from unswerving and trustworthy secondary sources including journals, magazines, and newspapers. CSR spending of the top 10 companies in the Healthcare Sector in FY 2018-19 and 2019-20 have been statistically evaluated. The present study also accompanies the implications for sustainable investment in the pandemic period. In the study, it was found that the companies usually contribute to building hospitals, organizing camps for rural people, and giving donations in the hospitals which seems to work as short-term orientation, there is a lot more which a company can offer to enrich the lives of people with proper health and well-being. It was found in the learning that ONGC company have spent all earmarked CSR funds on the healthcare sector in FY 2019-20 which shows the impact of COVID 19 pandemic whereas spending by TCS was the lowest among 10 companies on the Healthcare Sector.
Keywords:
Healthcare, COVID 19, CSR, Sustainability, Investors
Downloads
Download data is not yet available.
References
Aguinis, H., Villamor, I., & Gabriel, K. P. (2020). Understanding employee responses to COVID-19: a behavioral corporate social responsibility perspective. Management Research: Journal of the Iberoamerican Academy of Management.
Anderson, R. M., Heesterbeek, H., Klinkenberg, D., & Hollingsworth, T. D. (2020). How will country-based mitigation measures influence the course of the COVID-19 epidemic?. The Lancet, 395(10228), 931-934.
Broadstock, D. C., Chan, K., Cheng, L. T., & Wang, X. (2021). The role of ESG performance during times of financial crisis: Evidence from COVID-19 in China. Finance Research Letters, 38, 101716.
Capelle-Blancard, G., & Petit, A. (2019). Every little help? ESG news and stock market reaction. Journal of Business Ethics, 157(2), 543-565.
Contipelli, E., & Picciau, S. (2020). Post-COVID-19: Rebuilding Our Paradigms Through Sustainable Development Goals and the Sufficiency Economy Philosophy. IndraStra Global.
Deng, X., & Cheng, X. (2019). Can ESG Indices Improve the Enterprises' Stock Market Performance? An Empirical Study from China. Sustainability, 11(17), 4765.
Fernandez-Perez, A., Gilbert, A., Indriawan, I., & Nguyen, N. H. (2021). COVID-19 pandemic and stock market response: A culture effect. Journal of Behavioral and Experimental Finance, 29, 100454.
García‐Sánchez, I. M., & García-Sánchez, A. (2020). Corporate social responsibility during COVID-19 pandemic. Journal of Open Innovation: Technology, Market, and Complexity, 6(4), 126.
Gürlek, M., & Kılıç, İ. (2021). A true friend becomes apparent on a rainy day: corporate social responsibility practices of top hotels during the COVID-19 pandemic. Current Issues in Tourism, 24(7), 905-918.
He, H., & Harris, L. (2020). The impact of Covid-19 pandemic on corporate social responsibility and marketing philosophy. Journal of Business Research, 116, 176-182.
Huo, C., Dar, A. A., Nawaz, A., Hameed, J., Pan, B., & Wang, C. (2021). Groundwater contamination with the threat of COVID-19: Insights into CSR theory of Carroll's pyramid. Journal of King Saud University-Science, 33(2), 101295.
Ibn-Mohammed, T., Mustapha, K. B., Godsell, J., Adamu, Z., Babatunde, K. A., Akintade, D. D., ... & Koh, S. C. L. (2021). A critical analysis of the impacts of COVID-19 on the global economy and ecosystems and opportunities for circular economy strategies. Resources, Conservation and Recycling, 164, 105169.
Jain, E. (2020a). Digital Employability Skills and Training Needs for the Indian Healthcare Industry. In Opportunities and Challenges in Digital Healthcare Innovation (pp. 113-130). IGI Global.
Jain, E. (2020b). A Review Study on Sustainable Development Goals: Un 2030 Agenda. Our Heritage, 68(5), 1-13.
Jain, E. (2020c). Analyzing the impact of covid-19 on stock market using Fibonacci retracements. ACADEMICIA: An International Multidisciplinary Research Journal, 10(5), 249-265.
Jiang, Y., & Wen, J. (2020). Effects of COVID-19 on hotel marketing and management: a perspective article. International Journal of Contemporary Hospitality Management.
Kristinae, V., Wardana, I., Giantari, I., & Rahyuda, A. (2020). The role of powerful business strategy on value innovation capabilities to improve marketing performance during the COVID-19 pandemic. Uncertain Supply Chain Management, 8(4), 675-684.
Kamra, P., & Grover, T. (2021). Green Financing: A Global Investment Transformation. Available at SSRN 3839756.
Lapão, L. V. (2019). The future of healthcare: the impact of digitalization on healthcare services performance. In The Internet and Health in Brazil (pp. 435-449). Springer, Cham.
Mahajan, N. N., Pednekar, R., Patil, S. R., Subramanyam, A. A., Rathi, S., Malik, S., ... & Srivastava, S. A. (2020). Preparedness, administrative challenges for establishing obstetric services, and experience of delivering over 400 women at a tertiary care COVID‐19 hospital in India. International Journal of Gynecology & Obstetrics, 151(2), 188-196.
Mitra, R., & Warshay, N. (2017). Policy discourse and mandatory CSR in India. In Development-Oriented Corporate Social Responsibility (pp. 106-120). Routledge.
Mourya, D. T., Sapkal, G., Yadav, P. D., Belani, S. K. M., Shete, A., & Gupta, N. (2020). Biorisk assessment for infrastructure & biosafety requirements for the laboratories providing coronavirus SARS-CoV-2/(COVID-19) diagnosis. The Indian Journal of Medical Research, 151(2-3), 172.
Nicola, M., Alsafi, Z., Sohrabi, C., Kerwan, A., Al-Jabir, A., Iosifidis, C., Agha, M. & Agha, R. (2020). The socio-economic implications of the coronavirus pandemic (COVID-19): A review. International Journal of Surgery, 78, 185-193.
Parker, L. D. (2020). The COVID-19 office in transition: cost, efficiency and the social responsibility business case. Accounting, Auditing & Accountability Journal.
Popkova, E., DeLo, P., & Sergi, B. S. (2021). Corporate social responsibility amid social distancing during the COVID-19 crisis: BRICS vs. OECD countries. Research in International Business and Finance, 55, 101315.
Ramani, K. V., & Mavalankar, D. (2006). Health system in India: opportunities and challenges for improvements. Journal of Health Organization and Management.
Sharma, A., Borah, S. B., & Moses, A. C. (2021). Responses to COVID-19: The role of governance, healthcare infrastructure, and learning from past pandemics. Journal of Business Research, 122, 597-607.
Singh, A. K., & Jha, S. (2015). Corporate Social Responsibility (CSR) & Its Implementation towards Good Governance. Int. J. Sci. Res. Manag, 3, 3210-3226.
Sultana, S., Zulkifli, N., & Zainal, D. (2018). Environmental, social and governance (ESG) and investment decision in Bangladesh. Sustainability, 10(6), 1831.
Takahashi, H., & Yamada, K. (2021). When the Japanese stock market meets COVID-19: Impact of ownership, China, and US exposure, and ESG channels. International Review of Financial Analysis, 74, 101670.
Umar, Z., Kenourgios, D., & Papathanasiou, S. (2020). The static and dynamic connectedness of environmental, social, and governance investments: International evidence. Economic Modelling, 93, 112-124.
Verma, N. (2017). Corporate social responsibility (CSR) in India: responsibility-cum-advantage. Available at SSRN 2988207.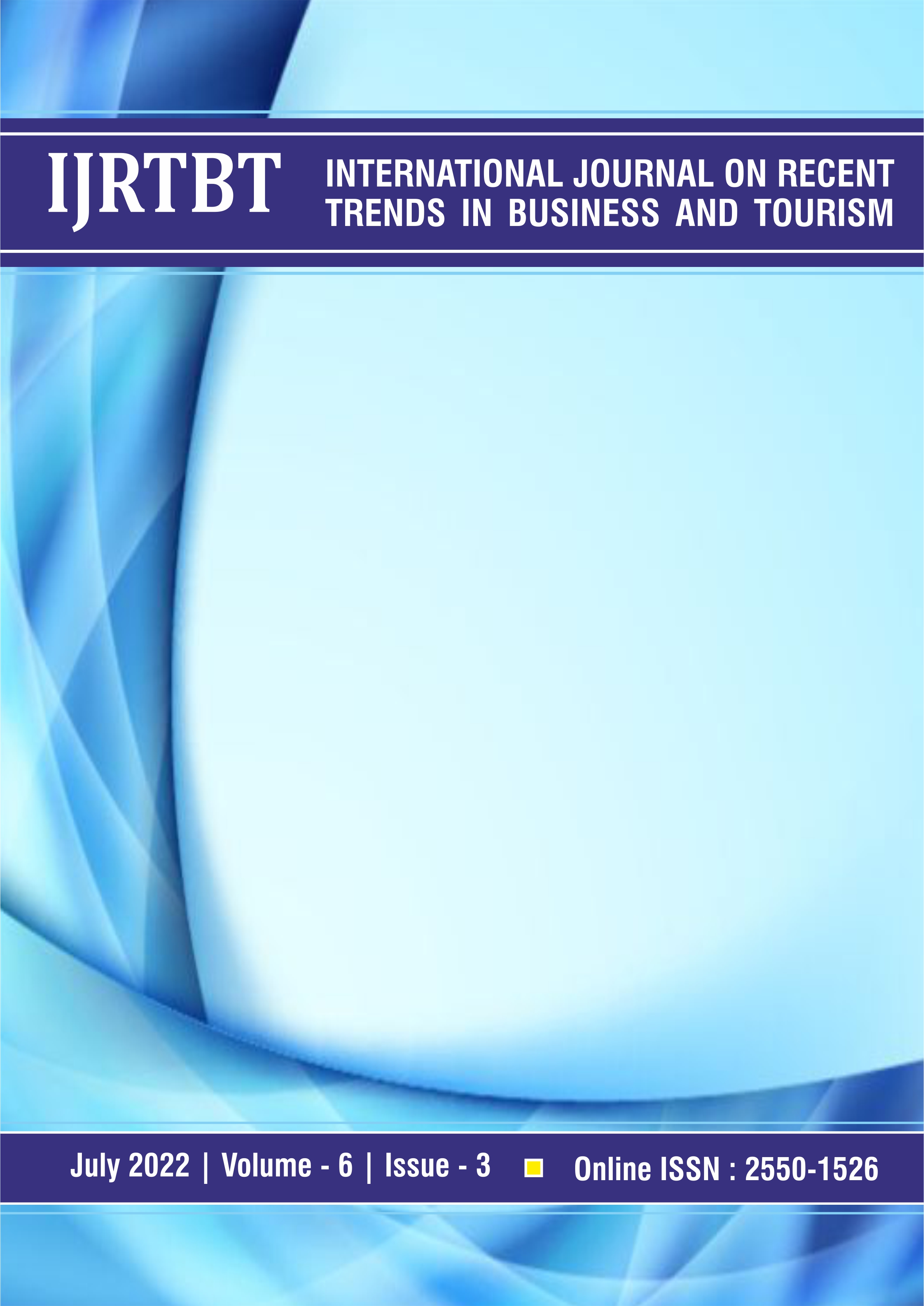 How to Cite
Lamba, J. ., & Jain, E. . (2022). The Emerging Need for Corporate Social Responsibility and Sustainable Investment in the Healthcare Sector during Covid 19. International Journal on Recent Trends in Business and Tourism (IJRTBT), 6(3), 10-26. https://doi.org/10.31674/ijrtbt.2022.v06i03.002
License
Copyright (c) 2022 International Journal on Recent Trends in Business and Tourism (IJRTBT)
This work is licensed under a Creative Commons Attribution-NonCommercial-NoDerivatives 4.0 International License.