WOMEN EMPOWERMENT IN TOURISM AND HOSPITALITY SECTOR IN SAUDI ARABIA
Abstract
Women empowerment is an objective of Saudi Arabia's vision 2030, especially in the tourism and hospitality sector. However, little information about women empowerment in the sector is known. To fulfil the gap, this study examined the impact of perception of socioeconomic, perception of gender equality and perception of sociocultural on women empowerment in the tourism and hospitality sector. To check the aim and validity of the study, data were collected from 306 Saudi women employed in the Saudi tourism and hospitality sector through an online survey. The data were analysed applying factor analyses, Cronbach's alpha, comparative means, standard deviation, Mann-Whitney Test and Kruskal-Wallis test. Women believe that there are some jobs that are more appropriate for women than men. Women will not be given equal employment opportunities and privileges men receive as well as they have a moderate belief that they are given their right to supervisory and administrative positions as men are given. The respondents think that undesirable attitudes regarding Saudi women's empowerment in the tourism and hospitality sector will be changed and undermine soon. Also, they think that working in the sector has a moderate negative impact on women's health and family obligations, such as taking care of their children. Finally, respondents revealed that women are not given the same respect men receive and the salary paid to women is unfair compared to men. In addition, women are not given the right to make decisions as men are given.
Keywords:
Women Empowerment, Tourism and Hospitality Sector, Perception of Socioeconomic, Perception of Gender Equality, Perception of Sociocultural
Downloads
Download data is not yet available.
References
Aldakhel, K. K. (2019, April 28). Saudi Women Proceed with Ambition and Empowerment within the Framework of Vision 2030. Saudi Press Agency (SPA). https://www.spa.gov.sa/viewfullstory.php?lang=en&newsid=1917968
Alferaih, A. (2017). Developing a Conceptual Model to Measure Talent's Turnover Intention in Tourism Organisations of Saudi Arabia. International Journal of Organizational Analysis, 25(1), 2-23.
Almadani, T. (2018, June 17). New Options Spur Saudi Women to Join Workforce. Arabnews.com. https://www.arabnews.com/node/1411001/saudi-arabia
Al-Qahtani, A. M., Elgzar, W. T., Ibrahim, H. A., El-Houfy, A., & Sayed, H. A. E. (2021). Women Empowerment among Academic and Administrative Staff in Saudi Universities: A Cross-Sectional Study. African Journal of Reproductive Health, 25(1S), 60-68.
Al-Qahtani, M. M. Z., Alkhateeb, T. T. Y., Mahmood, H., Abdalla, M. A. Z., & Qaralleh, T. J. O. T. (2020). The Role of the Academic and Political Empowerment of Women in Economic, Social and Managerial Empowerment: The Case of Saudi Arabia. Economies, 8(2), 45.
Alsawafi, A. M. (2016). Exploring the challenges and perceptions of Al Rustaq College of Applied Sciences Students towards Omani Women's Empowerment in the Tourism Sector. Tourism Management Perspectives, 20, 246-250.
Alsubaie, A., & Jones, K. (2017). An Overview of the Current State of Women's Leadership in Higher Education in Saudi Arabia and a Proposal for Future Research Directions. Administrative Sciences, 7(4), 36.
Ballakrishnen, S., Fielding-Singh, P., & Magliozzi, D. (2019). Intentional invisibility: Professional women and the navigation of workplace constraints. Sociological Perspectives, 62(1), 23-41.
Baum, T., & Cheung, C. (2015). White paper women in tourism & hospitality: Unlocking the potential in the talent pool. In Women in Tourism and Hospitality Forum in Hong Kong, Diageo.
Chang, E. H., & Milkman, K. L. (2020). Improving Decisions that Affect Gender Equality in the Workplace. Organizational Dynamics, 49(1), 100709.
Cornwall, A. (2016). Women's Empowerment: What Works? Journal of International Development, 28(3), 342-359.
Cornwall, A., & Rivas, A.-M. (2015). From 'Gender Equality and 'Women's Empowerment' to Global Justice: Reclaiming a Transformative Agenda for Gender and Development. Third World Quarterly, 36(2), 396-415.
Dashti, A. A., & Mesbah, H. (2016). The Perceptions of Female Media Professionals in Kuwait About Their Job: An Empowerment Perspective. Feminist Media Studies, 16(2), 276-292.
Elamin, A. M., & Omair, K. (2010). Males' Attitudes towards Working Females in Saudi Arabia. Personnel Review, 39(6), 746-766.
Ferguson, L. (2018). Gender equality and tourism: The global policy context. Gender equality and tourism: Beyond empowerment, 14-22.
Inglehart, R., Norris, P., & Ronald, I. (2003). Rising tide: Gender equality and cultural change around the world. Cambridge University Press.
Jay, A. C., & Rabindra, N. K. (1988). The Empowerment Process: Integrating Theory and Practice. The Academy of Management Review, 13(3), 471-482.
Lincoln, N. D., Travers, C., Ackers, P., & Wilkinson, A. (2002). The meaning of empowerment: The interdisciplinary etymology of a new management concept. International journal of management reviews, 4(3), 271-290.
Marmenout, K., & Lirio, P. (2014). Local Female Talent Retention in the Gulf: Emirati Women Bending with the Wind. The International Journal of Human Resource Management, 25(2), 144-166.
Ministry of Tourism. (2020, August 16). Tourism Investment. https://mt.gov.sa/en/TourismInvestment/Pages/TourismInvestment.aspx
Movono, A. & Dahles, H. (2017). Female Empowerment and Tourism: A Focus on Businesses in a Fijian Village. Asia Pacific Journal of Tourism Research, 22(6), 681-692.
Najia, S., Priyanka, A., & Saima, R. (2016). Women Empowerment and Economic Growth: Empirical Evidence from Saudi Arabia. Advances in Management and Applied Economics, 6(5), 1-5.
OECD. (2019). Women at Work in G20 Countries: Progress and Policy Action Since 2019. Paper prepared for the G20 Employment Working Group Saudi Arabia's G20 Presidency 2020. https://www.ilo.org/wcmsp5/groups/public/---dgreports/---cabinet/documents/publication/wcms_756334.pdf
Omair, K. (2009). Arab Women Managers and Identity Formation through Clothing. Gender in Management: An International Journal, 24(6), 412-431.
Oxaal, Z., & Baden, S. (1997). Gender and empowerment: definitions, approaches, and implications for policy (No. 40). Bridge, Institute of Development Studies.
Pelit, E., Öztürk, Y., & Arslantürk, Y. (2011). The Effects of Employee Empowerment on Employee Job Satisfaction. International Journal of Contemporary Hospitality Management, 23(6), 784-802.
Ruohan, W., & Xueyu, C. (2016, 01/01/). Gender Equality in the Workplace: The Effect of Gender Equality on Productivity Growth among the Chilean Manufacturers. The Journal of Developing Areas, 50(1), 257-274.
Saudi Gazette. (2019, March 25). Women's Role in Tourism Sector Set to Grow. https://saudigazette.com.sa/article/561982
Tamayo, S. G., Koettl, J., & Rivera, N. (2021, April 21). The Spectacular Surge of the Saudi Female Labor Force. Brookings. https://www.brookings.edu/blog/future-development/2021/04/21/the-spectacular-surge-of-the-saudi-female-labor-force/
Zimmerman, M. A. (2000). Empowerment theory. In Handbook of community psychology (pp. 43-63). Springer, Boston, MA.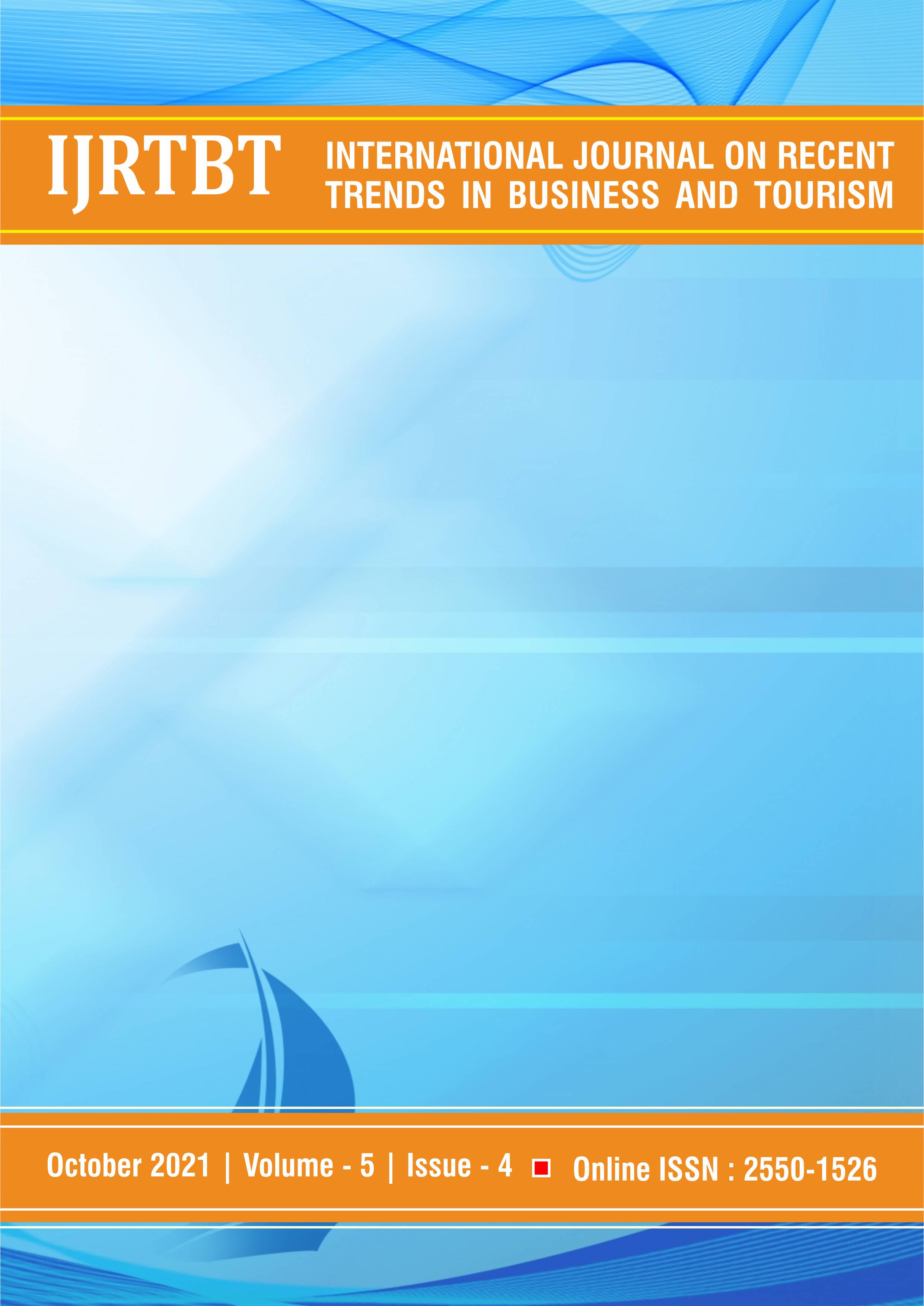 How to Cite
Fardaows Mohamad Alshareef, & Ali Ahmed AlGassim. (2021). WOMEN EMPOWERMENT IN TOURISM AND HOSPITALITY SECTOR IN SAUDI ARABIA. International Journal on Recent Trends in Business and Tourism (IJRTBT), 5(4), 11-20. https://doi.org/10.31674/ijrtbt.2021.v05i04.003
License
Copyright (c) 2021 International Journal on Recent Trends in Business and Tourism (IJRTBT)
This work is licensed under a Creative Commons Attribution-NonCommercial-NoDerivatives 4.0 International License.