FINDING OUT THE FACTORS INFLUENCING BEHAVIOR OF CUSTOMERS FOR ESSENTIAL ITEMS IN THIS PARTIAL LOCKDOWN SITUATION
Abstract
This present scenario of partial lockdown is quite different from the nationwide lockdown. Presently people basically have access to almost everything but they have to follow some rules and regulations as imposed by the Government of West Bengal. As a result, the behavior of customers will also be different from the past scenario, thus to find out this difference author had carried out this research to find out factors that influence the behavior of customers. For achieving this objective to make it more specific and to fill a gap, the author had used essential products. Data were collected by using the convenience sampling technique and before collecting data a pilot study was conducted to check the reliability of the data collection instrument. Data was collected from 225 respondents from Khardah, West Bengal, India. For finding out the factors, Exploratory Factor Analysis was used and 4 major factors had been identified and based on these factors, recommendations had been made which have practical implications.
Keywords:
Customer Behavior, Essential Products, COVID-19, Partial Lockdown
Downloads
Download data is not yet available.
References
Bartlett, M. S. (1954). A note on the multiplying factors for various χ2 approximations. Journal of the Royal Statistical Society: Series B (Methodological), 16(2), 296-298.
Butu, A., Brumă, I. S., Tanasă, L., Rodino, S., Dinu Vasiliu, C., Doboș, S. & Butu, M. (2020). The impact of COVID-19 crisis upon the consumer buying behavior of fresh vegetables directly from local producers. Case study: the quarantined area of suceava county, Romania. International Journal of Environmental Research and Public Health, 17(15), Article e5485.
https://doi.org/10.3390/ijerph17155485
Columbus, S. (2020). Honesty-Humility, beliefs, and prosocial behaviour: A test on stockpiling during the COVID-19 pandemic. Collabra: Psychology, 7(1), Article e19028. https://doi.org/10.1525/collabra.19028
Corkery, M. & Maheshwari, S. (2020, March 13). Is There Really a Toilet Paper Shortage? The New York Times. https://www.nytimes.com/2020/03/13/business/toilet-paper-shortage.html
Hair Jr., J. F., Black, W. C., Babin, B. J. & Anderson, R. E. (2014). Multivariate Data Analysis. Pearson Education Limited.
Kaiser, H. F. (1974). An Index of Factorial Simplicity. Psychometrika, 39(1), 31-36.
Patil, B. & Patil, N. (2020). Impact of COVID-19 Pandemic on Consumer Behaviour. Mukt Shabd Journal, IX(V), 3074-3085.
Pham, V. K., Do Thi, T. H. & Ha Le, T. H. (2020). A Study on the COVID-19 Awareness Affecting the Consumer Perceived Benefits of Online Shopping in Vietnam. Cogent Business & Management, 7(1), Article e1846882.https://doi.org/10.1080/23311975.2020.1846882
Prentice, C., Chen, J. & Stantic, B. (2020). Timed intervention in COVID-19 and panic buying. Journal of Retailing and Consumer Services, 57, Article e102203. https://doi.org/10.1016/j.jretconser.2020.102203
Sheth, J. (2020). Impact of Covid-19 on consumer behavior: Will the old habits return or die? Journal of Business Research, 117(September), 280-283.
Shishpal, Yadav, A., Kumar, P. & Kumar, P. (2021). Impact of COVID-19 on consumers' essential buying behavior – An Indian perspective. International Journal of Management, 12(1), 303-314.
Tyagi, P. & Pabalkar, D. (2021). Impact of COVID-19 over purchasing behaviour of the consumers. European Journal of Molecular & Clinical Medicine, 8(2), 561-571.
Vijai, C. & Nivetha, P. (2020, June 21-23). A Study on Coronavirus (COVID-19) Impact of Consumer Buying Behavior with Special Reference to Chennai City. International Conference on COVID-19 Studies, Ankara. https://369485e5-78d9-46958ee777e624124993.filesusr.com/ugd/614b1f_b80648cb87ae4bb5b38a2c3b048f8211.pdf
Wang, H. H. & Na, H. A. O. (2020). Panic buying? Food hoarding during the pandemic period with city lockdown. Journal of Integrative Agriculture, 19(12), 2916-2925.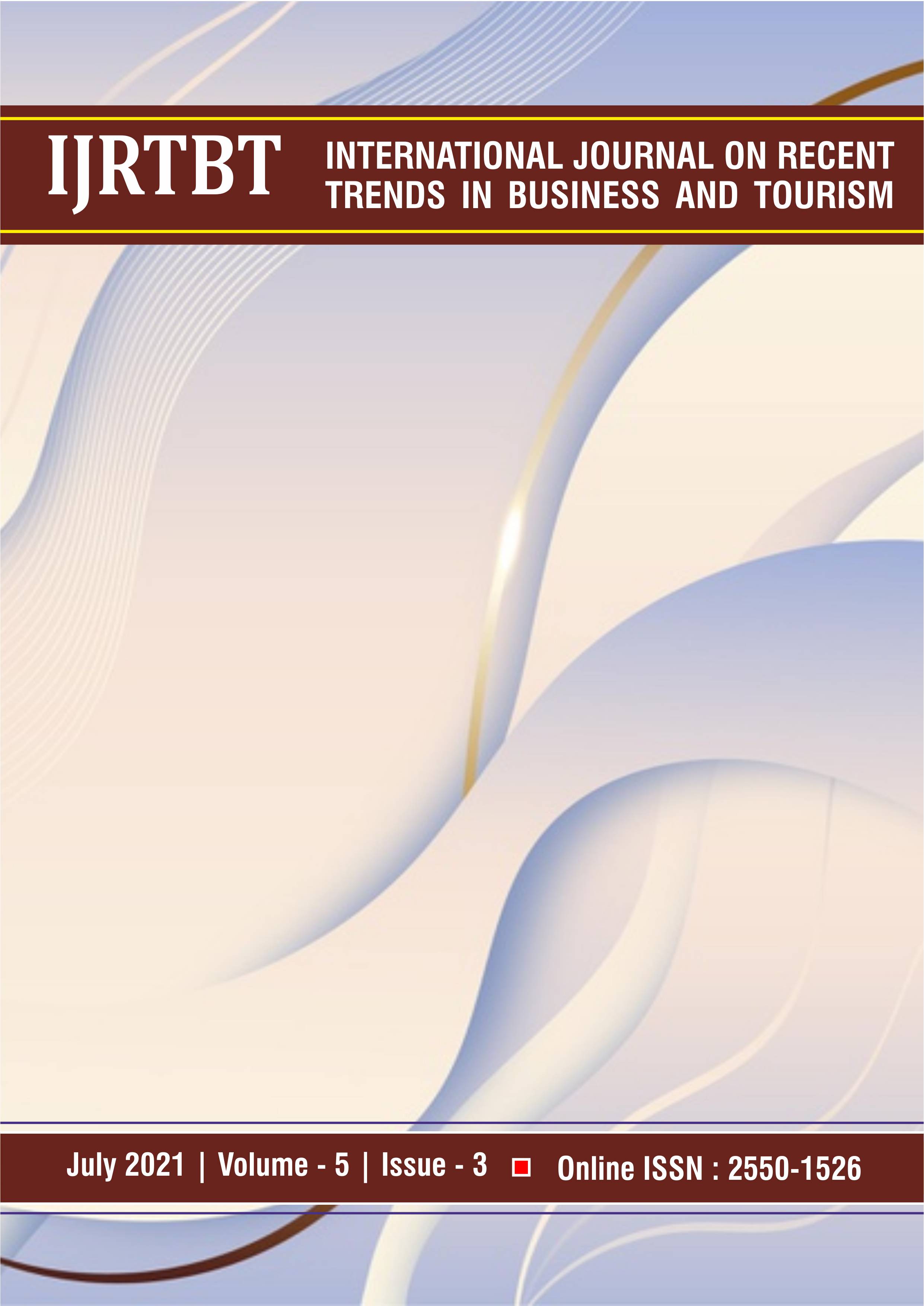 How to Cite
Das, P. (2021). FINDING OUT THE FACTORS INFLUENCING BEHAVIOR OF CUSTOMERS FOR ESSENTIAL ITEMS IN THIS PARTIAL LOCKDOWN SITUATION. International Journal on Recent Trends in Business and Tourism (IJRTBT), 5(3), 12-19. Retrieved from https://ejournal.lucp.net/index.php/ijrtbt/article/view/1383
License
Copyright (c) 2021 International Journal on Recent Trends in Business and Tourism (IJRTBT)
This work is licensed under a Creative Commons Attribution-NonCommercial-NoDerivatives 4.0 International License.