"CREATION OF COMPASSION" POSITIVE FAMILY EXPERIENCE CARING FOR PEOPLE WITH POST-PASUNG MENTAL DISORDERS
Abstract
Background: Caring for people with post-pasung (post seclusion and restraint of patient) mental disorders can provide special experience for families who act as caregivers. Objective: To explore family experiences in rehabilitating people with post-pasung mental disorders in Trenggalek Regency. Methods: This research is a qualitative research with an interpretive phenomenological approach. Data were obtained through in-depth interviews using semi-structured interview guidelines. Participants in this study were twelve in number who treated people with post-pasung mental disorders in Trenggalek Regency. Results: Analysis of data using IPA (Interpretative Phenomenological Analysis), found eight themes, namely having compassion for patients, having the responsibility of caring for patients, repaying the kindness of patients and others who have helped, having the hope that patients can recover, feel the need to supervise the independence of patients, realize the condition of mental patients, resigned to accept, thankful that the patient can improve and upset. Conclusion: Family is a determinant of the success of rehabilitation in people with post-pasung mental disorders. Family compassion and attention support the patient's recovery. The family hopes that the patient can recover and be independent in self-care, take medicine and work so that it does not depend on the family. This study produced eight themes and answered the research objectives.
Keywords:
Experience, Family, Rehabilitation, Hope, People with Post-pasung Mental Disorders
Downloads
Download data is not yet available.
References
Andarmoyo, S. (2012) Keperawatan keluarga konsep teori, proses dan praktik keperawatan. Yogyakarta: Graha Ilmu.
Arsy, Gardha . Rias., Retty , Ratnawati., & Septi, D. R. (2019) Studi fenomenologi: Pengalaman konsep diri pada wanita dengan Mayer Rokitansky Kuster Hauster Syndrome. Universitas Brawijaya Malang. Tesis
Astuti, M. (2017) 'Kondisi orang dengan gangguan jiwa pasung, keluarga dan masyarakat lingkungnannya di Kabupaten 50 Kota', Sosio Konsepsia, 6(03), pp. 256–268.
Aziz, R., Wahyuni, E.N, & Wargadinata, W. (2017) 'Kontribusi bersyukur dan memaafkan dalam mengembangkan kesehatan mental di tempat kerja', INSAN Jurnal Psikologi dan Kesehatan Mental, 2(1), pp. 33–43.
Balitbangkes, Kemenkes. (2013) Laporan Riset kesehatan Dasar. Jakarta.
Balitbangkes, Kemenkes. (2018) 'Laporan Riset Kesehatan Dasar'.
Dinsos, T. (2019) Data pasung kabupaten Trenggalek.
Donald, J.N., Atkins, P.W.B., Parker, P.D., Christie, A.M., & Ryan, R. M. (2016) 'Daily stress and the benefits of mindfulness: examining the daily and longitudinal relations between present-moment awareness and stress responses', Journal of Research in Personality.
Fabio, A. D., Palazzeschi, L & Bucci, O. (2017) 'Gratitude in organization: a Contribution for healthy organizational context perspective'. doi: 10.3389/fpsyg.2017.02025.
Friedman, M.M., Vicky, R. Bowden ., Elaine, G. J. (2014) Buku ajar keperawatan keluarga riset, teori & praktik. 5th edn. Edited by A. Y. . Hamid. Jakarta.
Kemenhumkam, kementerian hukum dan hak asasi manusia (2014) Undang-Undang nomor 18 tahun 2014 tentang kesehatan jiwa. Jakarta.
Polit, F.D., & and Beck, C. T. (2010) Essential of nursing research, appraising evidence for fursing practice. 7th edn. Philadelphia: Lippincott William & Wilkins.
Puteh, I., Marthoenis, M., & H. and Minas (2011) 'Aceh free pasung : Releasing the mentally ill from physical restraint', pp. 1–5.
Reknoningsih, W. et al. (2015) 'Pengalaman keluarga dalam merawat pasien pasca pasung: Pendahuluan metode hasil', 18(3), pp. 171–180.
RS, SIM. (2019) Laporan ODGJ pasca pasung di rawat di RSUD dr Soedomo Trenggalek.
Sugiyono (2017) Metode penelitian kualitatif. 3rd edn. Edited by S. Y. Suryandari. Bandung: Alfabeta.
Walsh, F. (2016) 'Family resilience:a developmental systems framework family resilience: a Developmental systems', 5629(March.
Williams, B., Lau, R., Thornton, E. ,& Olney, L. S. (2017) 'The relationship between empathy and burnout lessons for paramedics: a Scoping review.', Psychology Research and Behavior Management, 10, pp. 329–337.
Yin, R. K. (2011) 'Studi kasus desain dan metode', in Raja Grafindo Persada (Rajawali). Edisi 1 ce. Jakarta, p. 218.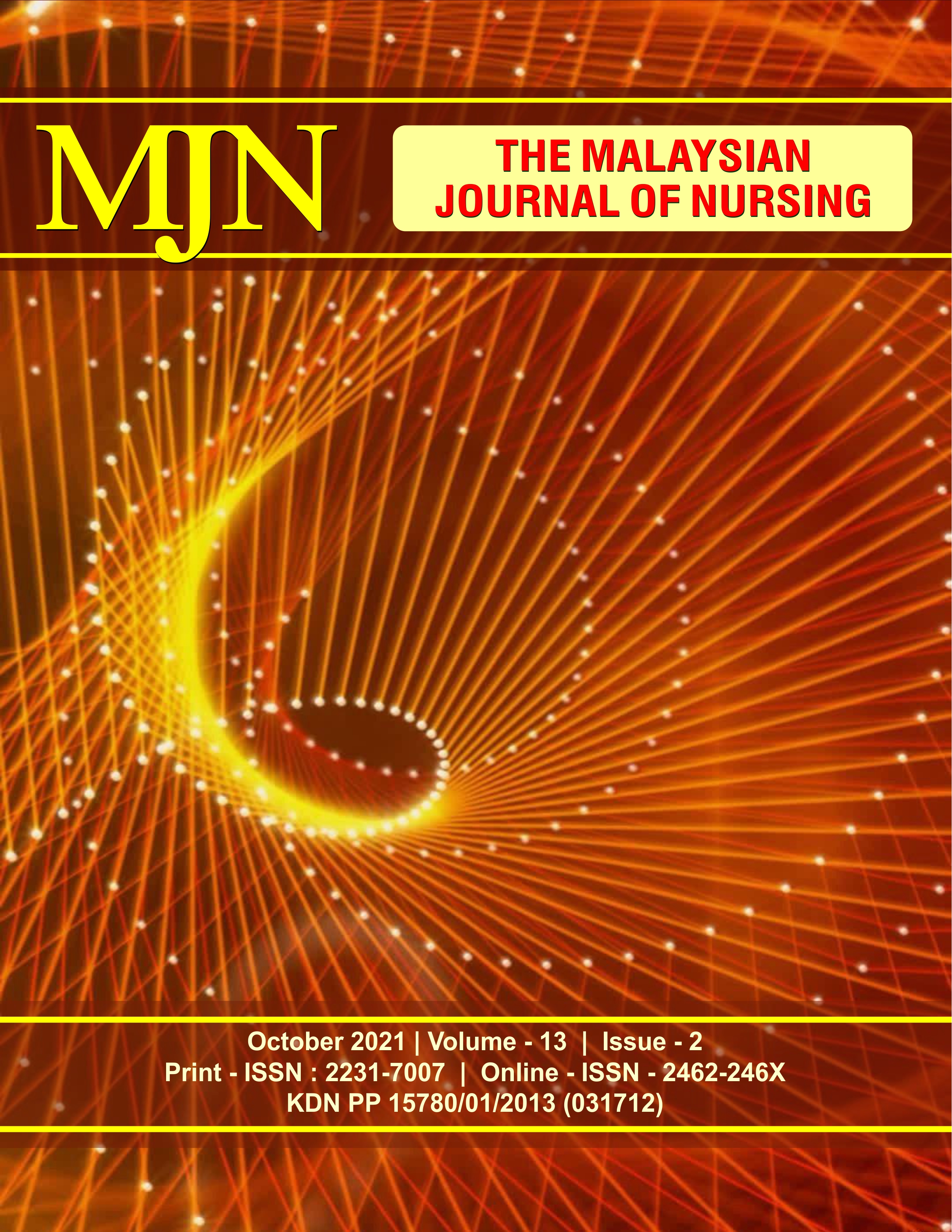 How to Cite
Nining Wuri Lestari, Setyawati Soeharto, & Dwi Windarwati. (2021). "CREATION OF COMPASSION" POSITIVE FAMILY EXPERIENCE CARING FOR PEOPLE WITH POST-PASUNG MENTAL DISORDERS. The Malaysian Journal of Nursing (MJN), 13(2). Retrieved from https://ejournal.lucp.net/index.php/mjn/article/view/1136
License
Copyright (c) 2021 The Malaysian Journal of Nursing (MJN)
This work is licensed under a Creative Commons Attribution-NonCommercial-NoDerivatives 4.0 International License.