LAPAROSCOPIC HERNIORRHAPHY OF SMALL SIZED MIDLINE VENTRAL HERNIAS IN DAY SURGERY UNIT RESULTS IN ACADEMIC TEACHING HOSPITAL
Abdel-Fatah S. Abdel-Fatah

Department of General Surgery, Minia Faculty of Medicine, Minia, Egypt

Doaa A. Saad

Department of General Surgery, Minia Faculty of Medicine, Minia, Egypt

Mohamad S. Farahat

Department of General Surgery, Minia Faculty of Medicine, Minia, Egypt

Hosam M. Hamza

Department of General Surgery, Minia Faculty of Medicine, Minia, Egypt
Abstract
Background: Repair of ventral hernia (VH) is a commonly performed procedure. The purpose of this study is to evaluate the results of primary repair of midline VH using laparoscopic approach as a day surgery procedure in an academic teaching hospital.Material and methods:This prospective study was conducted in General Surgery department, Minia University Hospital, Egypt, for 82 patients with midline ventral herniassubjected toprimary repair of the defect using laparoscopic approach in the period from February 2017 till February 2019. Patients were followed up for seroma, hematoma, wound infection or recurrence.Results:Study included 81 patients; 30cases (37%) were males and 51 (63%) were females. Ages ranged from 20 – 57 years. Thirty-eight (46.9%) patients presented with epigastric hernias, 34 (42%) had paraumbilical hernias, and port site hernias were found in 9 (11.1%) patients. Mean width of the defect was 15 ± 4.3 mm.Mean operative time was 52.3 min. All cases were done on a day surgery setting. No cases showed intestinal injury or paralytic ileus. Eighteen patients (22.2%) developed seroma not requiring aspiration. Hematoma was seen in three (3.7%) patients and was conservatively managed. Only two cases (2.5%) developed superficial wound infection. Rate of recurrence was 4.9%. Conclusion: Primary laparoscopic ventral hernia repair (LVHR) with defects less than 2 cm in diameter is a safe, simple, time-saving procedure associated with less complications, less risk of surgical site infection (SSI), shorter hospital stay and low cost.
Keywords:
Ventral hernia, Laparoscopic Repair, Primary Repair
Downloads
Download data is not yet available.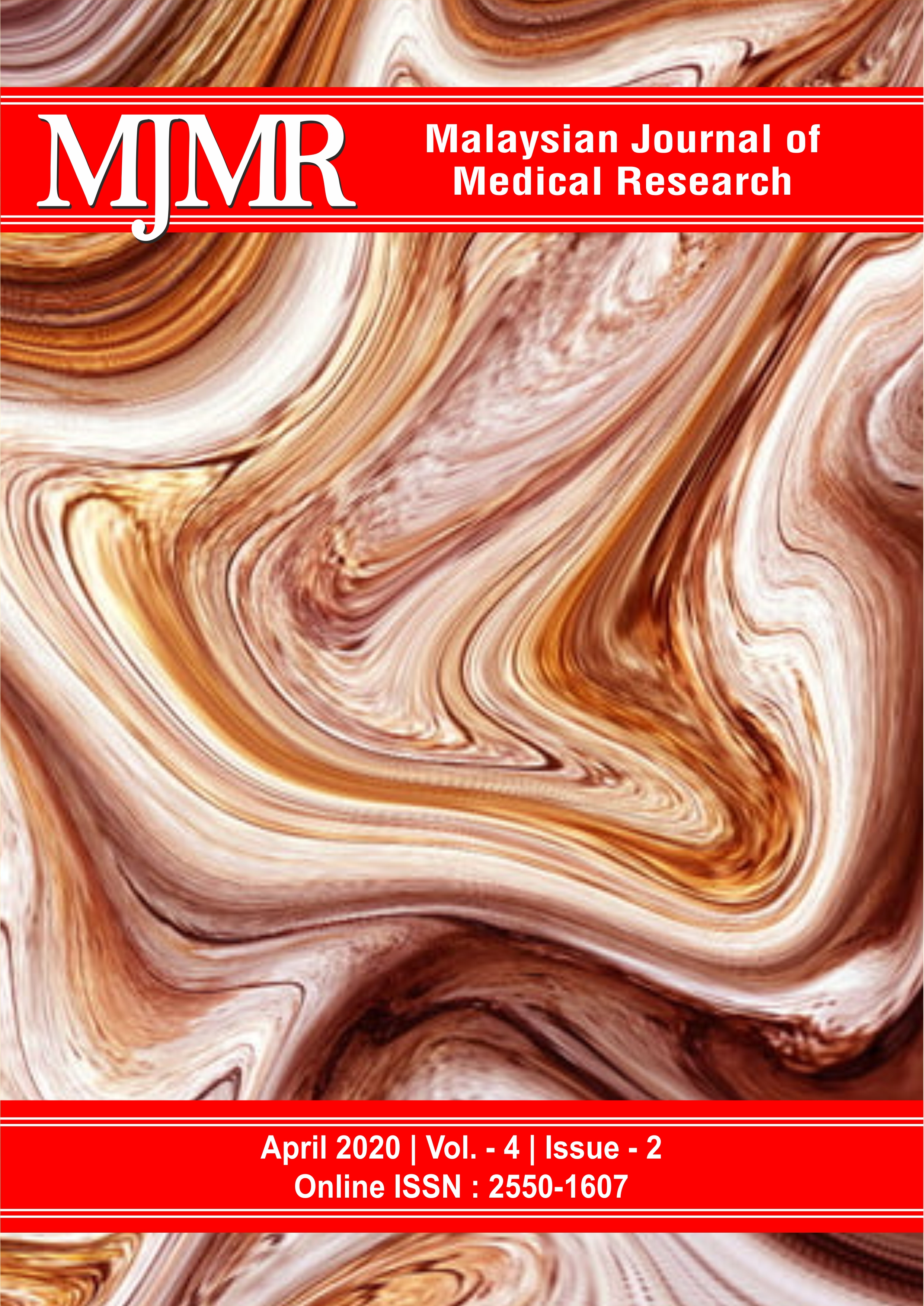 How to Cite
Abdel-Fatah S. Abdel-Fatah, Doaa A. Saad, Mohamad S. Farahat, & Hosam M. Hamza. (2020). LAPAROSCOPIC HERNIORRHAPHY OF SMALL SIZED MIDLINE VENTRAL HERNIAS IN DAY SURGERY UNIT RESULTS IN ACADEMIC TEACHING HOSPITAL. Malaysian Journal of Medical Research, 4(2), 15-21. Retrieved from https://ejournal.lucp.net/index.php/mjmr/article/view/997