Impact of Social Media on Consumer Buying Behavior of Apparels with Special Reference to Satna (Madhya Pradesh)
Abstract
Marketers have begun to sell their products using social media platforms as a consequence of the quick advances created by worldwide advertising routes, with Facebook being the most preferred medium of communication among all. The study's goal was to look at the impact of Facebook marketing on consumer clothes purchase intentions utilizing evidence from young individuals. The research primarily focused on determining Facebook's dominance as a social media communication platform and its influence on advertising. The majority of the companies want to expand their reach; however, Facebook users want a clean experience on the platform rather than pop-ups, web banners, and ads. Facebook marketing has been found to have both beneficial and bad effects on businesses and individuals. As a result, the focus was on determining the influence of Facebook marketing on customer purchasing intentions. Companies may assess the success of their advertising and make necessary improvements. To meet the aims of the study, a comprehensive survey was conducted, and the data were analysed using component factor analysis, regression analysis, and correlation coefficient. According to the findings of the analysis, the researchers were successful in achieving the stated goals of the study. In conclusion, it was discovered that, with the exception of E-WOM, there was a substantial link between independent and dependent variables. The most crucial elements in Facebook marketing are likes and shares. According to the findings, E-WOM was not a significant variable; however, researchers recommend focusing on E-WOM in order to convert this variable into a positive way to achieve better results; just as the previous studies have shown that E-WOM can have a significant impact on consumer purchase intent.
Downloads
Download data is not yet available.
References
Abd-Elaziz, M. E., Aziz, W. M., Khalifa, G. S., & Abdel-Aleem, M. (2015). Determinants of Electronic word of mouth (EWOM) influence on hotel customers' purchasing decision. International Journal of Heritage, Tourism, and Hospitality, 9(2/2), 194-223.
Akpan, C. S., Nwankpa, N. N., & Agu, V. O. (2015). Influence of Facebook advertisement on the buying behaviour of students of a Nigerian university. International Journal of Humanities and Social Science, 5(7), 135-148.
Ali, Y. S., Hussin, A. R. C., & Dahlan, H. M. (2020). Electronic Word of Mouth engagement in social commerce platforms: An empirical study. Information Development, 36(3), 438-456. https://doi.org/10.1177/0266666919867488
Almarri, H., Ameen, A., Bhaumik, A., Alrajawy, I., & Khalifa, G. S. A. (2020). The Mediating Effect of Facilitating Conditions on The Relationship Between Actual Usage of Online Social Networks (OSN) and User Satisfaction. International Journal of Psychosocial Rehabilitation, 24(06), 6389-6400.
Bhaumik, A., Law, K. A., Jiemiao, F., & Raju, V. (2020). Impact of Globalization of Firms: Descriptive Study on Performance on Network Ability. International Journal of Psychosocial Rehabilitation, 24(2). https://doi.org/10.37200/IJPR/V24I4/PR201004
Board, T. P. (2018). Annual Report 2017-18. Department of the Senate.
Dehghani, M., & Tumer, M. (2015). A research on effectiveness of Facebook advertising on enhancing purchase intention of consumers. Computers in Human Behavior, 49, 597-600. https://doi.org/10.1016/j.chb.2015.03.051
Escobar-Rodríguez, T., & Bonsón-Fernández, R. (2017). Facebook practices for business communication among fashion retailers. Journal of Fashion Marketing and Management: An International Journal. https://doi.org/10.1108/JFMM-11-2015-0087
Hajli, M. N. (2014). A study of the impact of social media on consumers. International Journal of Market Research, 56(3), 387-404. https://doi.org/10.2501/IJMR-2014-025
Harris, L., & Dennis, C. (2011). Engaging customers on Facebook: Challenges for e‐retailers. Journal of Consumer Behaviour, 10(6), 338-346. https://doi.org/10.1002/cb.375
Huete-Alcocer, N. (2017). A literature review of word of mouth and electronic word of mouth: Implications for consumer behavior. Frontiers in Psychology, 8, 1256. https://doi.org/10.3389/fpsyg.2017.01256
Kabadayi, S., & Price, K., (2014). Consumer – Brand Engagement on Facebook: Liking and Commenting Behaviors. Journal of Research in Interactive Marketing, 8(3), 203- 223. https://doi.org/10.1108/JRIM-12-2013-0081
Kaiser, H. F. (1974). An index of factorial simplicity. Psychometrika, 39(1), 31-36. https://doi.org/10.1007/BF02291575
Katz, E., & Lazarsfeld, P. F. (2017). Personal Influence: The Part Played by People in the Flow of Mass Communications. Routledge. https://doi.org/10.4324/9781315126234
Kim, A. J., & Ko, E. (2010). Impacts of luxury fashion brand's social media marketing on customer relationship and purchase intention. Journal of Global Fashion Marketing, 1(3), 164-171. https://doi.org/10.1080/20932685.2010.10593068
Livingstone, S. (2008). Taking risky opportunities in youthful content creation: teenagers' use of social networking sites for intimacy, privacy and self-expression. New Media & Society, 10(3), 393-411. https://doi.org/10.1177/1461444808089415
Narwal, M., & Sachdeva, G. (2013). Impact of information technology (IT) on consumer purchase behavior. Researchers World, 4(3), 41.
Ramsaran-Fowdar, R. R., & Fowdar, S. (2013). The implications of Facebook marketing for organizations. Contemporary Management Research, 9(1). https://doi.org/10.7903/cmr.9710
Richard, J. E., & Guppy, S., (2014). Facebook: Investigating the influence on consumer purchase intention. Asian Journal of Business Research, 4(2), p. 15. https://doi.org/10.14707/ajbr.140006
Saunders, M., Lewis, P. H. I. L. I. P., & Thornhill, A. D. R. I. A. N. (2007). Research methods. Business Students 4th edition. Pearson Education Limited, England.
Sethi, R. S., Kaur, J., & Wadera, D. (2018). Purchase intention survey of millennials towards online fashion stores. Academy of Marketing Studies Journal, 21(2), 1-16.
Shubhangam, K., Srivastava, M., Ravi, R., & Singh, R. (2020). Influence of Social Media Advertisement on Customer's Purchase Decision: A Literature Review. International Journal on Recent Trends in Business and Tourism (IJRTBT), 4(4), 25-31.
Yildiz, S., Yildiz, E., & Tehci, A. (2016, May). Influence of Facebook Applications on Consumer Purchase Intention: A Case Study of Generation Y. In International Interdisciplinary Business-Economics Advancement Conference (p. 161).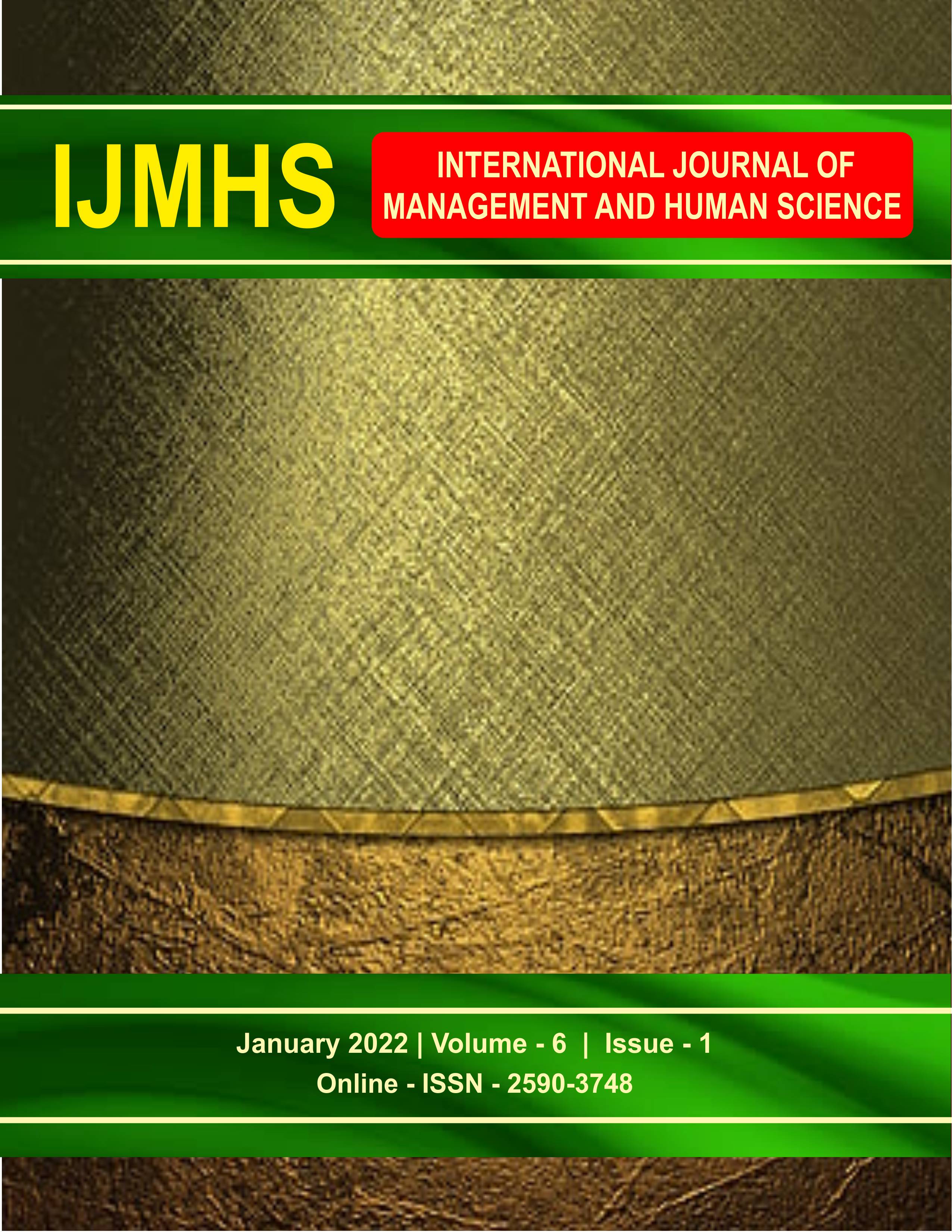 How to Cite
Shweta Singh, & Shinu Shukla. (2022). Impact of Social Media on Consumer Buying Behavior of Apparels with Special Reference to Satna (Madhya Pradesh). International Journal of Management and Human Science (IJMHS), 6(1), 50-61. https://doi.org/10.31674/ijmhs.2022.v06i01.005
License
Copyright (c) 2022 International Journal of Management and Human Science (IJMHS)
This work is licensed under a Creative Commons Attribution-NonCommercial-NoDerivatives 4.0 International License.